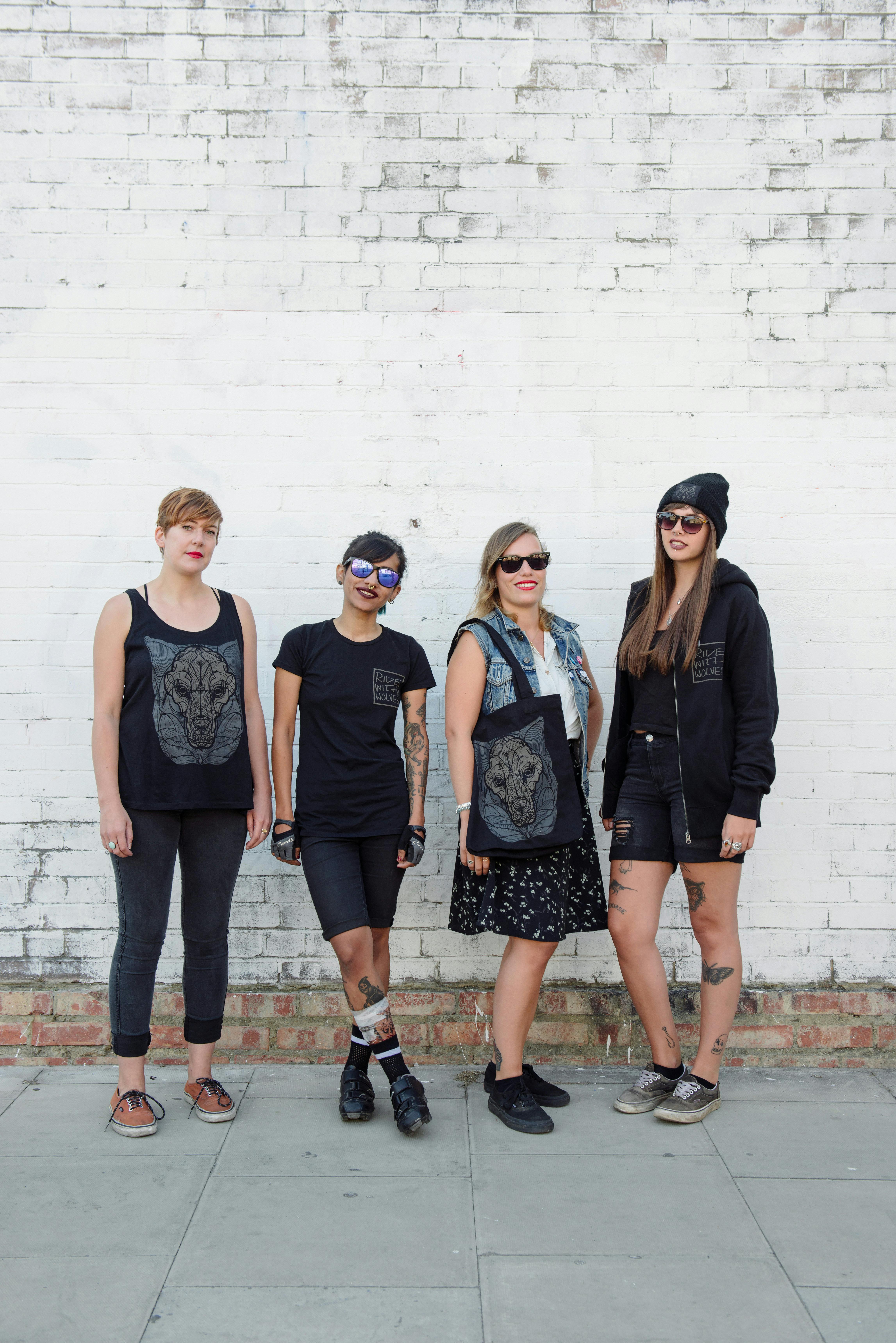 Text: Clara Cullen
Group photo: Owen Richards
Portrait: Kathryn Younger
Often experienced as a male dominated activity, London's cycling scene is undergoing a radical transformation. In recent years a group of fiercely independent women and men have banded together to promote cycling as a positive force for change. With the aim of making cycling more diverse, inclusive, and accessible, London's cycling community is becoming a hub for creativity and independence.
This Do-It-Yourself ethos has spread throughout London's most progressive cycling community. At its heart is London Bike Kitchen (LBK). Founded in Hackney, it has become a vital part of London's cycling scene. Rather than handing your bike over to someone else, London Bike Kitchen run classes to teach you how to fix it yourself. By running workshops in Bike maintenance, London Bike Kitchen has found an interactive way to empower ordinary cyclists.
Inclusiveness is at the heart of this endeavour. Monika Zamojska is one of the team members at LBK who helps run its Women and Gender Variant nights (WaG nights). It's a role that she found herself in almost by accident. Having studied Fashion Marketing at university, her final project was on cycling and cycle wear. It was through researching for this that she became a part of London's vibrant cycling community and later found LBK.
"Every second and fourth Monday of the month we have classes on bike maintenance, riding and sessions for people to fix their bikes. The vibe at those nights is amazing, we learn, chat, moan, share experience, we fix bikes and get all covered in grease," she tells me.
London Bike Kitchen is DIY led and all its volunteers are committed to helping new people find out about the joys of cycling in London. The popularity of the WaG nights has not gone unnoticed. This year it has been nominated for Best Retail Event at the 2017 Bike Biz Awards.
"My role is to inspire the participants to ride or learn to fix their bike, but I get as inspired (if not more) by their determination and work they put in making their plans come true" she notes.
More and more there is a sense that positive change is gaining pace in London's cycling scene. This commitment to making cycling more diverse and accessible is mirrored in other businesses. At the front of the pack is fashion company Ride With Wolves. Founded in Peckham in 2016, Ride With Wolves is an independent clothing company. It specialises in innovative and reflective gender-neutral cycle wear. Ride With Wolves embodies the spirit of independent cycling unafraid to push the boundaries. The motivation behind this ethos was very much deliberate as Ride With Wolves founder Ester Van Kempen(picture) tells me.
"You definitely see a lot of positive changes in the cycling industry where Women's cycling is being picked up more. Now it's getting to a discussion almost of do we need focus on Women's cycling? Why isn't it just cycling? Because with men's cycling you don't really say that, it's just cycling! How can we get to a point where it is just one thing? So that's something we're kind of working on, which is really interesting. With my brand I just want to be completely gender neutral. Yes I have lots of women as models, but that's only to show and to tip that balance!"
Together Ride With Wolves and London Bike Kitchen are proving that cycling can be about more than exercise. As a vehicle for social change and empowerment, cycling can represent the best of DIY spirit. Women all over London are taking the lead in encouraging diversity and becoming a part of a community of likeminded people.
London Bike Kitchen: www.lbk.org.uk
Ride With Wolves: www.ridewithwolves.com