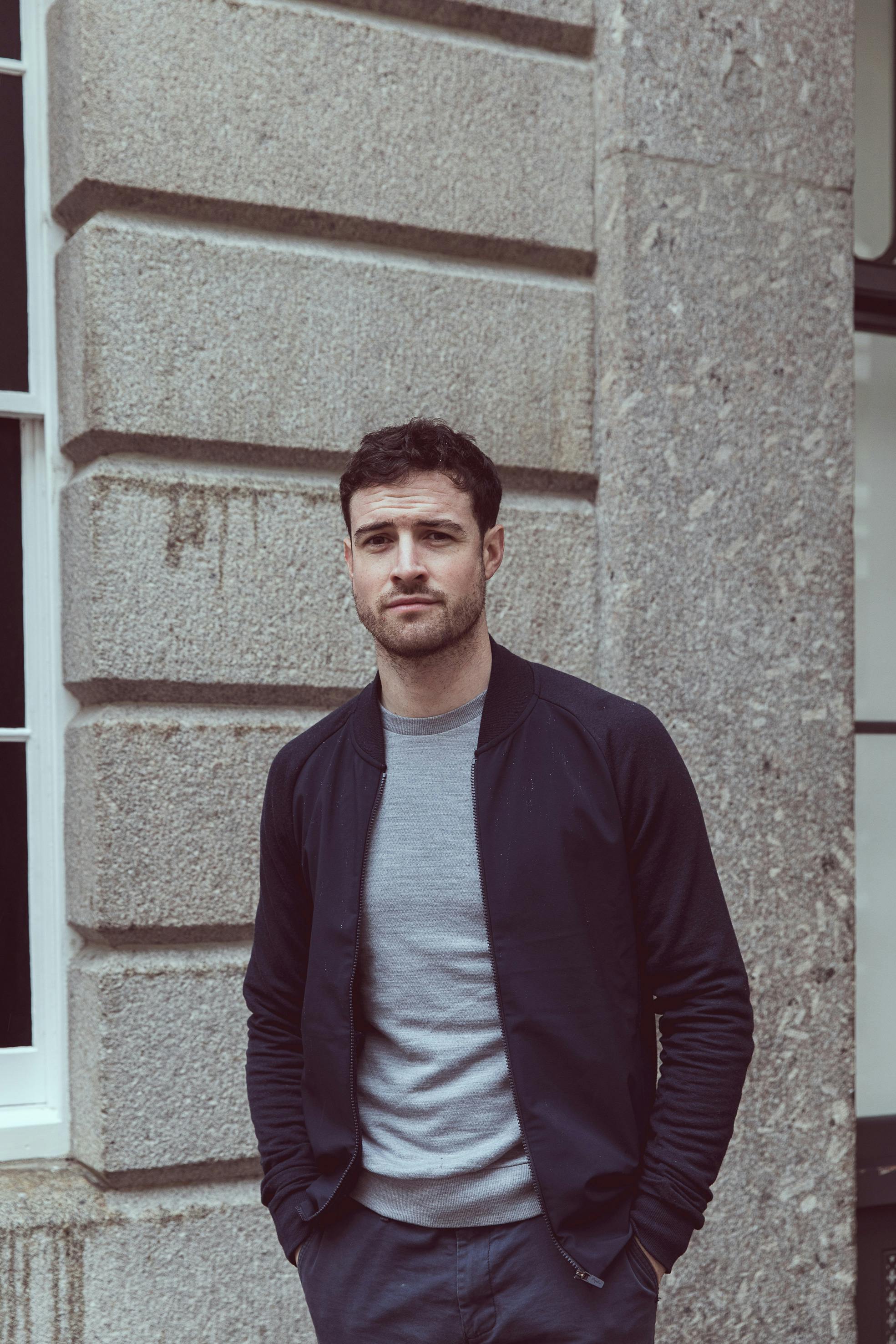 Text: Chris Hargreaves
Portrait: Andy Donohoe
Ride photos: Jochen Hoops
Working freelance has meant I can try other things like my modelling which is great fun but my main passion is design. I specialise in branding and identity; particularly enjoying design that has longevity. Projects with a sense of mystery and a degree of intellectuality. And I suppose it's this element of design that first drew me to Rapha. Their carefully considered blend of photography, product and lifestyle.
After joining the Rapha Ambassador programme, I created an occasional series of 'exploration' rides where we'd catch a train out of the city centre after planning a route using Michelin maps. Roads that nobody had ridden previously so you're discovering the landscape together; going where your nose takes you. Out to the forest at Fontainebleau or heading west towards Versailles.
For the longest day ride in June we met in the 16th arrondissement at Café Dada - a traditional Parisian establishment located near to a local fruit market. From there we rode out towards Port en Bessin on the coast. And what's interesting is the change in architecture as you leave the city centre and head out into the suburbs before crossing the farmland of Normandy.
For local training rides, depending on which side of Paris you live a lot of people go to Longchamp. It's 3km a circuit and you can do an hour before going for a coffee in nearby Neuilly. East of the city centre there's the woodland paths of the Bois de Vincennes; the city's largest public park.
What I love about cycling is that it can appeal on so many levels. Whether you've ridden the Tour de France or out with your family and friends for a picnic; everyone can enjoy riding their bike at their own particular level. I spend so much time in an office environment that I like to be outdoors as much as I can. When I'm out on the bike, it's the perfect way to escape, to think and to reflect. And my favourite time to ride is just after dawn. It feels like you have a headstart on everyone. Like you've stolen those few hours before the wider world awakes.
The number of people commuting by bike in Paris has increased dramatically over the past few years. And in terms of an individual's well being, the behavioural impact is considerable. It's almost like you've achieved something before your day job has even begun. I always feel more energised with higher levels of concentration after riding to work by bike.
When I first moved to Paris it was towards the end of the fixed gear scene whereas recently road cycling is increasingly prevalent. Longchamp on a weekend is rammed with cyclists; multiple chain gangs riding circuits. And the interest in bikepacking is also noticeable. The 'pack light, travel far' approach to riding and route planning with people maybe opting for a gravel or adventure bike with a slightly more relaxed geometry and disc brakes.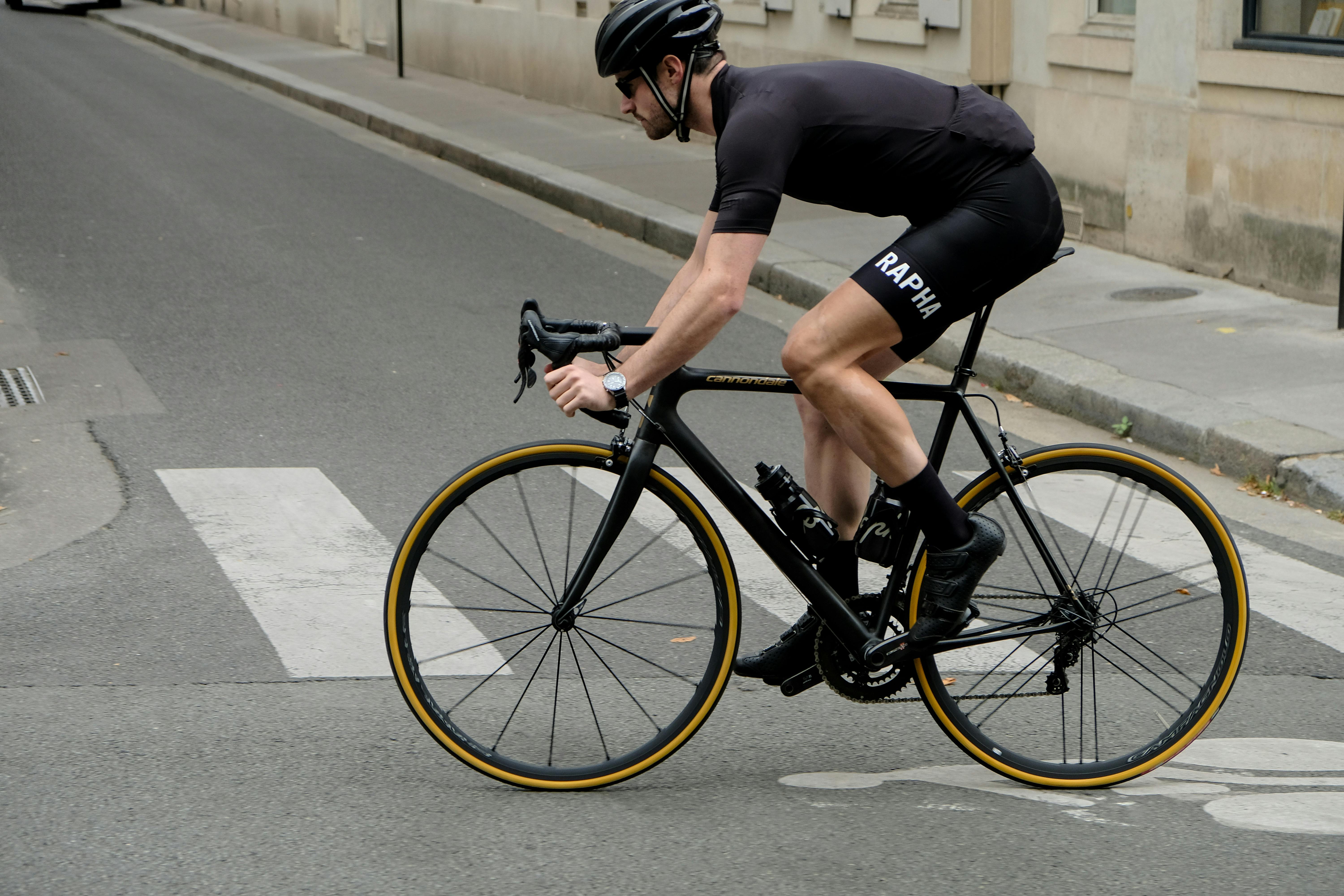 The 'in' thing to have if you're riding in Paris is gumwall tyres and it's not unusual to see a lady riding a bike in stiletto heels with a Burberry coat casually tied at her waist. Parisians are not afraid to mix fashion with their riding habits. Otherwise, the trend is for all black or very muted colours. Nearly every car in Paris is either silver, black or blue and you see this mirrored in an individual's choice of kit. The Steel Coffee Shop on Rue de la Fontaine au Roi is a good example of an outlet offering a range of neutral colour schemes.
I'm used to riding 100km before stopping at a cafe. But in and around Paris our routes tend to be a little shorter and we stop more frequently. And it's always an espresso; never a tea or a cappuccino. They might enjoy a cigarette but it's rare you see anyone tucking into a piece of cake. The cafes are very welcoming and they'll happily fill up all your bidons before wishing you 'bonne chance.' The Quirky Coffee Shop in Asnières to the west of the city centre is a particular favourite. And towards the east you have Café Moco that's convenient if you've been riding in the Vincennes Woods. Both great places to meet over a coffee as you don't have to ride into the very heart of Paris.
We always ride 'deux par deux'. It's not an issue unless you're on a particularly busy road. And to be honest I feel it's safer. It encourages car drivers to take their time overtaking rather than trying to squeeze through.
I rode Paris Roubaix last year and it's true when they say you have to ride the cobbles as fast as you can. The slower you go the more likely you are to come off. It was like nothing I've ever experienced before on a bike. Riding the Arenberg sector was literally like wrestling a gorilla. An amazing day out.
I've recently relocated back to the UK with a base in London from where I can work remotely on future design projects. I'm taking away so many special memories but the time was right to continue my journey; to start the next chapter in my life.