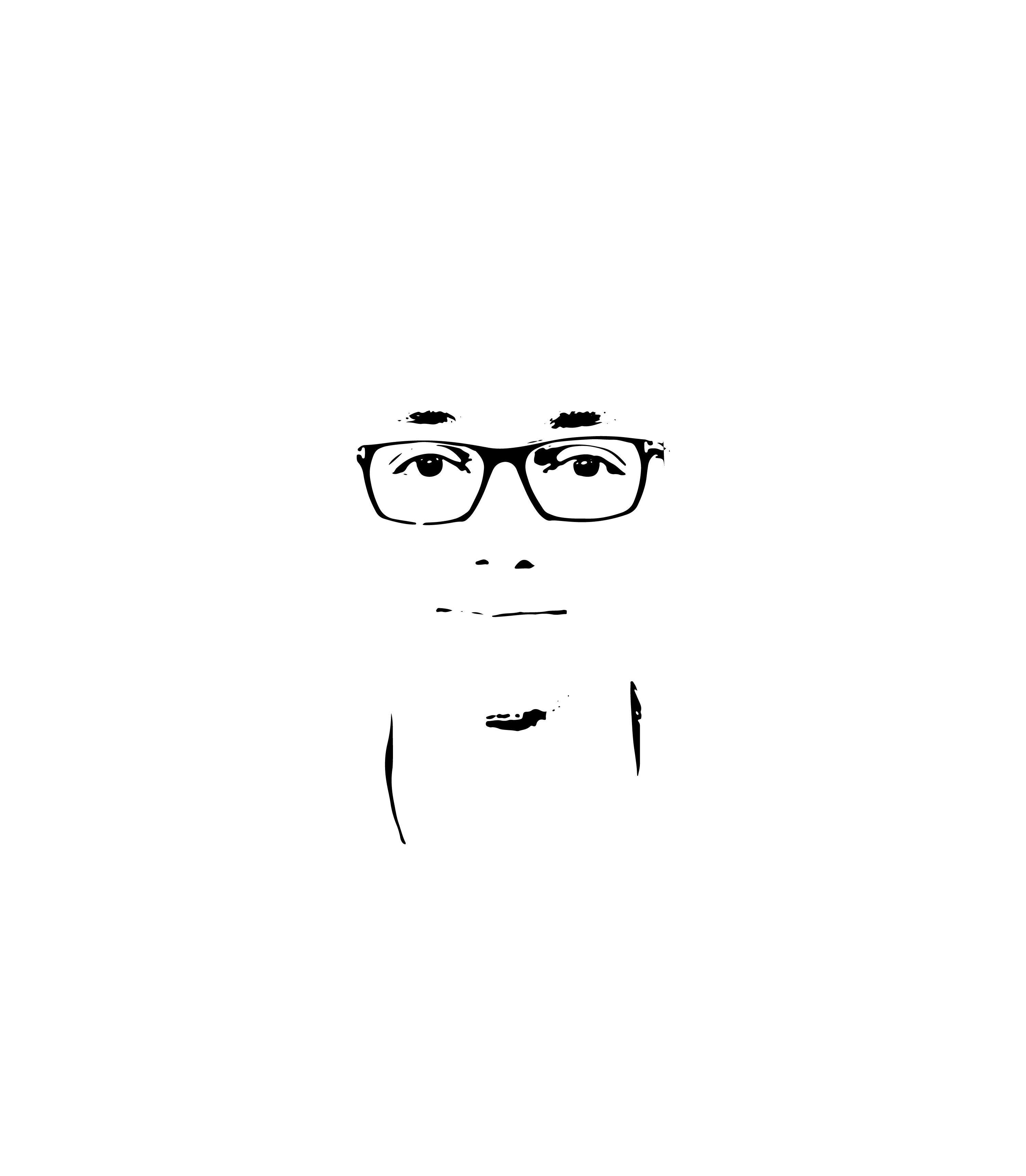 Text: Mari Oshaug
Photos: Andy Donohoe
Illustration: Mari Oshaug
It was at the L'Hirondelle Bike Shop we spotted a bright yellow Look KG 396 hanging on the wall. We were told it was borrowed from a bike collector in Paris. It stole my attention right away – a bike collector in Paris – the perfect story. When you think of a bike collector, you usually visualise an old man with a beard, a dirty garage and a lot of bikes hanging from the ceiling. This is not the case here.
Vincent is a full-time student at Ecole hôtelière de Lausanne in Switzerland, but at the moment he's doing an internship in Paris and lives at his parents place, a gorgeous, Italian looking, art deco apartment right outside the city of Paris. We met up with him to have a look at his bike collection.
Why do you collect bikes?
VG: I think it came by itself although my family has never been into bikes. I did cycle as kid, but not for long – Paris is not suited for young kids cycling around. After buying my first bike and discovering a lot of new things, I was hooked and started collecting. That was just the start and soon I had more bikes than I could count. Cycling and building bikes has been a way for me to grow and learn new things on my own. I also meet a lot of new people and it feels great to master something I enjoyed doing. There is definitely two parts of my life, before and after collecting bikes. Most of my collection contains of track bikes. They represent the real essence and origin of biking. They are pure, no add-ons, only what you need to get going. That's what I love about track bikes.
So it's all about the simpleness – does that count for the design as well?
VG: Yes, definitely. Most of my bikes are conventional road bikes, with a horizontal top tube. But I also have some low pros. I like to follow the evolution of design through the years. I used to like the 650 cm front wheel, but now I hate it, so I'm definitely changing my style as well.
How did you get into collecting bikes?
VG: It was around six years ago(2012). I was 15 years old and I bought my first road steel bike on Le Bon Coin, similar to the American Craigslist. I made a pretty good deal on it, so I was happy with that. I rode it to school every morning and soon I started getting more interested in the cycling scene in general. I bought my second bike, a Peugeot steel road bike, which I later sold to buy my first track bike, a blue and white Cinelli Vigorelli 2012. That is still my favourite bike. It was my first expensive bike and I had it for four years before I sold it for 600 euros, which was a really good price for a frame at the time. I really regret selling it and if I ever see one for sale again I will probably buy it straight away.
When I sold the Vigorelli I got the BMC aluminium track bike, which in my opinion is the best track bike out there.
I remember one of my first interactions with bikes on the television. Me and my friends were looking for information about cycling and we saw this Black Berry commercial were people were gathering to go for a fixie ride. All the bikes were super nice and flashing in the moonlight and that was the starting point for our bike interest. We were very young at the time but also very focused on how we could get these bikes, so we started hunting.
Without spoiling all your secrets, how do you go about finding new editions to your collection?
VG: It takes a lot of time. You have to be on the internet looking for bikes everywhere and all the time. You also have to know what to search for and be able to buy it. There are so many times I been looking for track bikes and suddenly something incredible turns up for a really good price, and I just have to get it. So it's mainly browsing the internet until you find something you like. When I was younger I didn't really have any preferred hobbies. I played some tennis, but most of my money went into buying video games. So when I started collecting bikes I had saved up money to get what I wanted. To have the money ready is super important, if you want the really special bikes. They get sold fast.
The hard part of collecting bikes is that it takes a lot of time taking care of them. Some of my purchases are only for restoring and selling again, to earn enough money to buy the good stuff.
Right now I'm doing an internship in Paris, but the rest of the year I'm a student at Lausanne in Switzerland, so it's hard to maintain the bikes, find the parts and finish the builds, when they are stored in Paris.
So if you buy a bike, do you travel to pick it up or do you ship it?
VG: It depends. Most of the time I ship them, but for my white Look frame I traveled 200 km by train to pick it up. They didn't want to ship it because it's such a special piece. The shipping is also often as expensive as the travel it self and it's also nice to meet the guys I buy it from.
Favorite brand?
VG: I think someone called me Mr. Look, because I collect a lot of that brand. At the time I have six Look bikes. I like them because they are beautiful bikes, just look at them, stunning. I love the huge tubes – it's a very unique look.
I also like Colnago, but it is so easy for everyone to like that brand, it's the Ferrari of bikes and the Italians knows how to build a good bike. I have four Colnagos, three that I'm going to keep.
But defiantly my favourite brand is Look. It's a French brand as well and I love the style. I got a white Look KG 296 time trial version, but I especially love the Look KG 396. It is known for owning more olympic medals than any other brand has been able to gather. That is very impressive and shows how much of an avant garde this frame is.
So what is the one bike on top of your list, any price? VG: That would be the original Cinelli Laser, of course. It's the bike I've idealised since the beginning. It's one of the most expensive bikes you can find and it's so rare. I think there is only 250 Cinelli Laser originally made, so it's impossible to find one for sale.
I heard about a guy in the south of France who found one in a corner of a velodrome were he went cycling. He saw the frame laying on the ground, sprayed black and he asked what it was. They told him it was trash, but he definitely knew that it was not trash. He said he wanted it and got it for the price of the steel. Although it was sprayed in black, it was still an original Cinelli Laser and he got it for 50 euros. If you are lucky to find one for sale, the asking price is usually anywhere from 5 000-20 000 euros, depending on the condition, frame size and the history of riders and such.
Bikerumor wrote about a prototype Cinelli Laser Nostra Fixed gear sold for a whopping $47,500. This bike belonged to Antonio Columbo himself, the owner of Columbus tubing and Cinelli bikes. It was ridden to victory in the 2011 Red Hook Crit by Neil Bezdek and later sold in a RED charity auction put together by U2 star Bono.
What would you do if you came across an original Cinelli Laser?
VG: I would be willing to sell all my bikes for one original Cinelli Laser.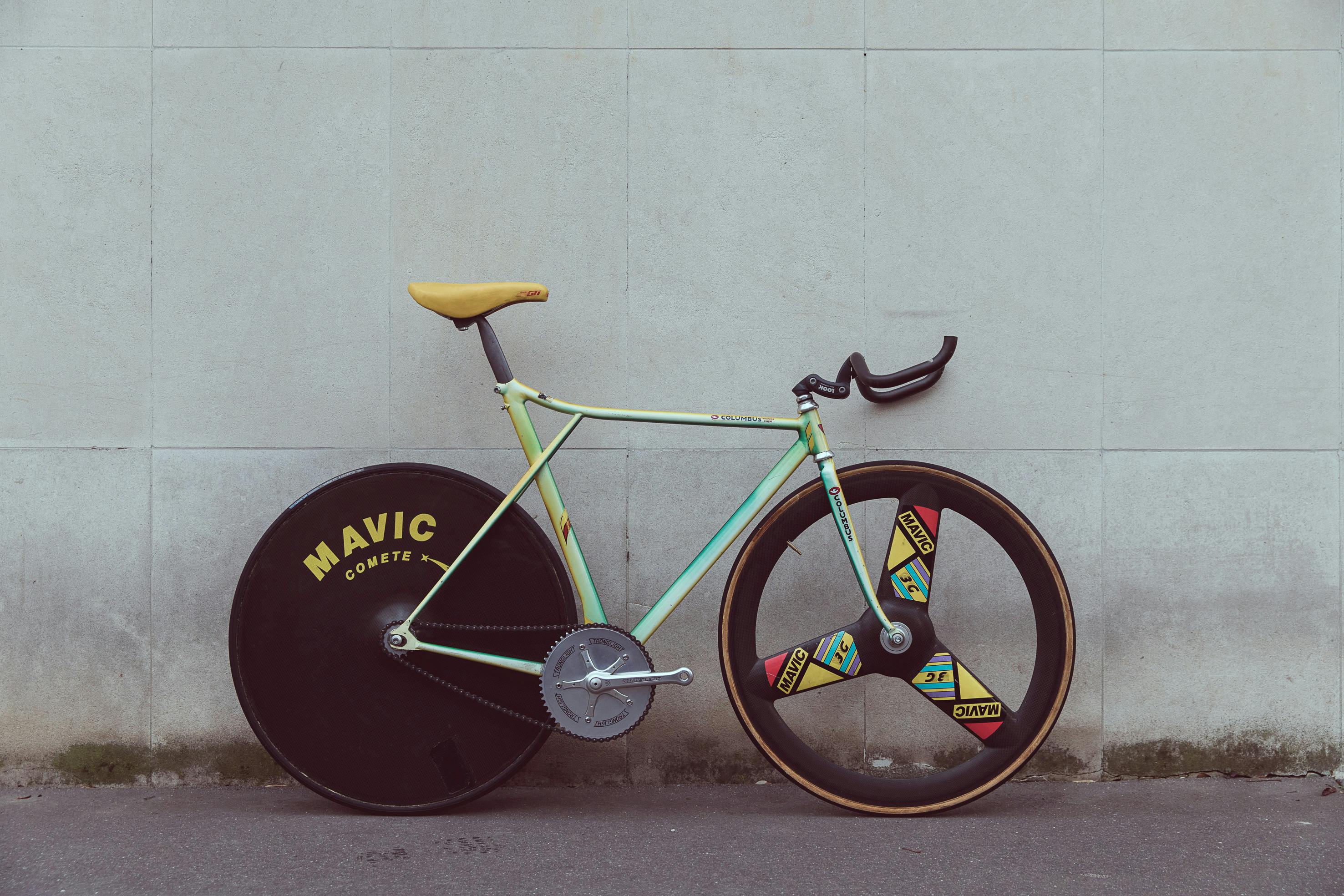 Preuss Record de l'heure des Flandres 1985:
This bike has been ridden by Jacques Dutailly and obtained the record de l'heure des Flandres with an average speed of 42,114 km per hour. This is a low pro manufactured by Bernard Preuss, a pro rider that later became frame builder. He realised the pure beauty in Columbus Air tubes, that are shaped like a drop of water, with a profiled seat post matching the shape of the tubes. I think this bike remained in Preuss shop after the low pro bikes were banned by the UCI. I heard that Mr. Preuss had an incredible bike at his shop, so I contacted him in order to confirm the rumours and see if it was possible to buy it from him. I got the bike about 2 years(2016) ago. I like it a lot because it is my size and it's not always easy for a tall guy like me to find the right size. It has both front and rear wheels in 700c. This suits me well because I dislike low pro bikes with a smaller front wheel. Unless I get a ridiculously high offer for the frame, I will keep it for a long time. I try as much as possible to match the nationalities of the brands on my bike and this one is fully provided with French parts. The bike is not fully done but hopefully it will be soon, and I'll be able to go fetch some baguettes with it.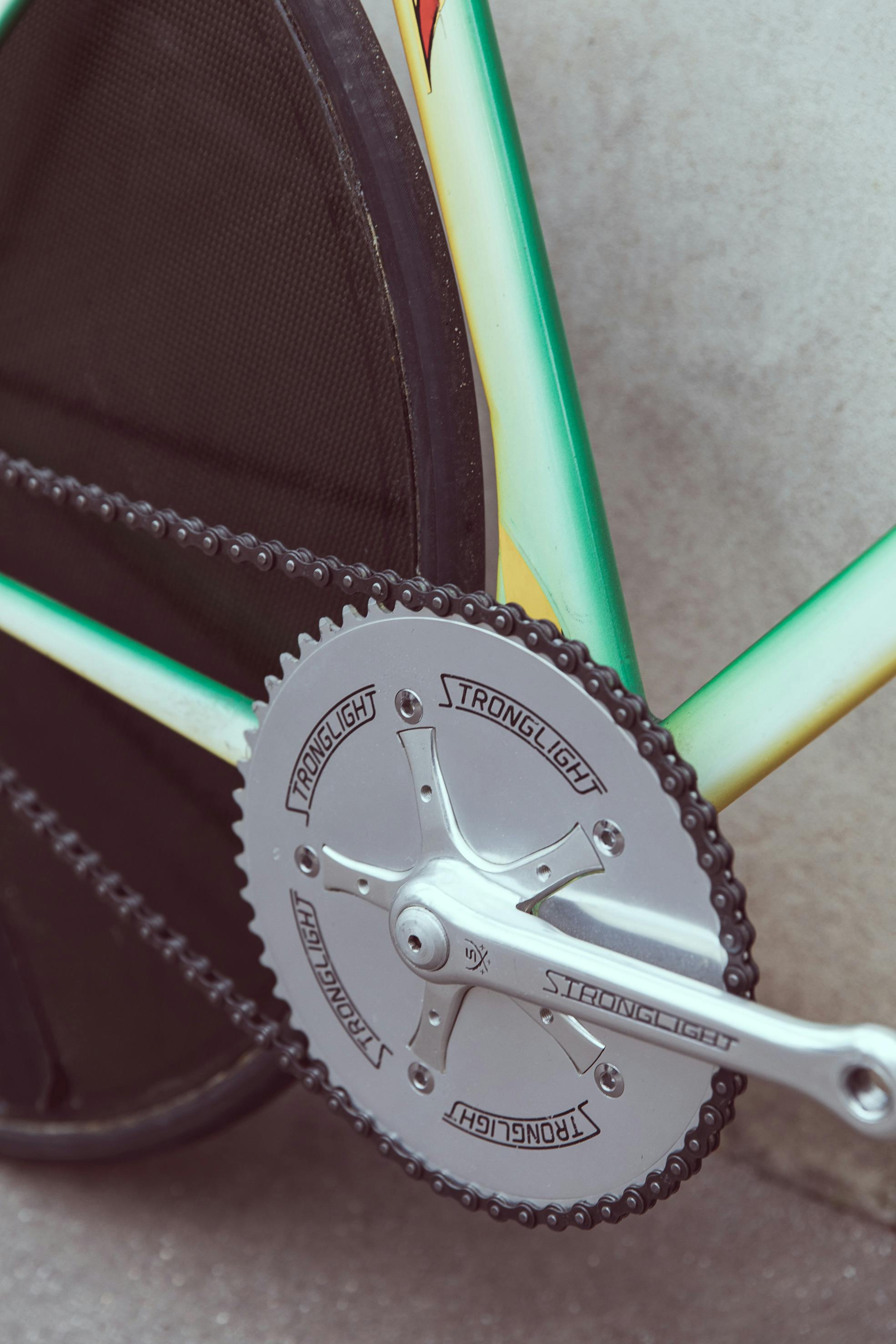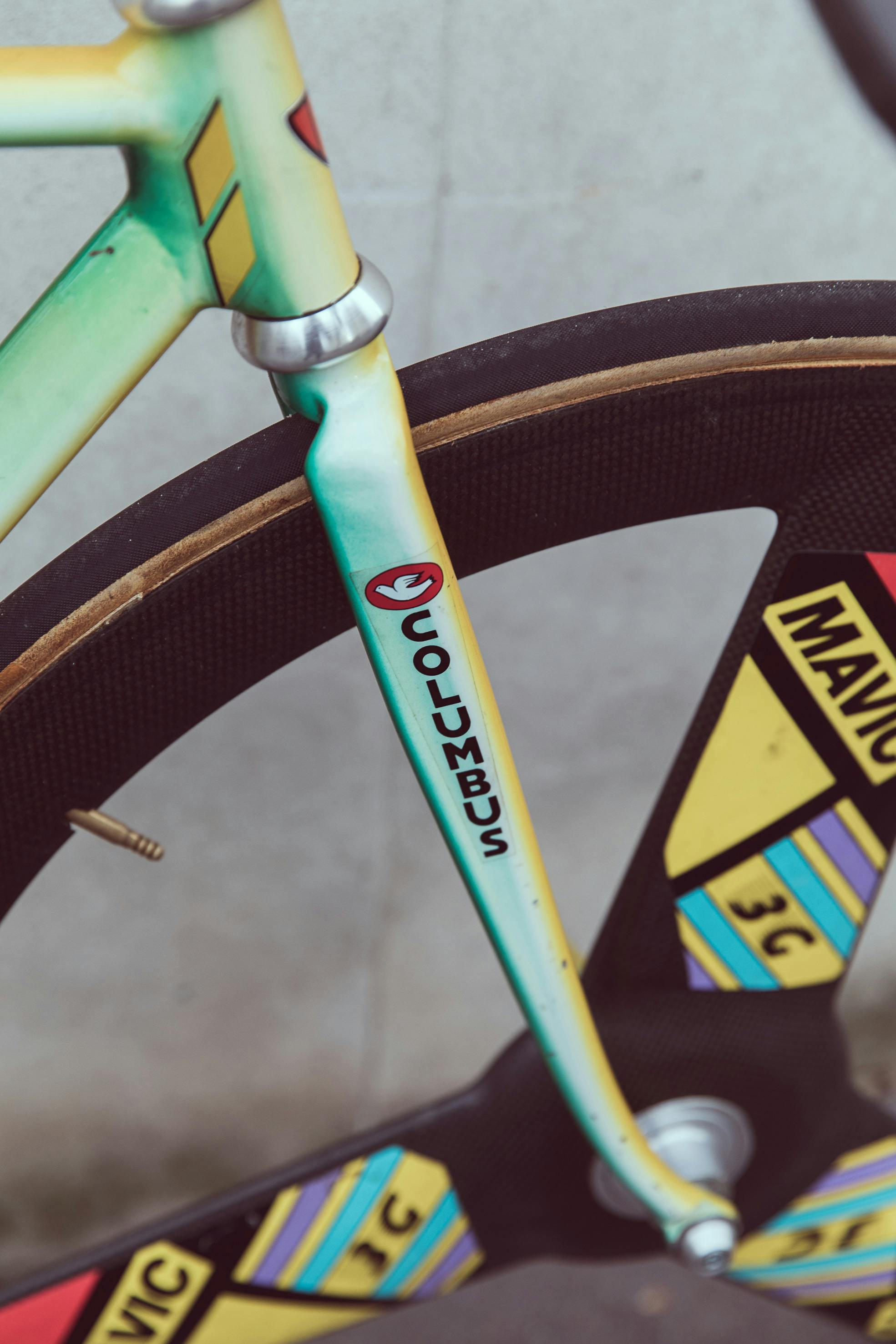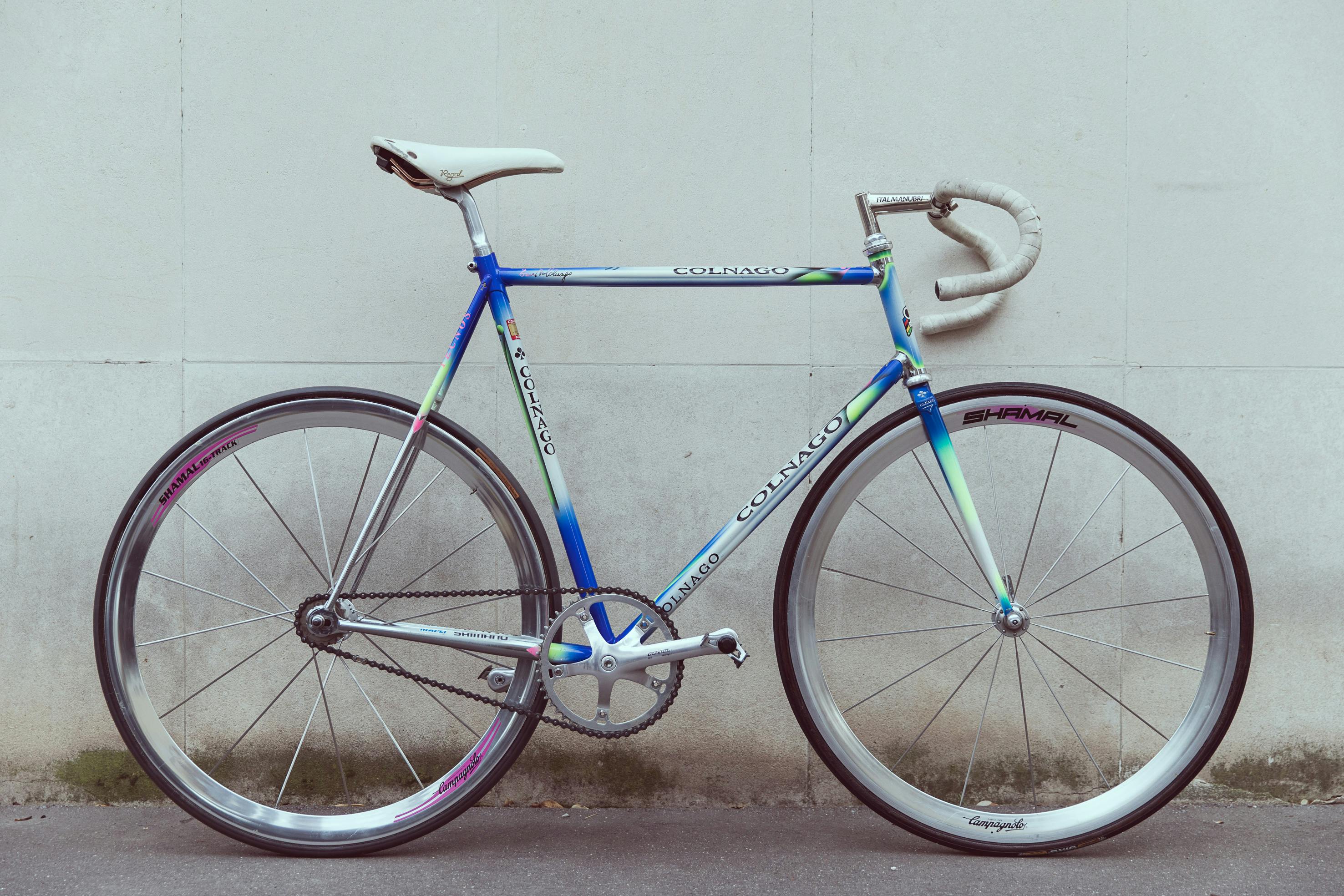 Colnago Master Tecnos Pista:
I bought this bike from a guy that bought it from Mapei for his son, one of the last addition to my Colnago collection. Colnago is the Ferrari of bikes in my mind. As soon as I saw the bike I fell in love with it, and once again this bike is my size with its 58cm hight. The photos present the bike in its first version that I'm working on changing to a pair of true Shamal track, a Cinelli Grammo stem and some more Italian stuff. I wish to keep this bike because it has very nice tubes with a clover shape and its team background with Mapei, which I believe passed between the legs of Gianni Bugno (pro rider at the time). It was originally mounted in Dura Ace components, but I'm changing them all into Campagnolo Record components, full Italian style.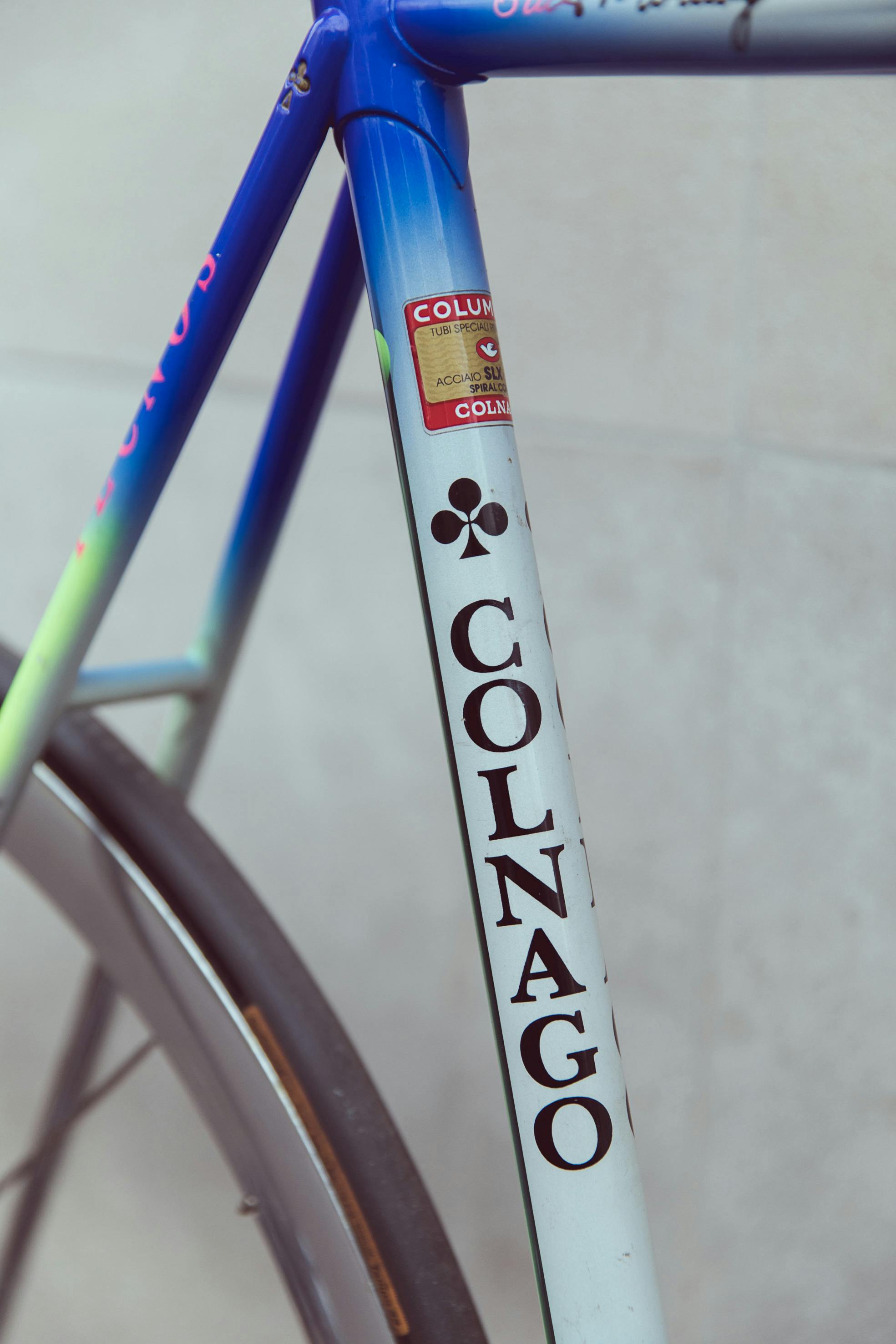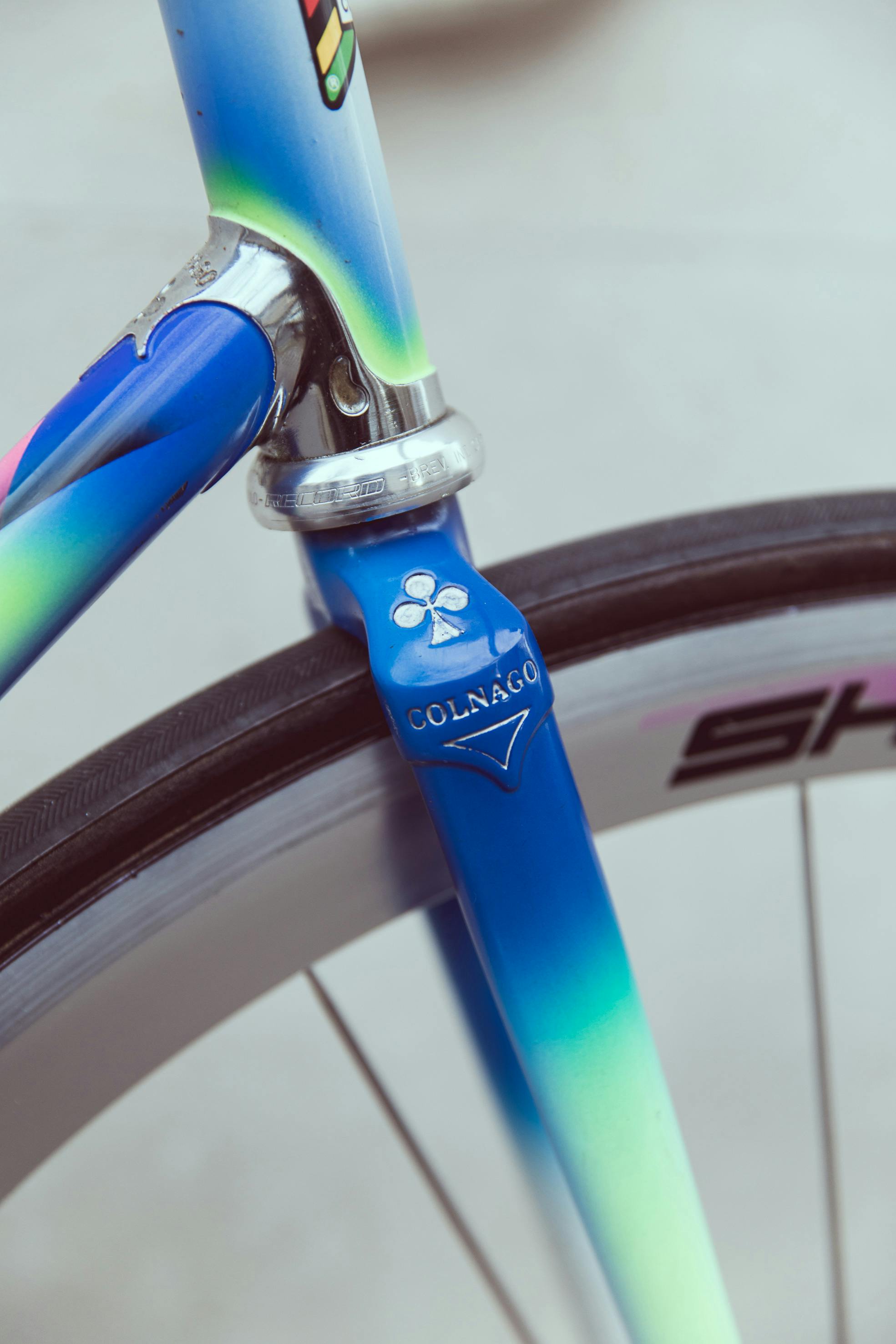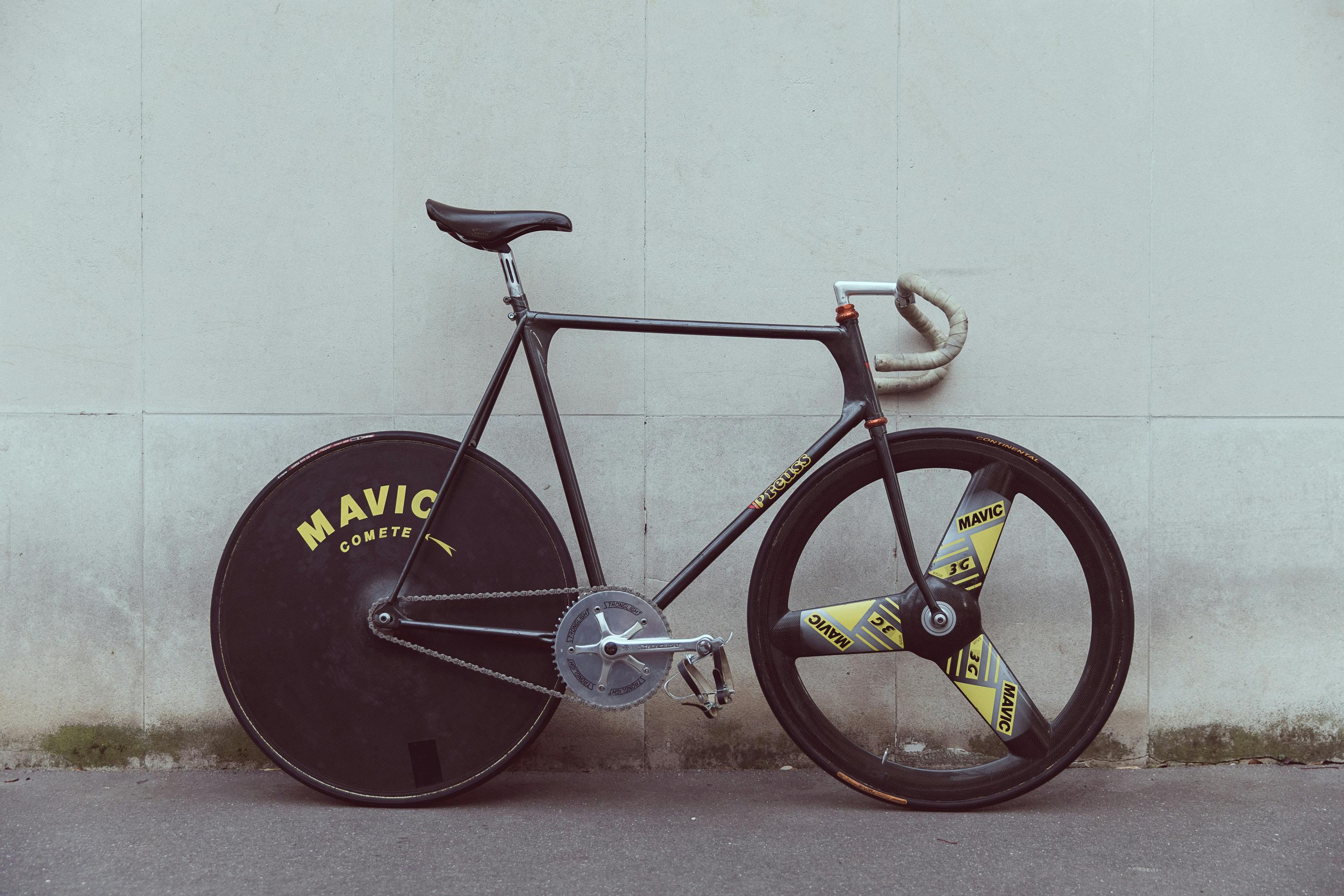 Preuss:
I bought this bike in 2014, from a guy that was selling around 200 bikes in some warehouse just outside Paris. I brought all my pocket money to this place and found three bikes. I only kept this one and sold the other two. It's usually mounted with low profile wheels but I tried a setup with the Mavic Comete and Comete 3g. This fits the frame pretty well and gives it that aggressive look that I like. This is a very tall bike – 62cm – which even for me is a bit high. But this very «Cinelli Laser» shape is not something you see everyday and proves that our French builders do a very good job.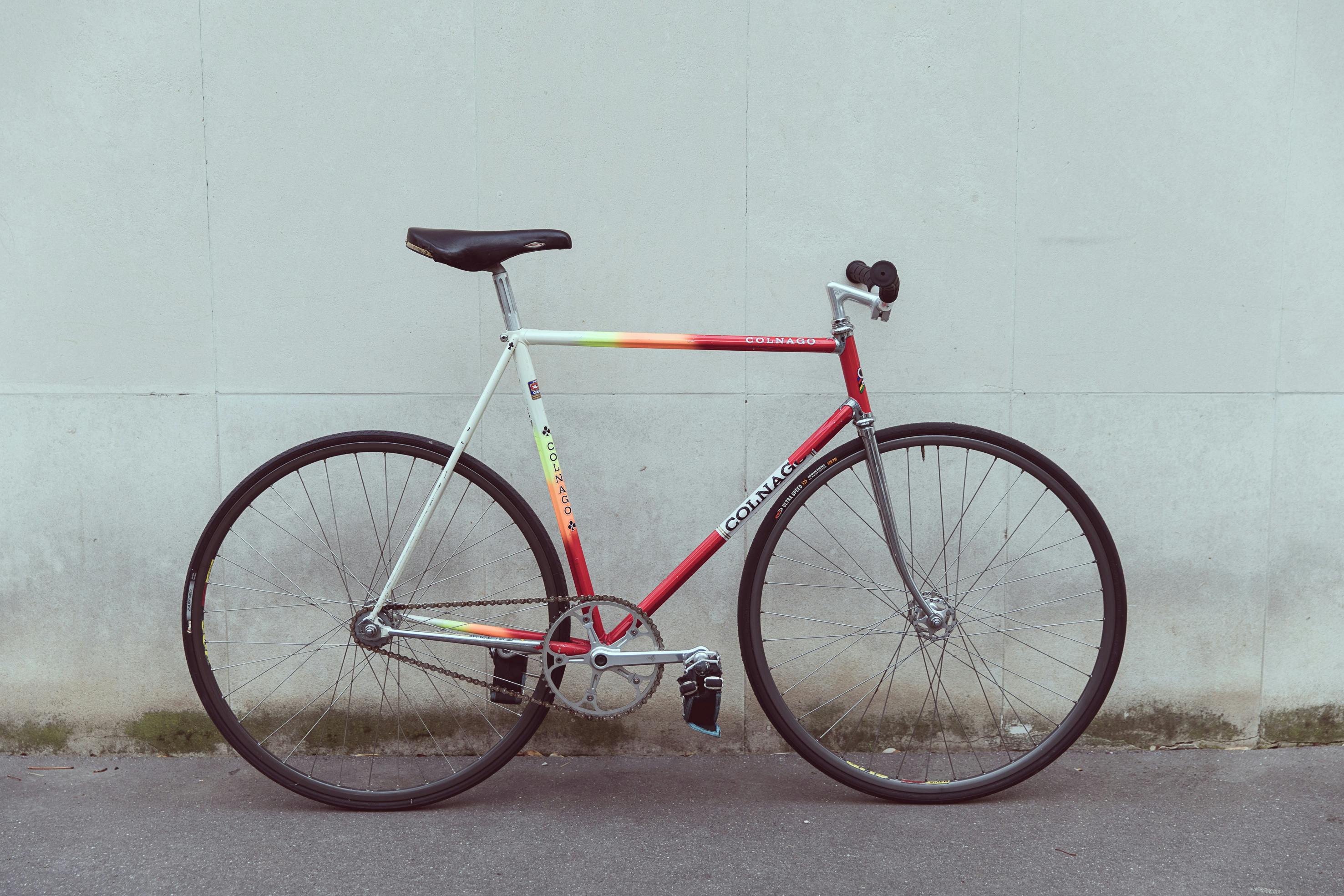 Colnago Master Più Pista:
I got this bike in Geneva. I saw the sales ad and called the guy to ask if he could wait for me to finish my exams and come pick it up. He agreed on that and I bought it. It think it's been a Swiss team bike, but I don't have a lot of information on it yet. The team used it with Dura-Ace components, but I bought it with nice Campagnolo parts that fits perfectly. It has the very nice Gilco tubes which make them look thiner and plainer. I fitted the riser bar on it because it's more comfortable when I want to go somewhere near with a brakeless bike. I don't feel safe riding a brakeless bike fast in Paris, because of the crazy traffic. This bike is one of my favourites and I wish to keep it.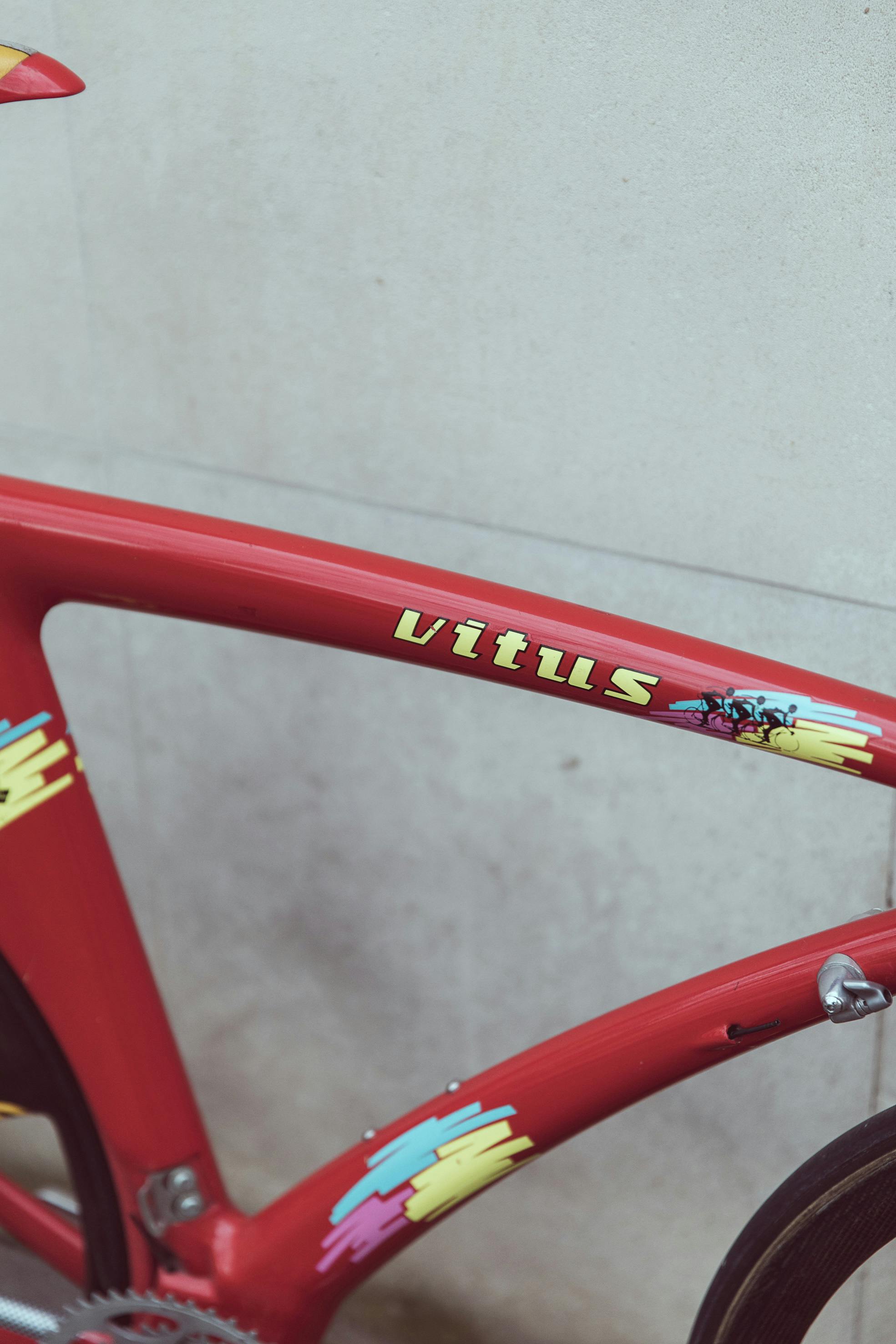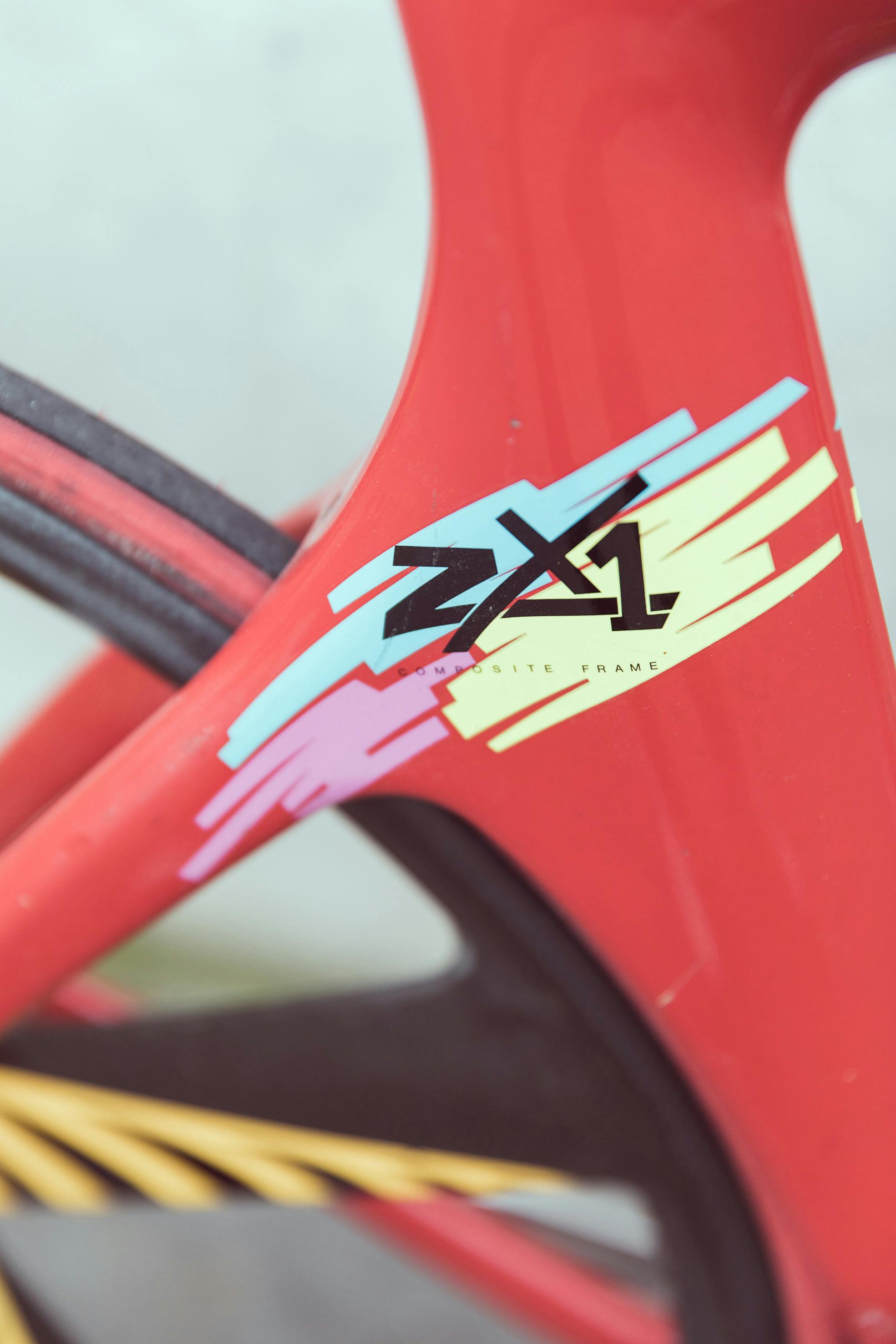 Vitus ZX1:
This is a carbon time trial frame i bought this year. I wanted to try and build a vintage Chrono frame with some nice parts I had collected, but I might not finish the project. I would like to free some space for other projects. Certainly track bikes – that's my passion. In this photo the frame is built with a pair of Corima 4 spokes carbon wheels and ITM Chrono bars. We will see what happens with this one. It might come for sale.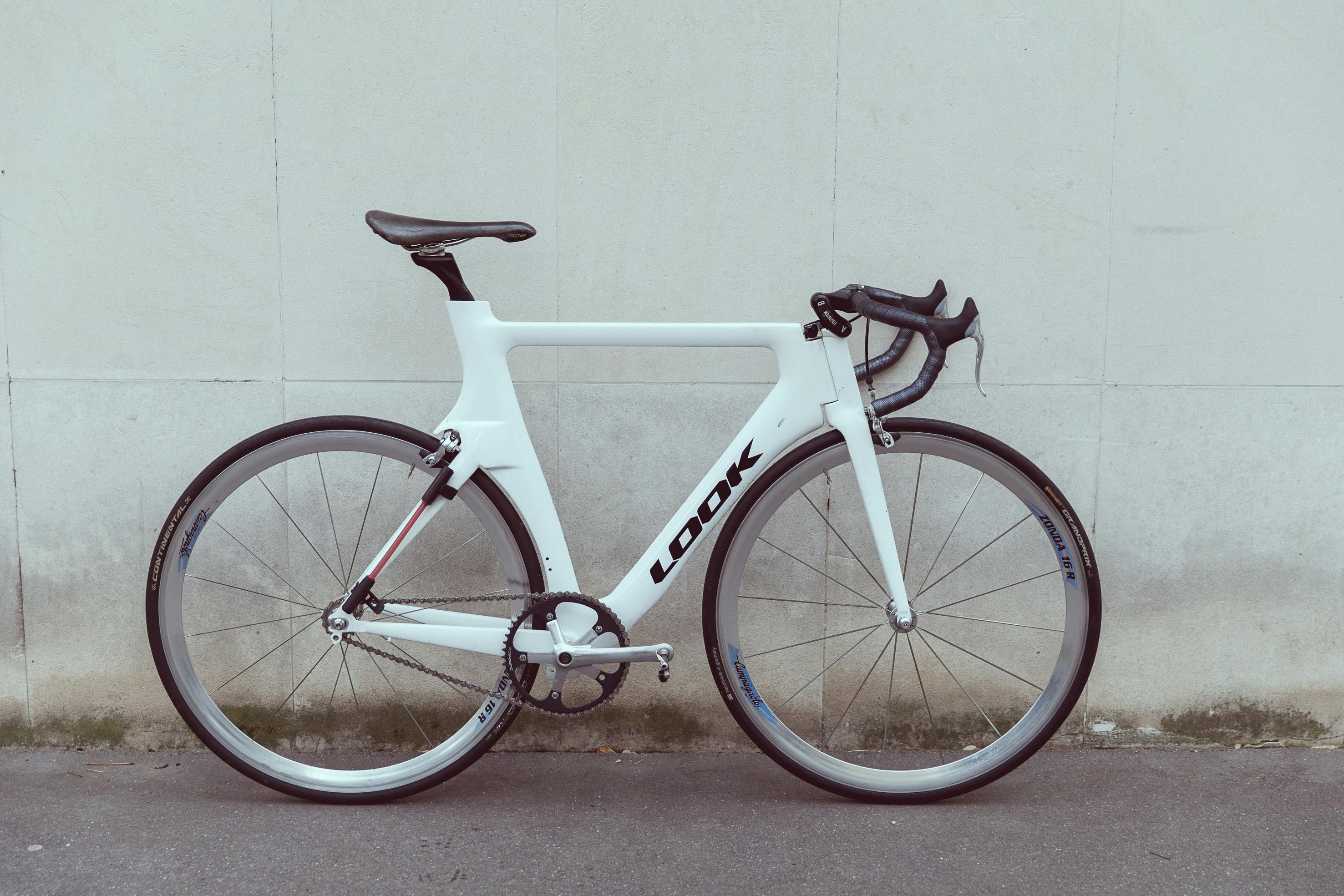 Look kg 296 TT:
This beauty is a white Look kg 296. It used to be yellow, which is the best colour for this carbon frames, but I find the white colour very nice as well. This is the second generation of Monobloc carbon frame that Look made and it's quite heavy for a road bike, but it was a winner at the time it was made. People may say that it's a shame to build this beautiful road bike in a track setup, but I like it this way.
I had the opportunity to find a track wheelset with a 130mm rear axle to fit on a road frame. This is mostly why I built it into a track bike, and I liked the style with the Campagnolo Zonda wheels. I've been thinking lately to honour this frame with a real road setup, like a Neo Retro build with an old frame and new components, but it's not cheap so we'll have to see about that.
I bought this frame in 2015 when I started studying in Switzerland. It was quite a long train trip to get it, but I was so happy to find something this rare for a good price. People tried to convince me into repainting it in the original yellow colour, but I think I will keep it as it is.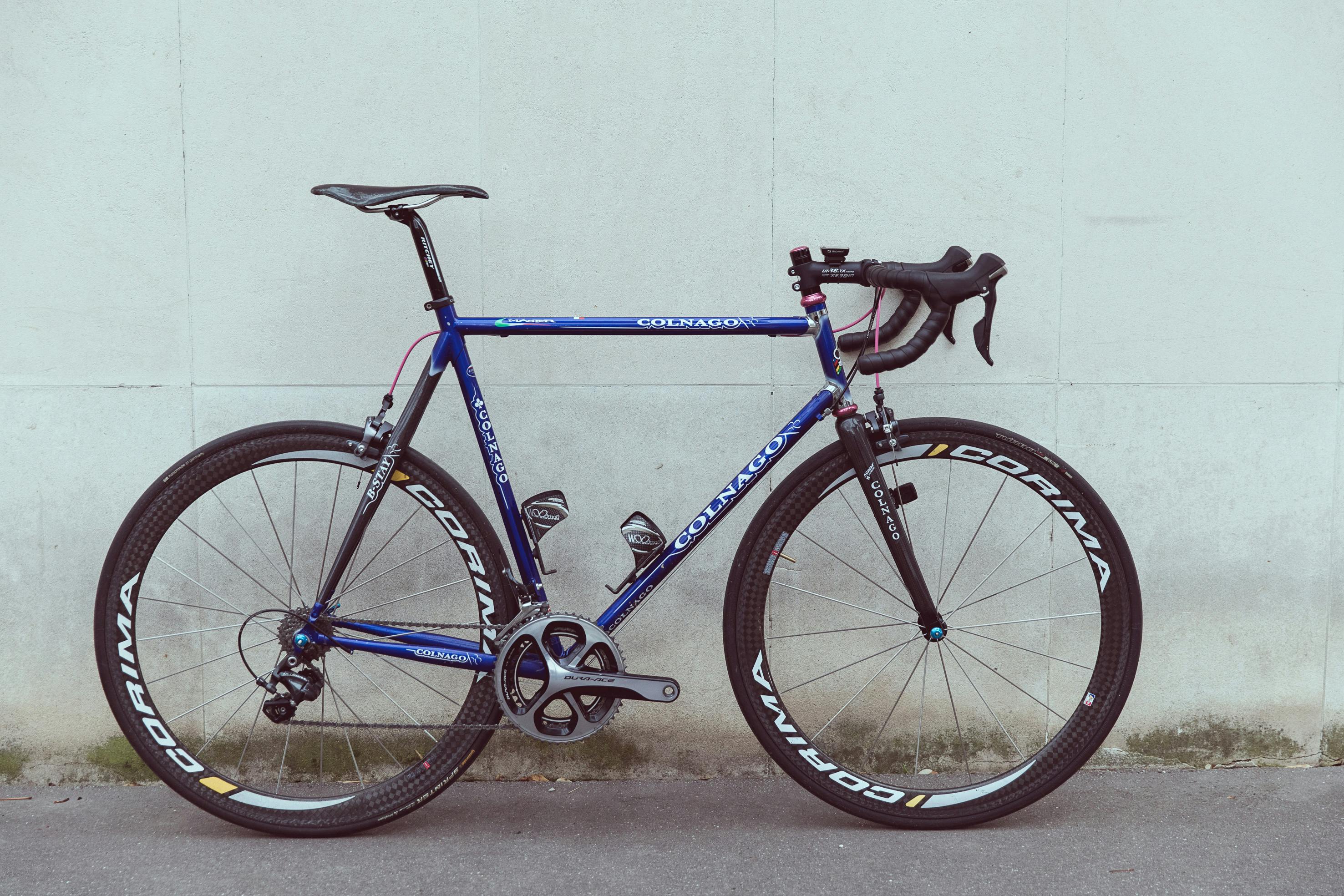 Colnago Master Olympic B-Stay:
I bought this bike in 2016 from a friend in Paris. When I saw it I knew it would be the perfect fit for my first road bike. I'm studying in Lausanne, which is known for being the steepest city in Europe, so I needed a road bike to get around, despite my love for track bikes. This way I learned how to properly build a road bike as well. It's defiantly one of the bikes I use the most.
I will keep this bike for a while. I love the look of it, especially the colour. I've never seen a similar colour on a Colnago before, the marine blue with the pink touch of the Chris King headset and cables. This B-Stay version with the carbon fork and wishbone gives it a modern look that fits well with the Ultegra/Dura Ace groupset.