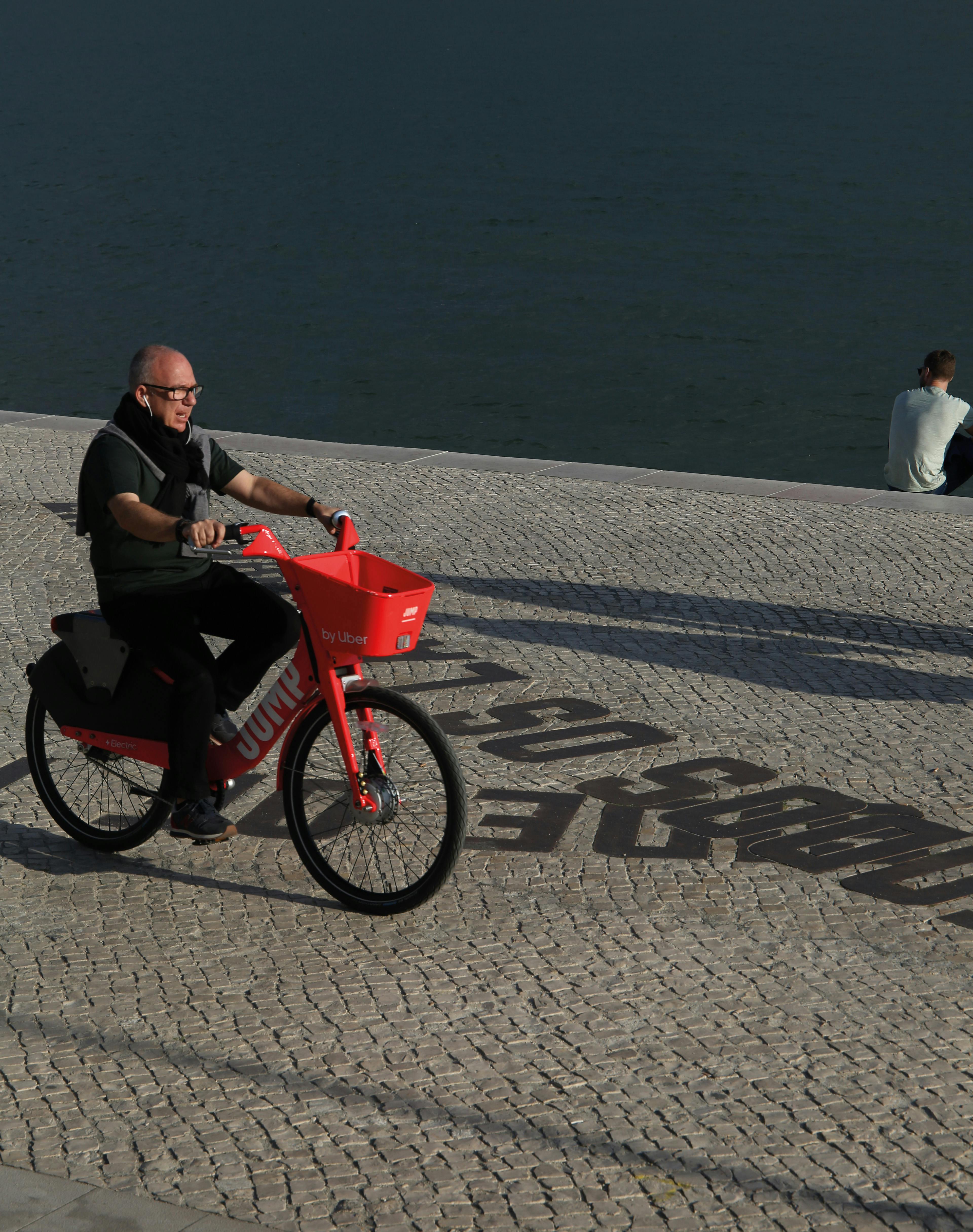 Text: Chris Hargreaves
Photo: Mari Oshaug
"Portugal was one of the first European countries to pass a ridesharing regulation with Lisbon showing an ambitious desire to offer real alternatives to the use of the private car. With this common goal in mind, we partnered with the City to launch Jump in Lisbon; our first European base in welcoming our bikes," Francisco explains.
With Gira previously the main service provider - offering a choice of daily, weekly or monthly passes with bikes available from docking stations - as Jump bikes have both integrated GPS and lock they do away with the need to return the bike to a fixed location. Using the regular Uber app to find a nearby bike, when you've reached your destination it's a simple matter of securely fastening the bike to a conveniently located fixing point. A simple matter as long as you first make sure you're still in the designated parking zones identified on the Uber app as leaving your Jump bike elsewhere will incur an additional charge.
With no unlocking fee and priced at 0.15€ per minute, the Lisbon Jump bikes offer the advantage of a small footprint when navigating the congested city centre and a 250 Watt electric motor to assist when the road rises up (the battery is changed regularly by Jump employees to ensure adequate range). As a design they're hard to miss with bright red paint, contrasting white branding and an integrated luggage holder over the front wheel. "On a visual level we fought to make the form, color, and branding striking – bolder than any bike share that came before it," confirms Francisco.
The lock slides into a slot behind the rear wheel that also houses a display panel and numeric keypad; used to enter the provided PIN sent through to the app on your phone when you want to unlock a bike. With the app also providing a function to place a bike on hold for up to an hour – charges will apply during this period – this allows you the convenience of locating your chosen Jump bike in the knowledge that it will be ready and waiting.
As the electric motor offers assistance up to a top speed of 25 km/h, you're free to explore the Lisbon streets without the worry of building up a sweat. Jump even providing its registered users with personal accident insurance together with civil liability cover during the period of hire; a focus on health and safety that includes partnerships with companies offering discounted helmets alongside advice on their website to follow traffic laws and ride responsibly.
Time will tell if Lisbon embraces the Jump scheme and whether potential users find the Uber app offers an ease of operation. Not only is Jump reliant on the bike battery packs being regularly swapped to maintain their charge but the lack of docking stations might potentially result in a game of hide and seek as visitors and residents alike orientate their phone screens to locate the red dots signifying a waiting bike. The benefits, however, of navigating Lisbon by bike – especially one that offers the boost of an electric motor – might very well win through and Francisco is quietly confident that the Jump scheme is already proving popular.
"We've received very positive feedback from users mentioning daily use to and from work as well as weekend rides along the river and into the surrounding hills; both Lisboetas and visitors to the city appreciating the ease of use, bike quality and levels of comfort."
"Launching in a new city always comes with challenges," he continues, "but in the case of Lisbon it's been easier as we worked hand in hand with the City Hall to ensure that our Jump bikes can become a true alternative to private car use. Full compliance with the city regulations meant that we hit the ground running and it's nice to know that such a forward thinking move is now being studied by many other countries."