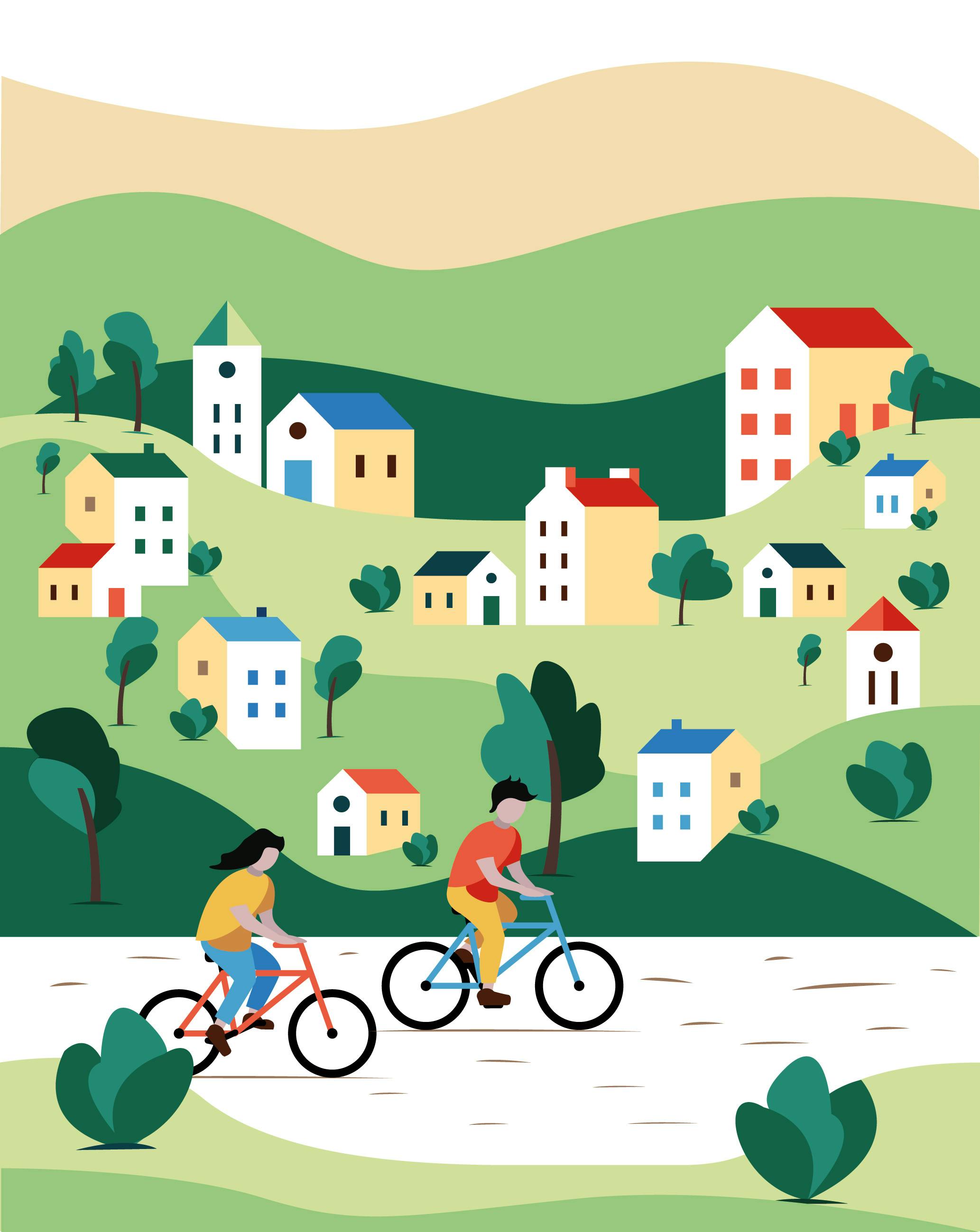 Text: Kaitlyn Bové
Illustrations: Mari Oshaug
It seems that every person we talked to had something to say about the growing industry, positive and negative. But how does it all affect transportation around the city? Scooters, bikes, cars, busses, tuk-tuks, all of which are finding their place in the growing tourism industry. Lisbon is a rather small city and you can walk to most of the sights to see. For a city with small and narrow streets, its completely overwhelmed with cars. Not only is it an environmental concern, but in the name of time, cars and busses are truly not even practical in Lisbon.
Electric bikes
Talking with our pool of Lisboan cyclists, we couldn't escape "the hills". The opinions were completely polarised in that some people scoffed at the idea that the hills are a challenge in Lisbon, and some were really bothered by them.
One of our interviewees, Inês, said that she creates her own routes. "Lisboans have a mindset of having to deal with the hills. If you know the right ways around them, it's going to be easier for you. I stick to the routes I've mapped out." It was also agreed upon that the hills that are too difficult to climb are in the city center. If you go beyond the center of town further away from the river, outside of neighborhoods like Baixa-Chiado, Bairro Alto, Graça and Alfama, you find yourself in the more residential areas of Lisbon that are more feasible for daily transportation.
João Camolas is the Senior advisor of Deputy Mayor for Mobility and Security at Lisbon Municipality and former owner of Lisbon's premier bike café, Velocité (which his now unfortunately no longer in service). He's also a fierce advocate for transforming Lisbon into an urban cycling city.
"When I had my first child I would bike him to school every day by strapping him in his seat on my bike. It's a fallacy that it's not safe, but more importantly, I didn't cross any hills because we live in a residential area away from the city center, João explains."
Lisbon has also been an experimental city of sorts for electric bikes. Bike sharing has been around in big cities for a while, but some companies are reaching out to Lisbon for a test run on their new electric bikes. Larger businesses such as Uber have used Lisbon as a "guinea pig". Lisbon was the first city outside of the United States to receive the company's electric bikes charged with solar power. Other cities like Paris are seeing their bikes now, too, but clearly Lisbon is a better experiment for a solar powered electric bike. Even Lisbon's own bike sharing system, Gira, provides electric bikes to get more people rolling around the city. Laura from Dayclub Studio stated that her biggest hindrance from riding full time in Lisbon is the hills but says that the electric bikes are one of the best solutions that the city has to offer.
Electric scooters
If you live in a large city there is a good chance that you have seen and/or experienced the electric scooters. Some cities like Hong Kong, Dubai, Lima, Auckland and New York have banned them, claiming safety as the city's main concern. Safety concerns are on the rise, especially in Lisbon where the slippery tiled pavement makes difficult for even a pedestrian, and where tracks for the city's notorious trams run along nearly all main streets. The other main concern is the organization. We interviewed people who called the lack of organisation "physical graffiti", sheathing the city with poorly placed rental bikes and scooters to be tripped upon.
From an environmental standpoint, many of the people we met in Lisbon were not bothered by them. José Caetano, Founder and President of the Portuguese Federation of Cyclo-tourism and Bicycle Users (FPCUB), says that, "We are all out here for the same goal, to reduce pollution. Anyone who is on our side is welcome. We are in this together."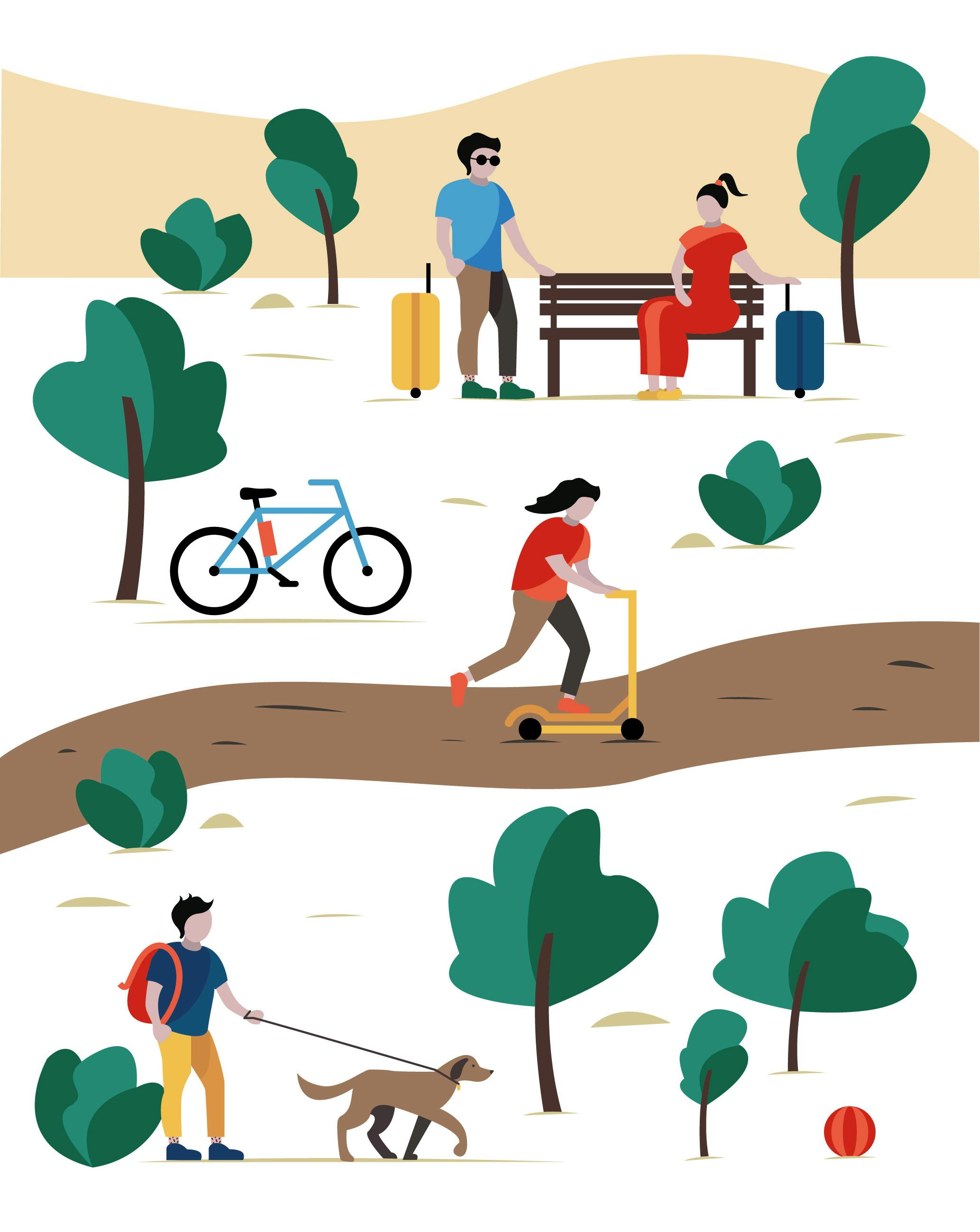 Bike rental and tours
Sitting in Praça do Comércio you can notice the tour guides on bikes holding their individually marked flags waiting for the others to join them. Just behind Lisbon's riverside yellow square is an area congested with busses and tuk-tuks waiting for tourists. It's a popular area just off of the sunlit riverside and leads to one of the main streets with shopping, Rua Augusta. Most big tourist cities offer bus tours to "hop on and off" at the big sights. Lisbon now sees tuk-tuks to get around thanks to the demand brought in by the rise in tourism. However, both of these options only add to pollution in the city.
Lisbon isn't as polluted compared to other European cities such as Budapest or Paris. However, that isn't to say that's not changing. One of our taxi drivers said "Look here," pointing at Marquês de Pombal Square, "…there's all of this new pollution – it's the most polluted square in all of Portugal."
For cyclists this is a key spot because it leads to Avenida de la Liberdade, a long avenue with bike lanes. It's also not too far away from Avenida Duque de Ávila, Lisbon's first street with bike lanes.
For foreigners who are not used to biking, let alone biking up and down the intense hills of Lisbon, the hills can seem intimidating and big buses and tuk-tuks seem like a good idea. But bike tours on electric bikes are on a rise and more accessible than ever before. A quick search on the internet will bring up about 40 different bike touring or rental services. According to a bike shop owner in Lisbon, who wished to remain anonymous; "In 2015 you didn't have nearly any of these options to get around Lisbon. Bikes have always existed in the city, but not in the tourism industry. It's only now that we are seeing competition on such a large scale."
Next steps
Where you can't bike, you can walk, and where you can't walk you can bike. If there is any city to explore by cycling it's Lisbon, simply because of the small and compact size and increase in bike lanes to reach places a bit outside of the main city center, like Belém or the LX Factory. The next step therefore to expand Lisbon's cyclo-tourism by eradicating the rumor that the hills are too intimidating to bike around Lisbon.