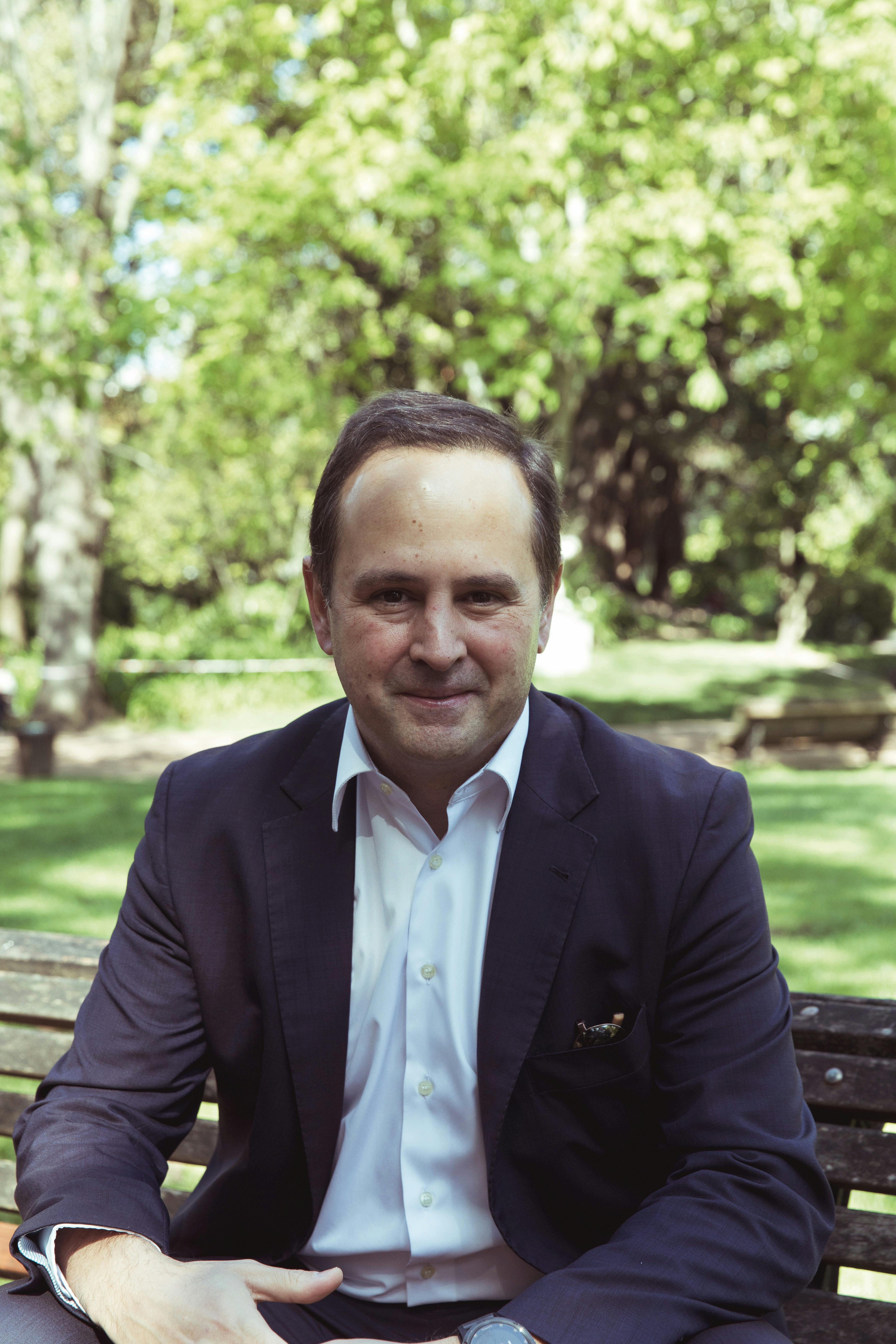 Text: Nick Chapman
Photo: Andy Donohoe
Fernando Medina
Mayor of Lisbon
We are in the grip of change. Five years ago, if you told people that cycling would be big in Lisbon they would have said you are crazy.
They told me I was crazy. The biggest highway in Portugal is in the middle of the capital city. The first cycle lanes here connected parks, it was done for leisure. In 2015 when I took office, we decided to increase this for daily mobility. When we presented our plan to give more space to bicycles and pedestrians, people complained. There was a huge debate, it was a struggle. They dismissed it as a nonense because you can't have bikes in a hilly city.
Opposition to my mayoral campaign was a film of a very remote cycle lane with no one using it, to demonstrate my bad policies and investment, but we have shown that when space is given to people they will use it. In this new phase no one is saying that bikes don't belong in Lisbon. Most people live in flat areas and when infrastructure is there they will try new things.
The younger generation are the ones embracing and driving change. They are not worried about car ownership, but want to be quick. They are the users of the share scheme, taking journeys from high areas of population to high areas of employment - offices and universities (not the hilly tourist area). They are probably more connected to people their own age in Paris, London, San Francisco – global cities – they share expereinces online and discuss issues including bikes and the environment.
We will have 200km of cycle lanes by 2020 and now my critics say that I am not going fast enough!
The main way to reduce the number of cars is to give people more options. I won't tell people that their mobilty choice is wrong - it doesn't help to lecture. It is much better to educate them on what works; to use campaigns with information and rationale, showing that it is better and quicker to bike once the infrastructure is there. It is a living process and my belief is that the city is more willing to accept and change than we think.
We are open to all solutions but I believe the key in reducing cars is the public transport system. This week we realise a dream in launching a new combined ticket that covers every mode of transport. Costing just €40, it covers 18 municipalities, 300 square kilometres, 3 million people, the biggest possible metropolitan area. Before there were more than 700 different types of pass costing on average €100 each. The rigidity of the system was very limiting as people had to choose what to use - they would drive to the city and then take a bus, the tram or the metro. Now people can leave the car altogether.
It is a very bold move, but it means that we can now be even bolder in taking away space from cars in the city because we have given people a real alternative. It is action for bikes, for pedestrians, for climate change and the environment - it is for the people and for the city.
Miguel Gaspar
Deputy Mayor for Mobility
What happened in Lisbon is similar to other cities. When I was growing up there were 150 cars to 1000 inhabitants in Portugal, now there are 500. Over 40 years the number of cars increased and we dealt with it by giving more space to cars. Cities were designed from the perspective of inside the car. Prior Lisbon Mayor, Tony Costa, now Prime Minister, said that we should have a different kind of city, one for people. This was ten years ago, and although it is a national policy, Lisbon is on the front line.
I have a strong conviction that if you don't change the way you live in the city, you won't manage it nationally. The new cycling goals are for 2030 - this is tomorrow (as they say 10 years is a day in the timeline of a city). To achieve this you don't need an evolution, an improvement - you need a revolution. It needs to be bold, it has to be fast, and this is why we are trying to change the landscape of Lisbon so quickly. We know that we aren't the best city for mobility, but we want to be the fastest changing one.
We have a new policy to create a safe place to play, to recreate as a community: A Plaza for Every Neighbourhood. This summer I wanted to teach my child to ride a bike and I had to go to another neighbourhood to find space, which meant I had to put everyone in a vehicle to get there. When I was young we simply went to the street. Everywhere we have made space for people they are used immediately – not one of these plazas is empty. The main concern around mobility culture is school trips – it is the most common reason that people give for using a car. Teaching children to ride a bike, to take public transport, to exist in a public space – this is how we will achieve this aim.
We are achieving a cultural shift and a critical mass in terms of the publics bike awareness, changing behaviours of car drivers with cyclists, but there both sides have to obey the rules. We need infrastructure, enforcement and education – cyclists can't ignore red lights. Recently the city ran a cartoon campaign challenging bad behaviour on all sides – drivers, cyclists, pedestrians – and it proved very popular, people took it up and used the slogans. Behaviour will always be the slowest thing to change, but it is happening. People are upset when space is taken from cars, but when it happens and noise is reduced and the environment is cleaner and nicer, they understand the benefits.
In other cities, like Barcelona, they have a good split in the modes of transport. Copenhagen is a good example for how bikes work in adverse conditions, they are still used because they are faster. In Amsterdam the tolerance of the city towards bikes is brilliant. We are doing things that work for us, such as introducing a heavy bias towards electric bikes for the share scheme which helped to demonstrate that whilst Lisbon is hilly, it is cyclable.
The bike sharing scheme has been a success – last year we passed a million trips using it. People try it and realise that cycling here is possible. They either continue to use the the share scheme or start using their own bike. Now 2% of total journeys are made by bike. From almost 0% 2-3 years ago, this is fantastic. But we know we need more – we want at least 10%.
Lisbon will host the European Cyclists' Federation's flagship conference Velo-City in 2021, which demonstrates our ambition. I'm not dreaming, we know that the numebrs aren't huge, but we are working towards it. We want to be one of the great examples of how a city can be good for cyclists.