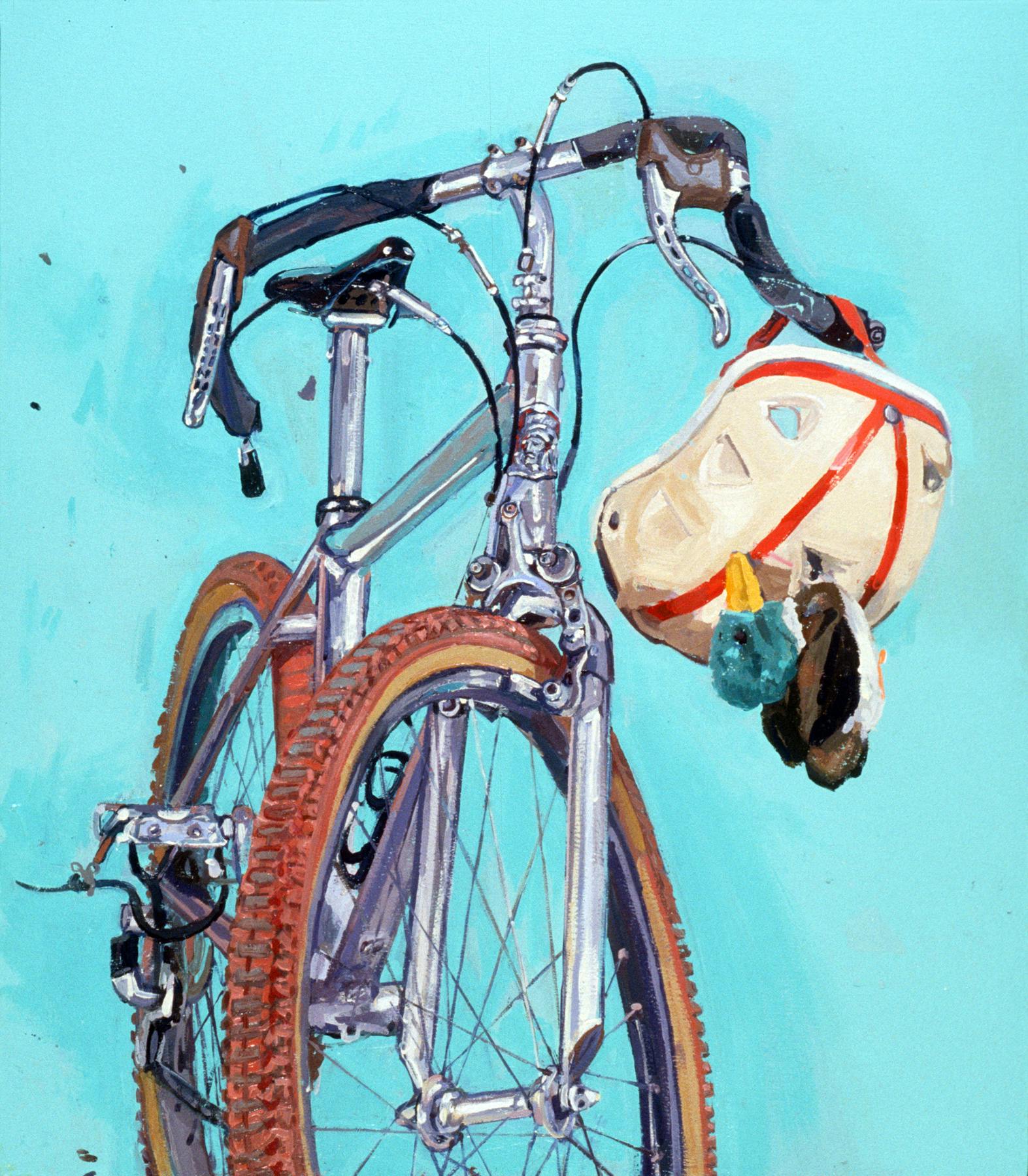 Text: Mari Oshaug
Photos: Taliah Lempert
Behind her paintings of bikes in all forms, colors and types, lies a great love for bikes and an understanding that the two wheels and a frame is both beautiful, important and definitely worth a close look. We had a chat with the artist about her artwork and how she picks her bikes to paint.
Tell us about your self?
My Name is Taliah Lempert, I'm an artist living and working in Williamsburg, Brooklyn. I grew up in Ithaca NY, went to art school in Boston and moved to NYC in 1990. My artwork includes painting, drawing and printmaking. For the last 20 years I have been making pictures of bicycles.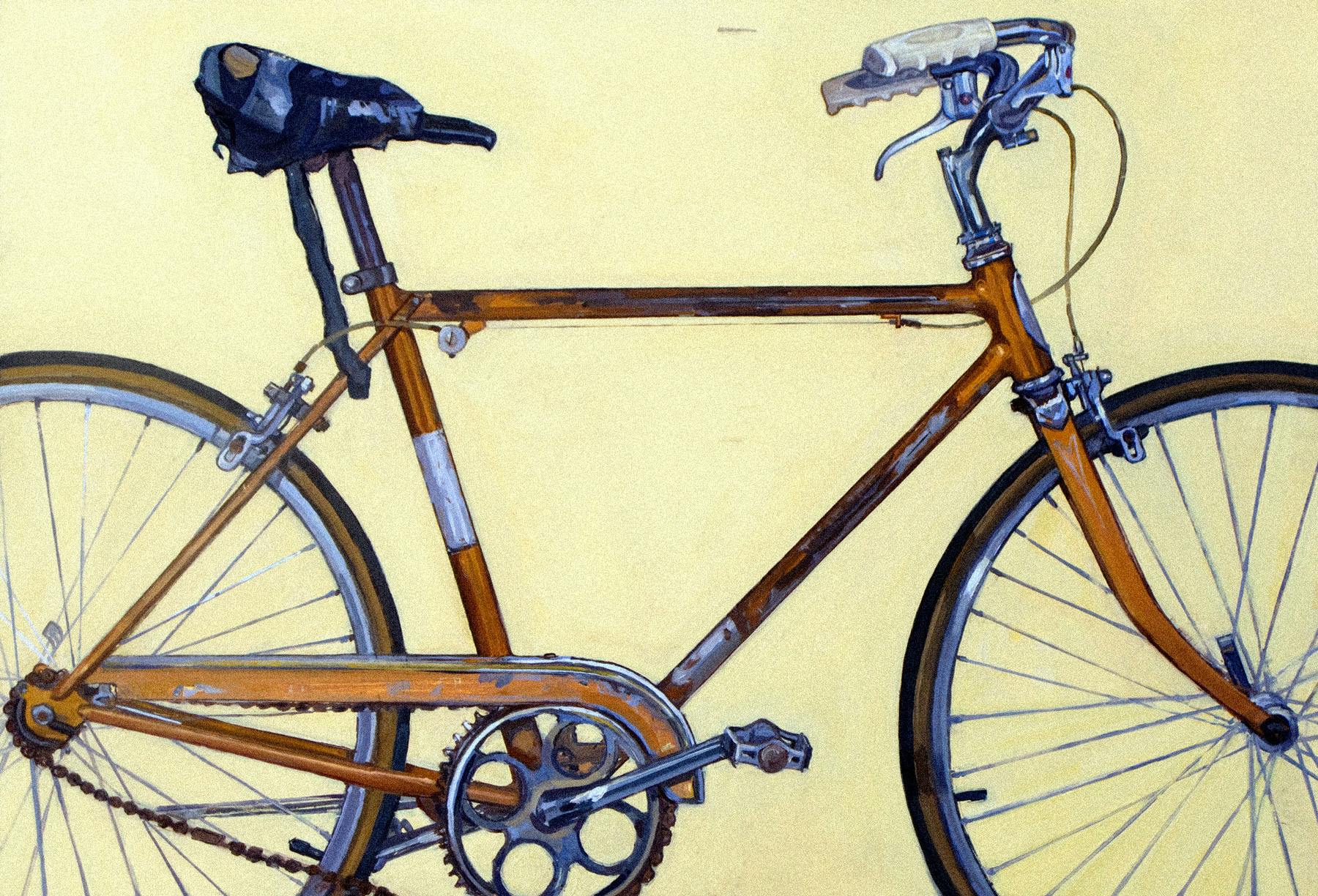 How did you get into cycling?
Bikes were abundant when I grew up. My dad loves cycling so we did a lot of riding and exploring on bike. I left that when I moved to Boston for school and didn't ride a bike until I'd been living in NYC for over 5 years.
One day, unexpectedly, I bought a cute vintage bike. It just caught my eye. I started riding it for transportation and the city opened up. I learned how New York fits together instead of knowing just the areas around subway stops. It felt so good to be riding a bike, exercising and feeling the air. I became a cyclist.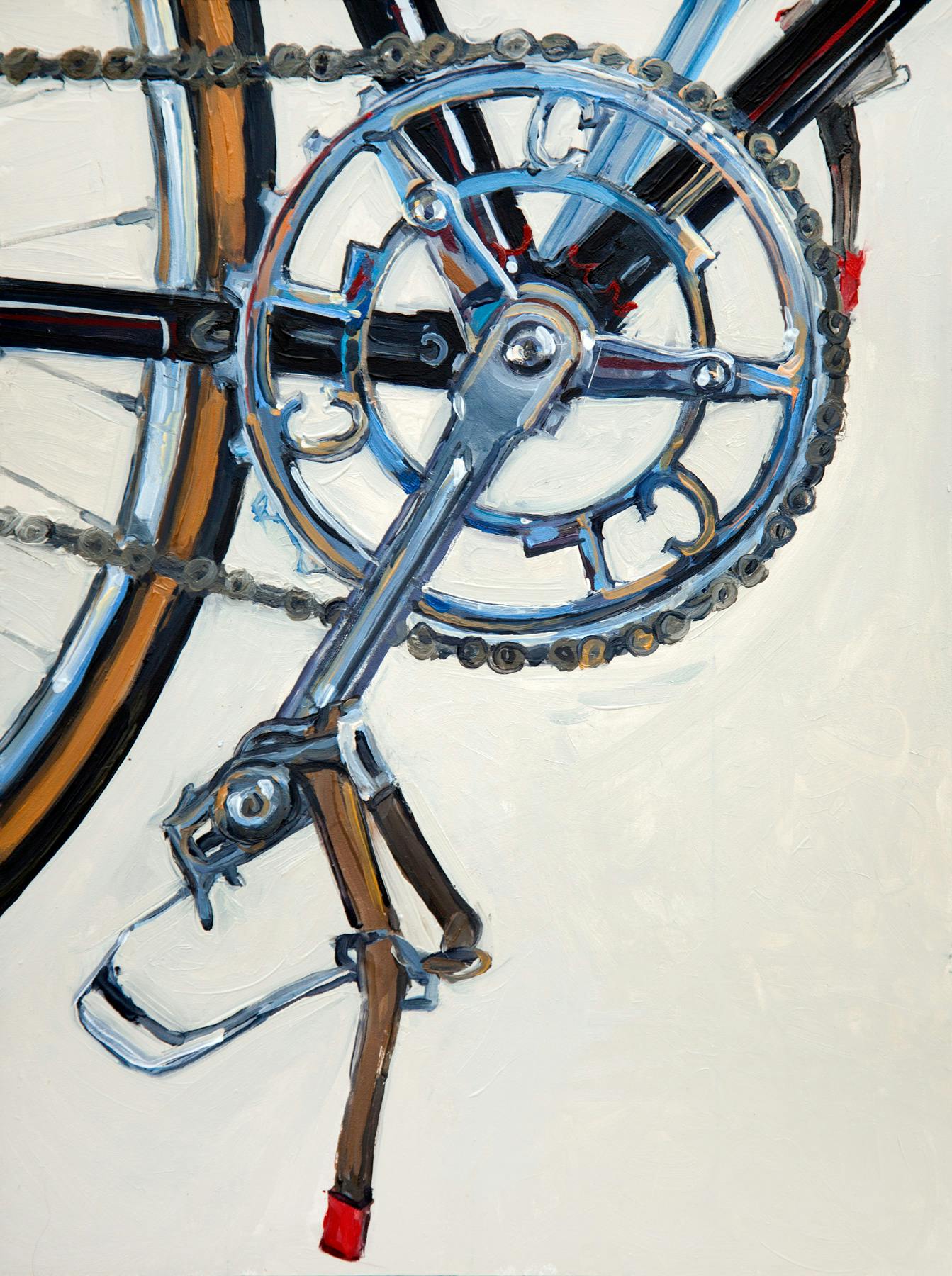 What does cycling mean to you?
Cycling is transportation, recreation and metaphor. Riding around town, to the park or long rides for exercise, with friends or alone, riding a bike gives me pleasure and a place to gather my thoughts. I love that bicycles are human powered, they are a representation for the independent nature of my work.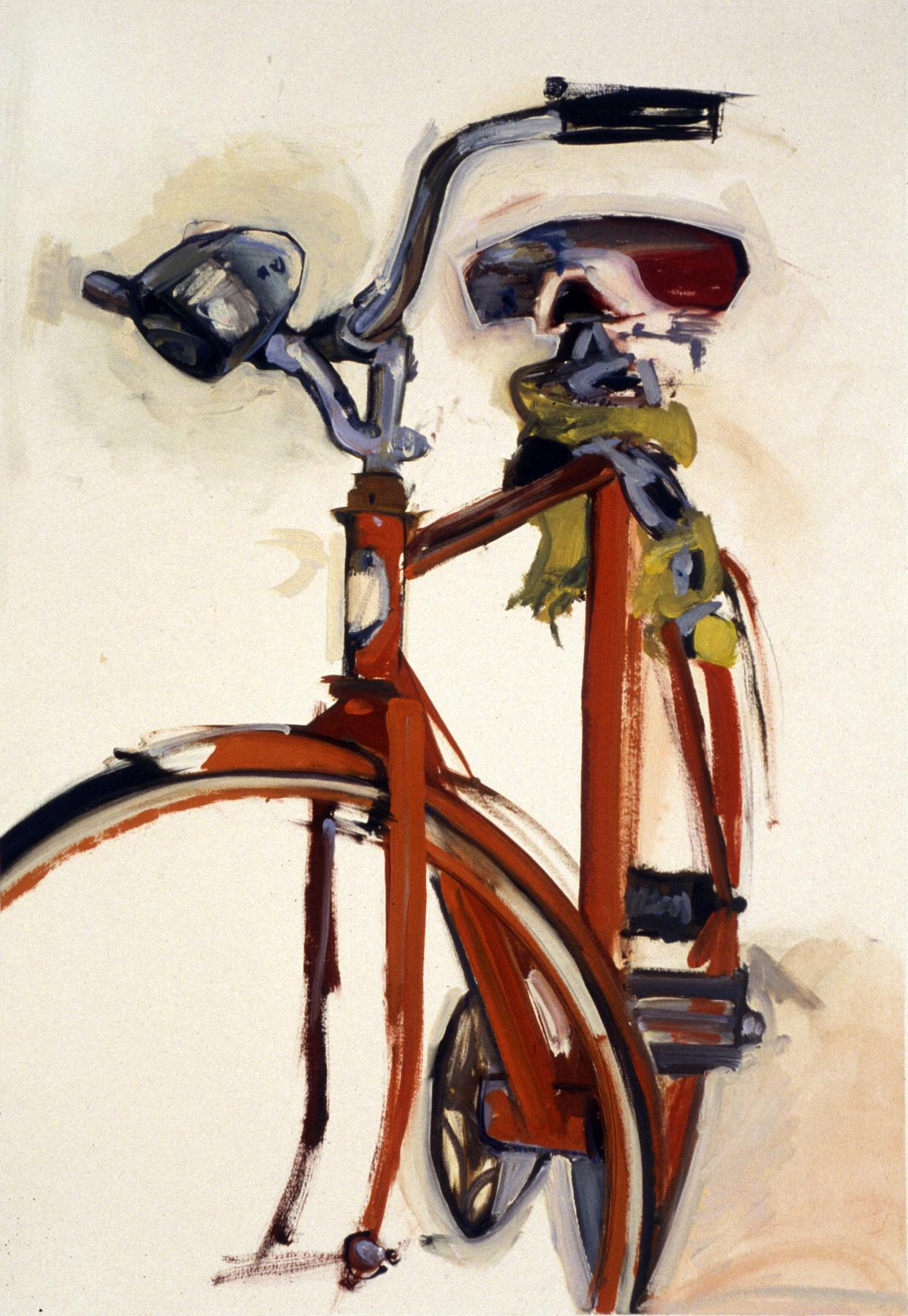 What do you like most about cycling in NYC?
Cycling is my primary transportation and often the best part of the day. When I ride a bike in NYC I feel connected, I am a piece of the city.
You have raced velodrome as well, tell us about that?
After riding for transportation for about a year, I bought a track bike, because it was beautiful. A good friend was racing, so at first I went to watch, then practice and then race. I raced on the velodrome for seven seasons, from 1999 until 2007.
I learned a lot from the track. About bikes, racing and myself. My favourite event is the matched sprint.
Track racing is wonderful. It's great to watch, because you can see the whole race, and the racing is exciting. In an evening of racing each rider can do about four races, so you get a lot of chances and can usually do something you feel good about.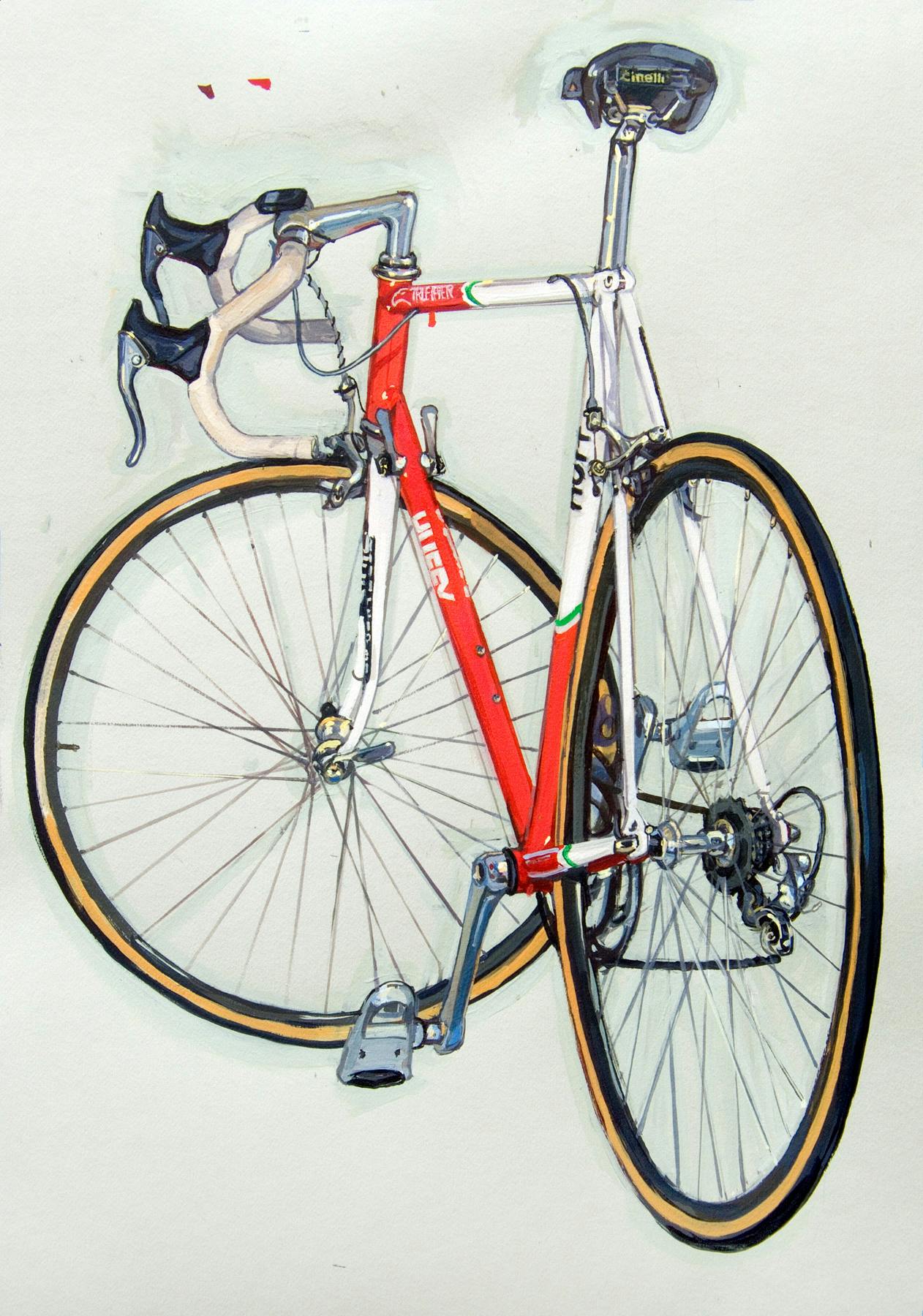 How did you get into art?
My introduction to making art came in high school. I chose a drawing class to fill a credit, thinking it would be easy. I loved it and started reading art history books and learning to paint and taking more art classes. Within a few months I realized being a painter was what I wanted to do with my life.
I went to art school in Boston. The Museum School was an extremely open place. Students could take whatever classes they wanted, or not. Each semester we were graded pass/fail on the total body of work we'd created. It was wonderful; Each student's art became integral to their identity. We had the space to explore ideas and be creative.
About a year after finishing at the Museum School I decided to study at the NY Academy of Art, the opposite of the Museum School. The Academy endeavoured to recreate a French academy. Lots and lots of anatomy, drawing from casts and live models. We built ecorche figures and were tested on the skeleton as well as origin and insertion points of the muscles. We got a classical education in drawing and painting.
At the Academy I developed my skills and got a good base for a lifetime of improving.
Since finishing school in 1992 I have taken a few printmaking classes at local studios and regularly draw from the live model at Spring Studio.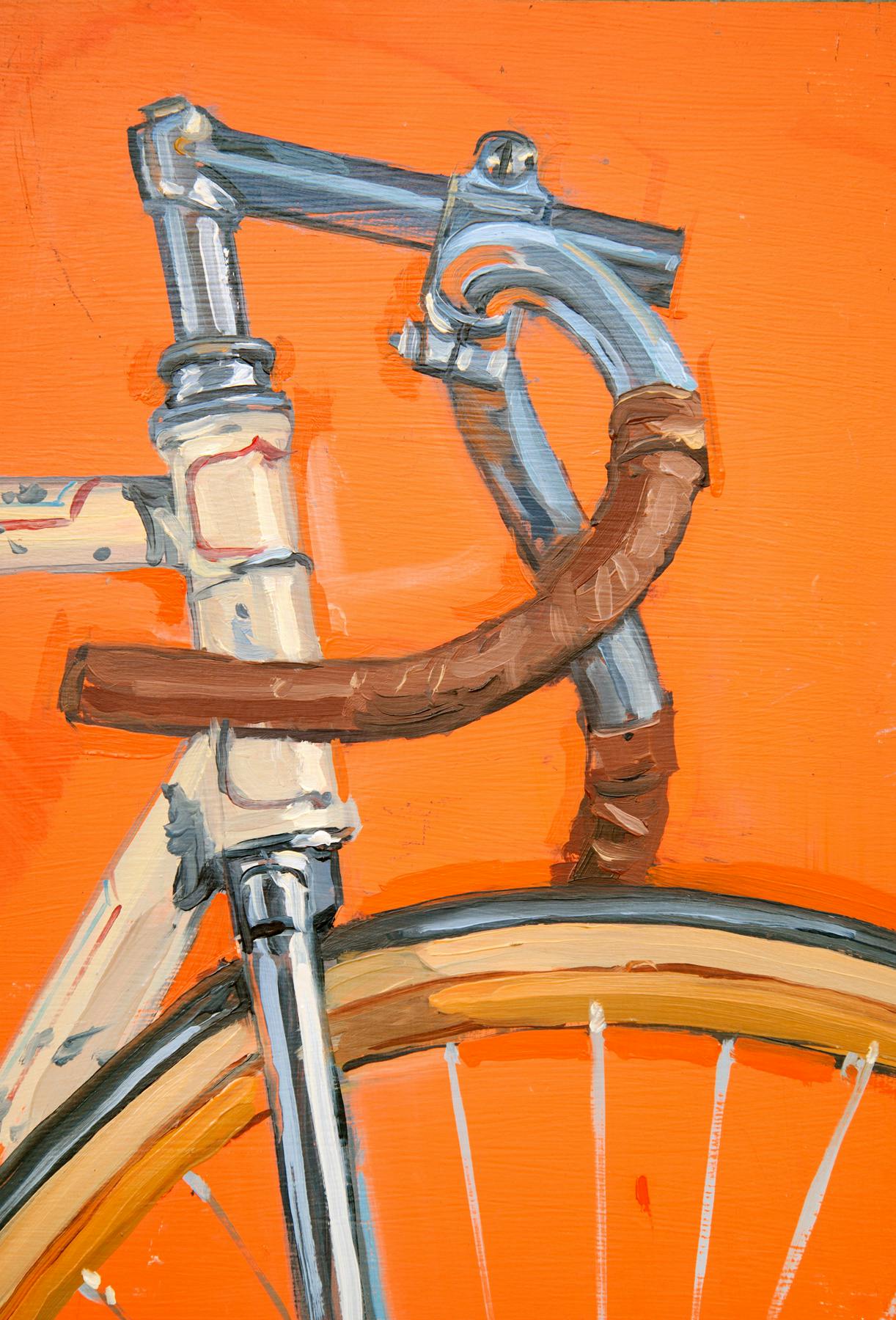 When did you start to draw bikes?
Drawing and painting people and groups of people was my focus before bicycles. When I started riding for transportation in 1997 I got so excited I had to paint my bike. As I met more cyclists I borrowed their bikes too.
I paint from observation with the bike sitting in the studio. That way I can pose the bike, set the lighting and create everything about the image. I don't use photos. The resulting painting is a picture of the bike. A recording of me looking.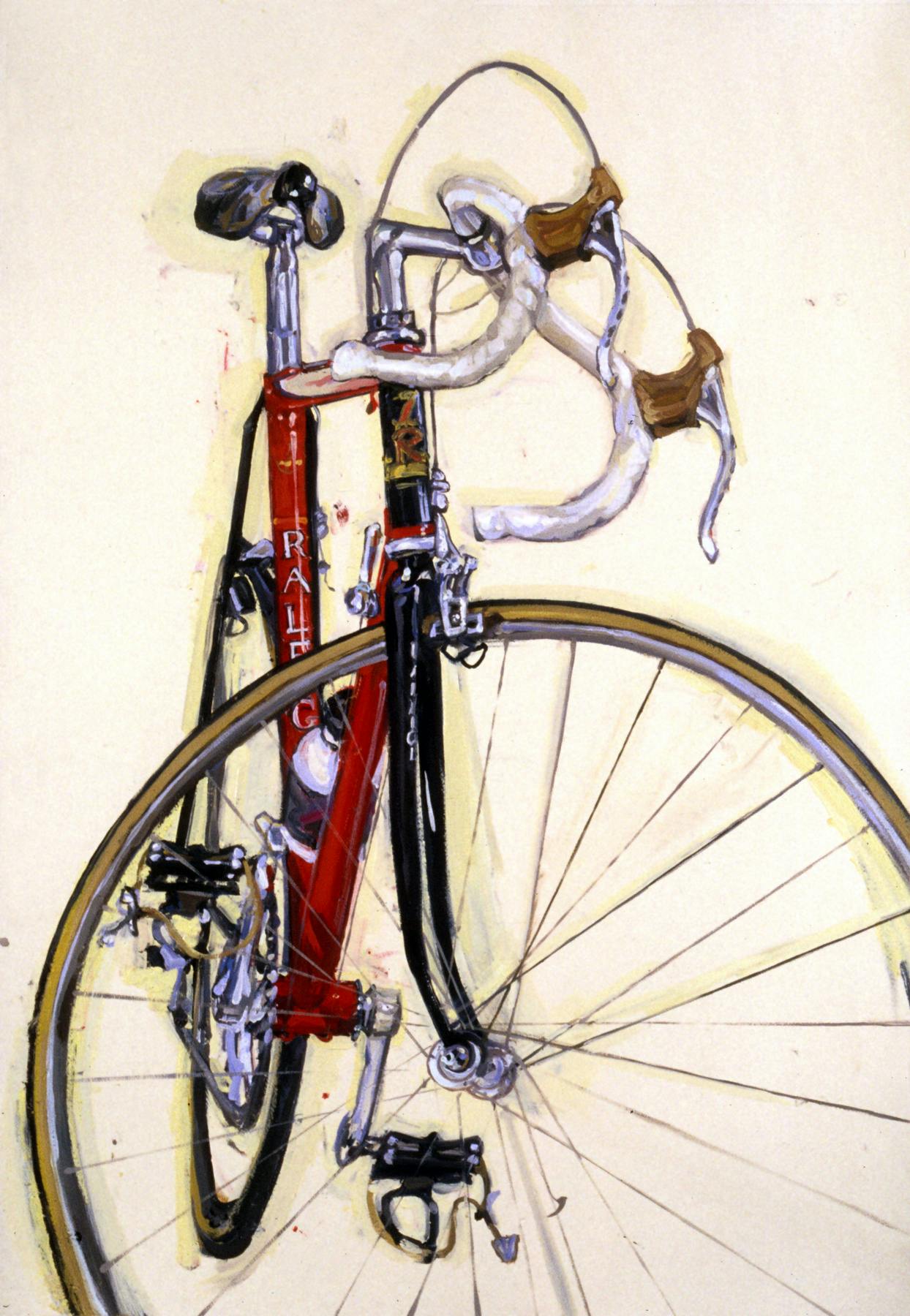 What is it about bikes that fascinate you?
There are a bunch of reasons why bikes are fascinating to paint. Bikes are made to carry the figure so there is a certain structure and geometry to them that is inherently figurative. The way the shape of a bike abstractly breaks up space to make a composition and gesture is beautiful. A bicycle is an active machine; you're going somewhere, moving forward, harnessing your own power. A bike make you more powerful, faster and able to do so much more, and that's a very positive symbol.
How do you go about choosing bikes to draw?
When it is not for a commission, I try to draw what catches my eye. I've asked people to borrow their bikes, if they are interesting. There is one that is currently locked up near my house that I plan to leave a card on and hopefully borrow!
How many bikes do you think you have drawn in total?
Hundreds, I don't think about it.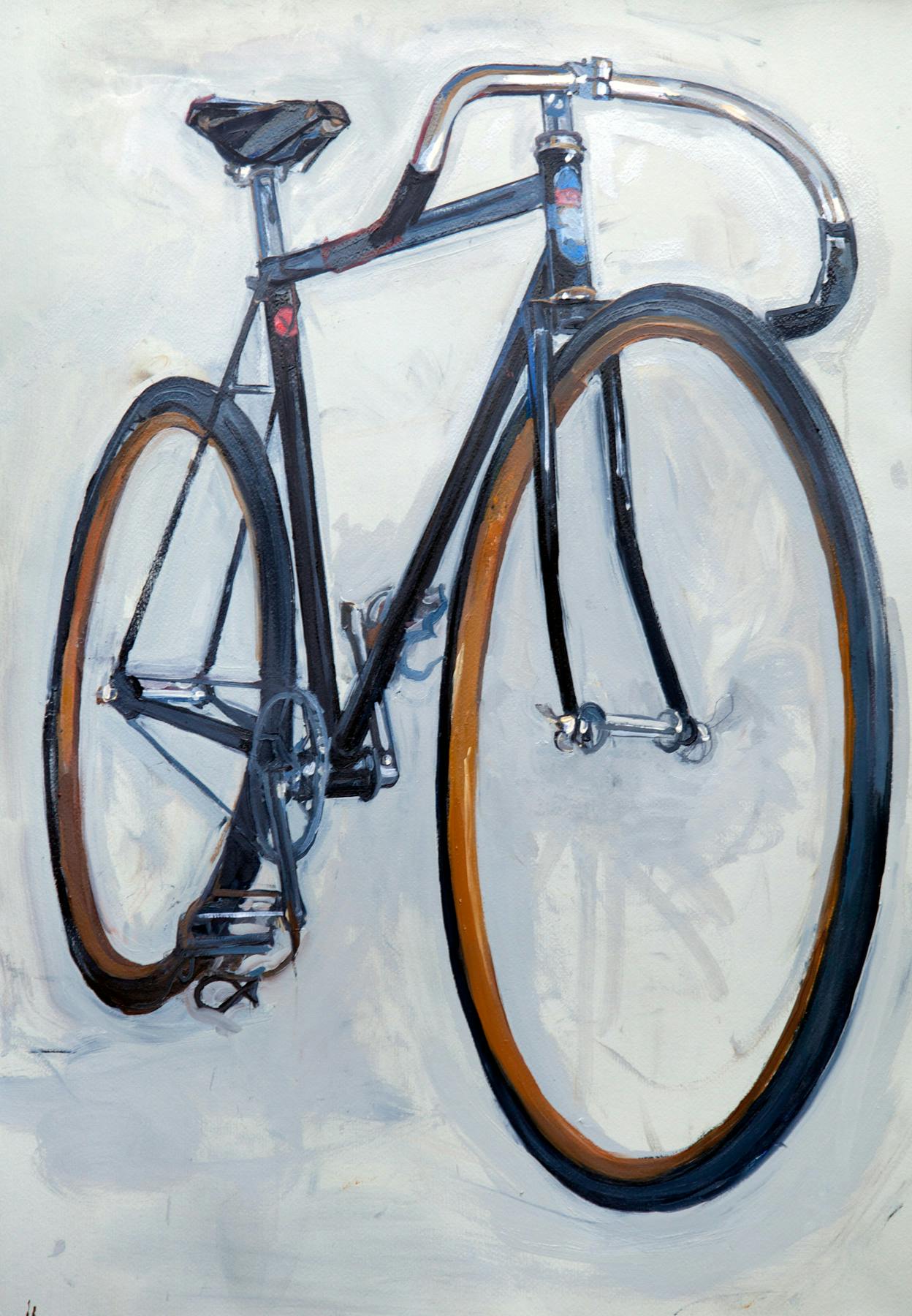 You have had a lot of exhibitions, do you have a favourite - and why?
Some of the first big shows of my bicycle pictures were in a friends loft on Broadway in Soho. I had a few shows there in 2000 - 2002. I met Michael Chase when we both worked for a mural and decorative painting company. Before we were friends he asked to show my work. He believed in what I was doing and the shows in his space led to me quitting my day job and making a living from my work the way I still do today.
Do you consider yourself a cyclist who paints or an artist that cycles, and why?
I am an artist who cycles. While I love bikes and cycling, the way I show it is through painting.