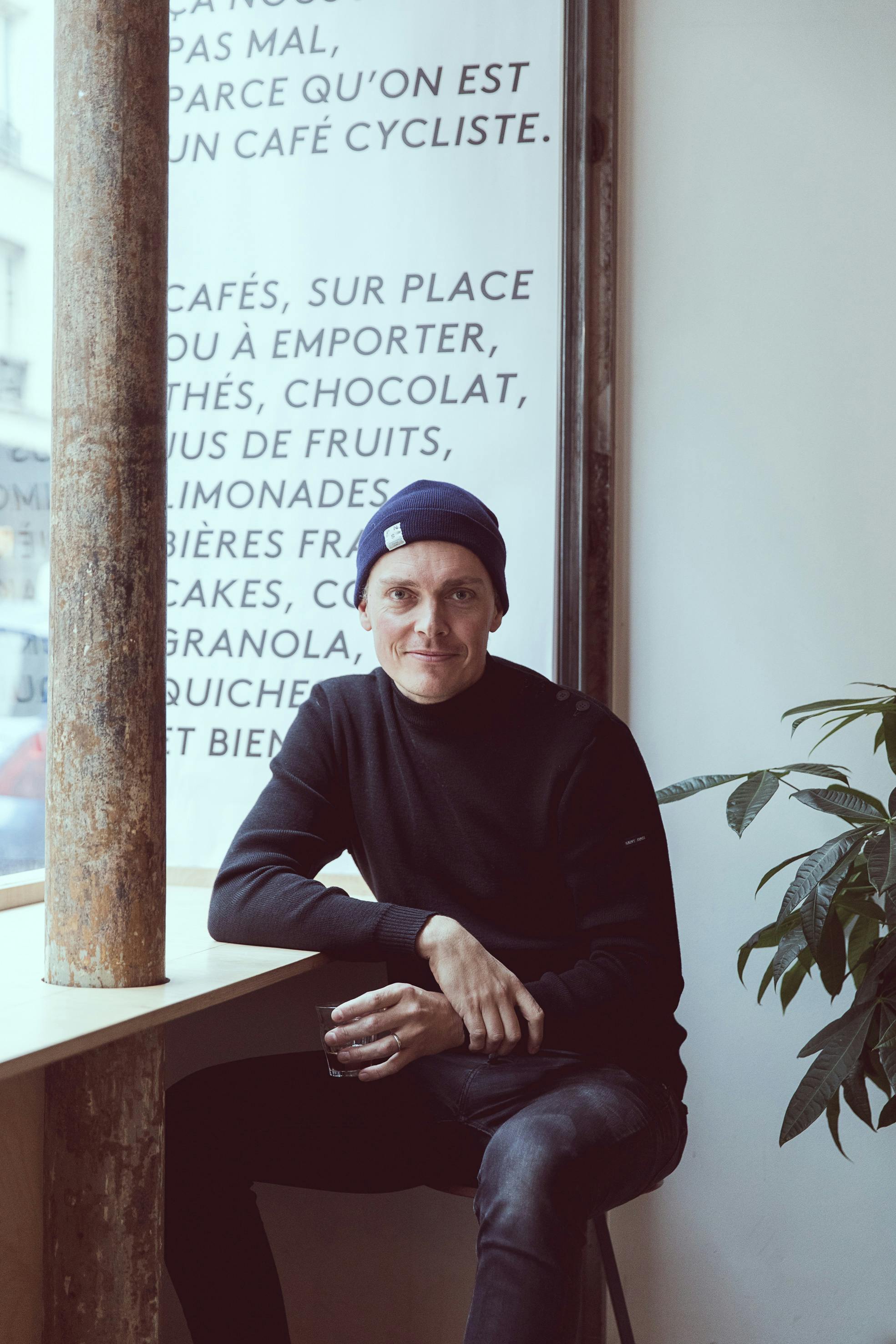 Text: Nick Chapman
Photos: Andy Donohoe
Founder Marc 'Sich' Schmitt and store managers Julien and Dorian attest that what cyclists want after a ride is somewhere to put their bike, somewhere they are comfortable to relax in their kit to chat, to have coffee, to have beers. "Beers are very important after a ride," laughs Marc.
On the quiet Rue de la Fontaine au Roi, the front of Steel is unassuming: a white frontage featuring minimal signage - a bike rack by the curb the only giveaway to the ambition of what is happening inside. Two huge windows are split by the door, and on the other side light floods the modern space. Facing the door is a white-tiled counter on which stands a shining coffee machine emblazoned with Steel's logo, next to it a delicious-looking display of homemade cakes - also very important to cyclists. In between is a large communal glass-topped table displaying features from cycling magazines. The tiles, industrial furniture and polished concrete floor feels like you could be in a coffee shop in Kreutzburg, Hackney or Brooklyn.
The Cyclewear part inhabits the rest of the shop. The industrial style continues as immaculate cycling kit is displayed on large tables and bespoke wooden racks. Not only does the clothing look flawless (no gaudy patterns, Tour de France teams or sponsors logos here), on closer inspection it is incredibly high quality and for the discerning, knowledgeable cyclist. It is from niche, super cool brands you might of heard of but rarely see: Pas Normal Studios, Attaquer from Australia and Katusha from Russia. "My aim is to focus on brands not sold on French soil," says Marc, "To provide a unique offering."
Where did the inspiration for the shop came from?
"I took a road trip in the US from Vegas to Portland, visiting the Interbike convention and Mash in San Francisco, and I know lots of people in Portland." Marc set up the Paris Bike Polo Association and travelled widely, organising and playing. "From a trip with my wife the importance of the coffee experience to cycling really became clear. Look Mum No Hands [in London] is the reference point in Europe for this kind of place. A lot of people have tried to use their model but I was the first to make it work in Paris."
"Paris is late for coffee, late for bikes," bemoans Julien. His love of cycling was reignited through the fixed gear boom in London that came at the same time as the explosion of the coffee scene whilst he was living there. Steel is helping the French capital to catch up, placing itself perfectly to build on the current enthusiasm for cycling offering a mixed shopping and social space whilst not compromising on quality.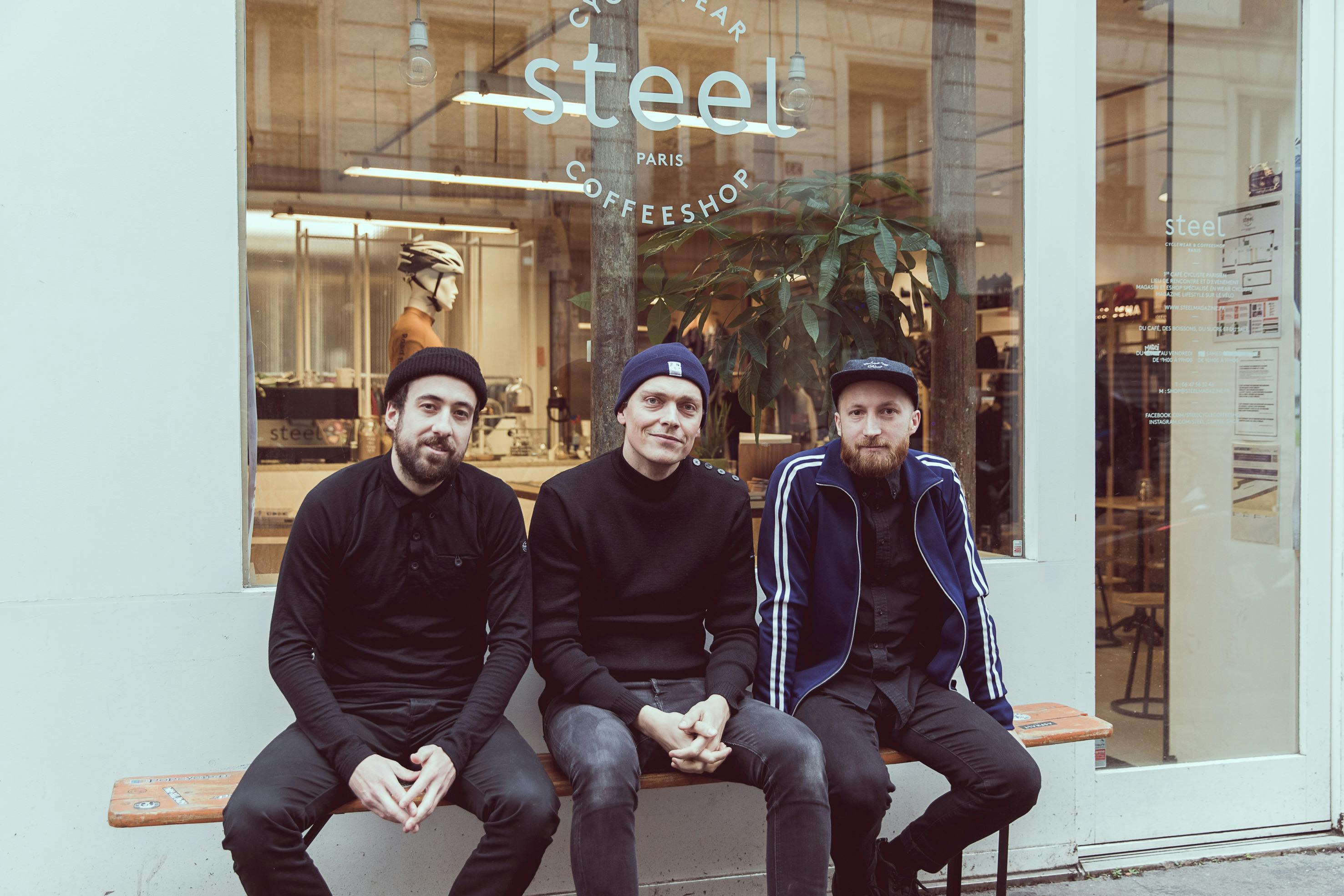 The Cyclewear and Coffeeshop is not the first incarnation of Steel, but more an evolution. Marc set up Steel Magazine whilst heavily involved in the burgeoning urban cycling scene in Paris, and it quickly made a name for itself illustrating this new movement with a beautiful aesthetic, striking imagery and great content. Marc has said of it "This is a style magazine that covers cycling, not the other way round." As the fixie trend developed into an interest in road cycling, so the magazine changed. "The shop was a natural progression - I had a relationship with the brands already. We thought about an online shop but with these products you really need to see them, to touch them. And we want a relationship with our customers."
The magazine's style of showing rather than telling is reflected throughout the new venture. Rather than advertising, they have specific ambassadors for the brands they stock. Marc works with these riders to create content for Steel's social media platforms and they lead the fortnightly rides of the Steel Cycle Club, leaving from the shop on Saturday mornings with free coffee and cake. "People want to ride but they don't want to do it by themselves, they want to find new places to go." The ambassadors draw these people together and provide a bespoke service. Marc feels this influencer-led brand of PR is much more effective than spending thousands of euros on advertising - as he says, "You can't tell French people what to do."
"Cycling is a passion that we all share, and we are are doing something that other people are not," say Marc. Although the cyclewear is the premium product that the shop is built around, growing the community around the services on offer is clearly important to Steel. The next step for Marc is to improve and increase what is on offer: coffee events, cycling events, spin classes, spin dating and a hire service for the serious visiting cyclist. With professionals visiting during the Tour de France because they've heard that the coffee is good, you can understand why he values premium service and word of mouth. He's also looking to opening a second store and create our own brand.
"We are selling exception - we need to be unique, so people who come here feel unique. We want to be styling cycling in this city."