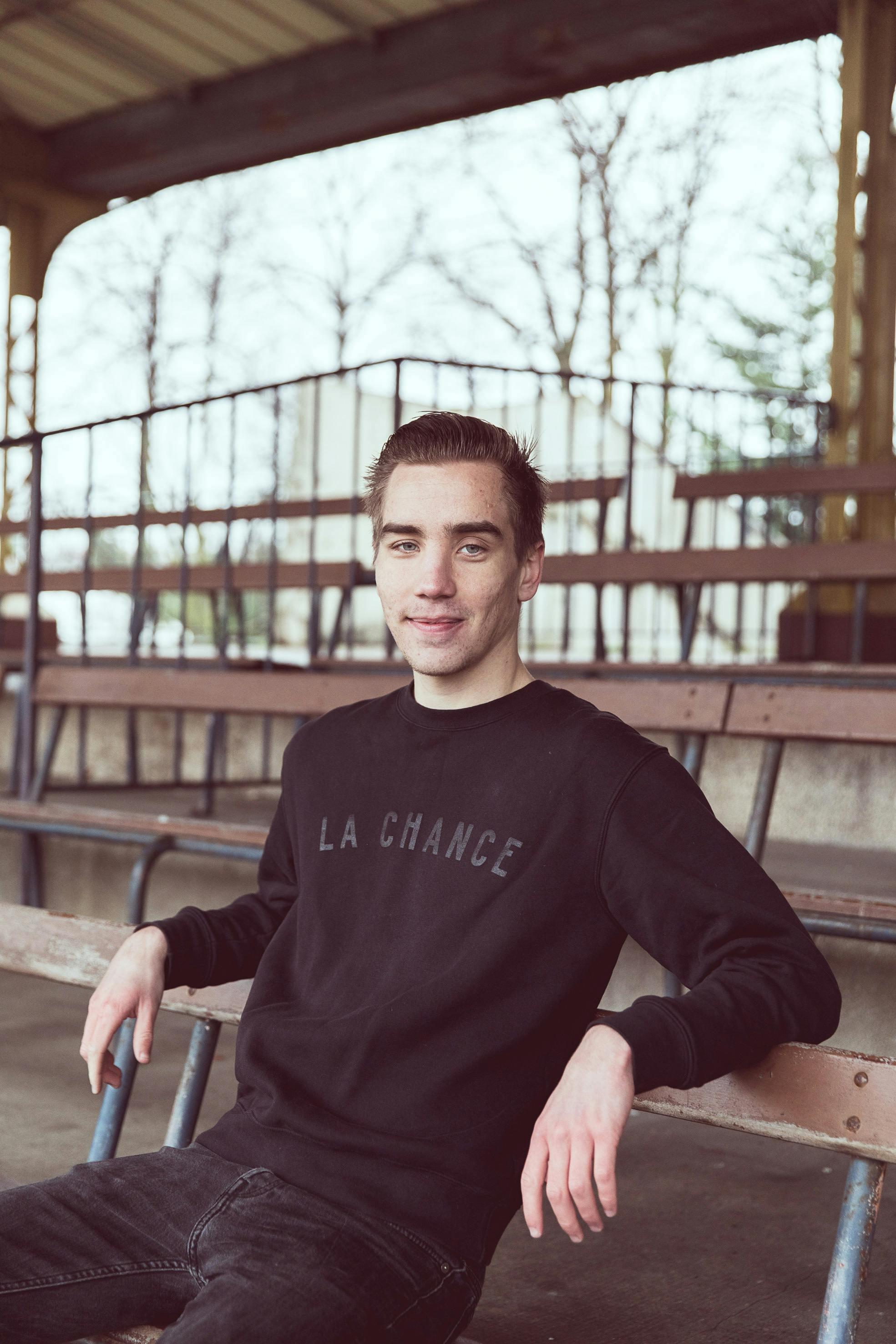 Text: Kaitlyn Bové
Photos: Andy Donohoe
IG photos: @louislegon
They were driving to Lyon after Nico had won a race in Toulouse, where Louis finished in third. Both Louis and Nico were racing for the team Disorderly Habits at the time of the incident. Louis fell into a coma and required hospitalisation and several surgeries. At the age of nine he began his riding career, and for the past 14 years he has dedicated his time, energy and soul into being a cyclist. Fast forward to early 2018 with months of heavy rehabilitation and physical therapy under his wing, Louis has not given up cycling. Now a member of the team La Chance, Louis joked around saying, "It's pretty funny to start a new chapter of my life with the Parisian team called "La Chance", because I have a lot of chance to be here right now". While he is not racing for the team, he's now a key member as an organiser.
After your accident, what helped you persevere through the rehabilitation process?
The French biking community played a huge role. It's true that we are one huge family. We are all connected. Immediately after the accident I received so much love and support from all over France, and Europe, too. After the crash the biking community organised individual races in cities across the entire country: Annecy, Antibes, Bayonne, Brest, Bordeaux, Dijon, Grenoble, Lille, Lyon, Marseille, Metz, Montde- Marsan, Montpellier, Nantes, Paris, Pau, Reims, Rouen and Strasbourg. Plus one in Germany: Berlin. When I woke up from the coma, my dad said to me, "There are people all over France for you and your friend." I don't think without the kind words and attention from the biking community that I could have healed. I actually received messages from biking communities all over the world, like Thailand for example. So many good vibes.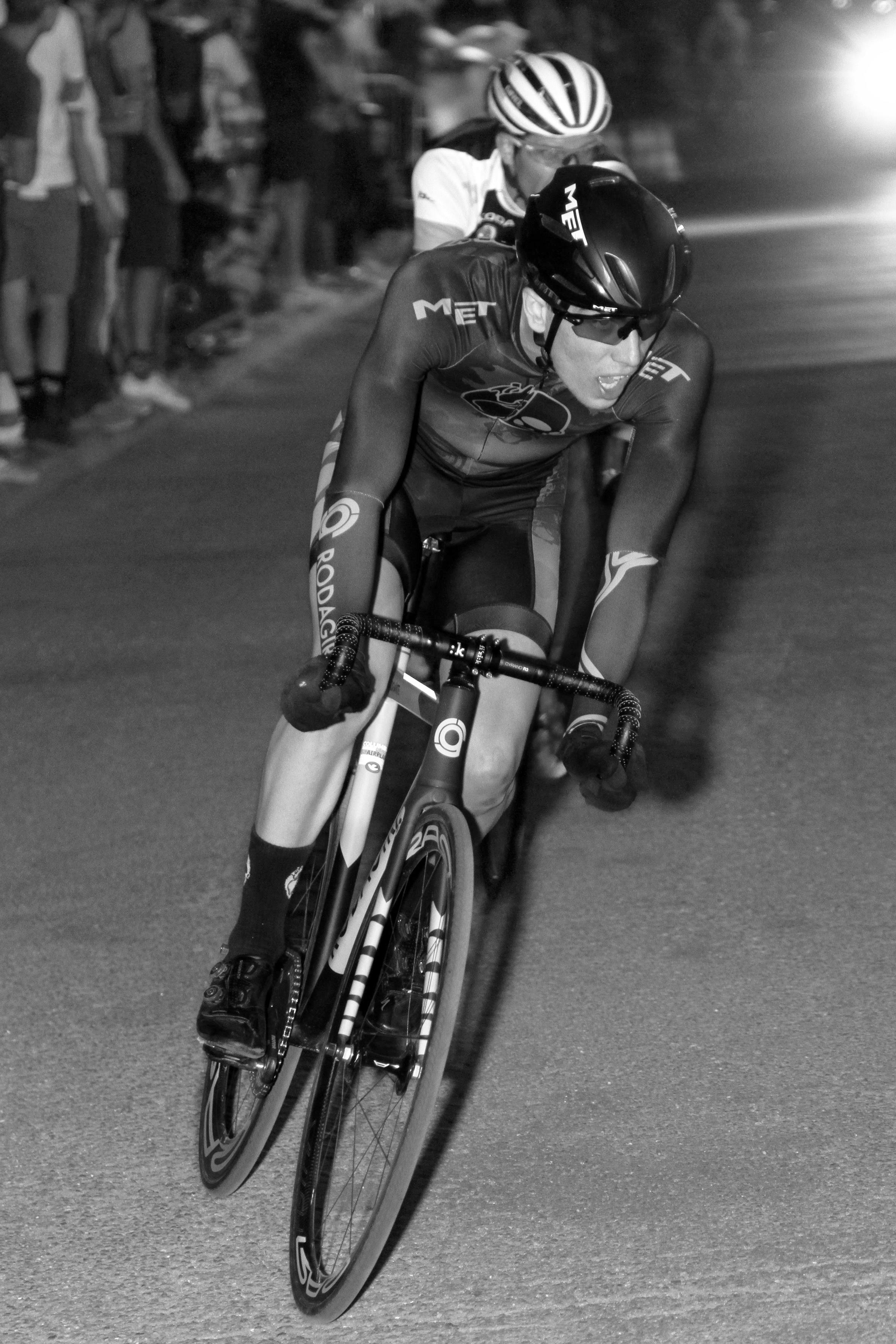 Could you talk about your life as a cyclist now?
I can ride bikes, but it's risky. One wrong move, minor injury or crash, and I risk being paralysed for the rest of my life. However, since the crash I've ridden about 200 km and my longest ride was 67 km. It's really not safe at all to ride outside, though. Particularly because my lower back is held together by screws, and its uncertain as to whether I'll get them taken out. It's complicated.
How long did it take you to get back on a bike?
A little over six months. November 24th I was back on a bike.
Do you have plans on racing at all?
I'll race the Rad Race - Fixed 42 in Berlin. A decision that's a bit of a "YOLO" move! It's not actually as if I'm racing, but take the start and cross the finish line. The race is May 13th, just three weeks before the crash's anniversary. It will be a good way to memorialise the past year of healing and I'll be able to start a new chapter of my life thereafter.
How is it possible to race?
For the race I'm talking about I have to build a new bike adapted to my disabilities. I have a hip blocked at 90 degrees and I can't move my lower back at all. The new bike is a bit of an excuse to get a new Fabrica, ha! I can ride normal bikes, but with really high cockpit. Honestly, it's horrible. So if the frame is made with an higher headset, I don't have to put a lot of spacers and a stem which goes to the top. I also need a shorter top tube.
So you ride a Fabrica?
Yeah I have one. It's a mountain bike that I made just before the crash to be better in a technical regard. In March of 2017 I was in Milan to see the building process of my frame. That was an incredible experience, the two guys involved in making it were so kind. I took my time to find the best components so I didn't ride it before the crash. When I was at the hospital it was a motivation to finish and ride it. So I wanted to make a bike with all the people that have a part in my bike life. Rar (wheels built in Maubeuge) was the first to trust me and give me a wheelset for crits and track races. Kronos (chainrings and crank set made near Paris) is a friend that I know for a while, and he is now the chainring builder for several national teams on track cycling. Fabrica (made in Milan) who built my mountain bike that was the first bike I could ride after. JB3D (made in Larochelle) makes my carbon moulded shoes and makes saddle, too. I really love handcraft parts, and all these people are doing crazy good work.
Why risk it when you have such grave stakes at hand?
It's my life. After 14 years of doing something and dedicating your life to it you can't just give it up.
Do you have any advice for someone who is recovering?
I would say a couple of things. First, a lot of the rehab took some type of physical strength. Being active and staying fit in general is very important. I had more or less 30 fractures and my heart was working extremely hard to give power to my entire body to recover. My heartbeat average was something like 180bpm, and 220bpm when I was in pain. With a untrained heart you can't simply reach it. I lost all my muscles during my bed rest. I was 40 kilos for 180cm. I was at the gym for six hours per day in the early stages of physical therapy. That physical strength is important. The other piece of advice is "Il faut adapter l'esprit," which means you have to adapt your mind and spirit. I think back to the early stages of the recovery process, and I thought a lot about how far away I was to recovery. But look at me today! I'm walking, I can run, I can move. It's amazing, yet five months ago I was confined to a bed. It feels a lot longer in the moment of the process. You have to look ahead.
/Edited for clarity and brevity.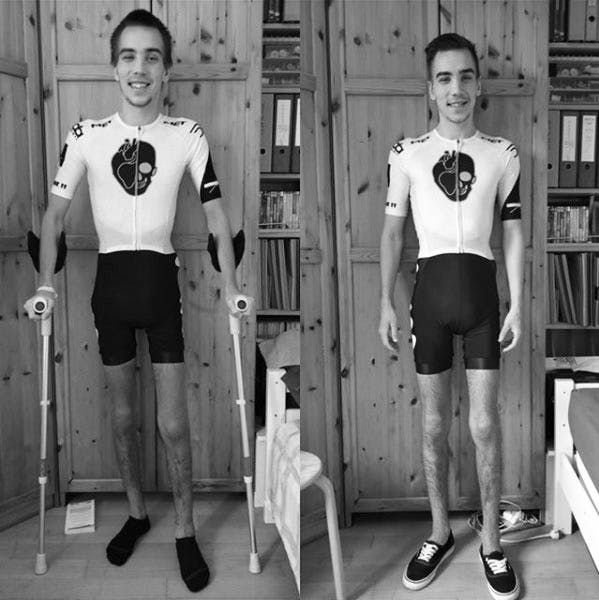 @louislegon - October 8 2017: 1 month between these 2 pics. The upper body is slowly coming back, my face looks better but I still have soooooo muuuuuch woooork to do for my legs slowly getting a little shape (you can count the number of folds on the bib, they are less than last month, haha and my knees looks smaller haha). Legs are the most difficult part to get back but I will make it!!!! Keep working 5 or 6 hours per day for a moment and I will be back.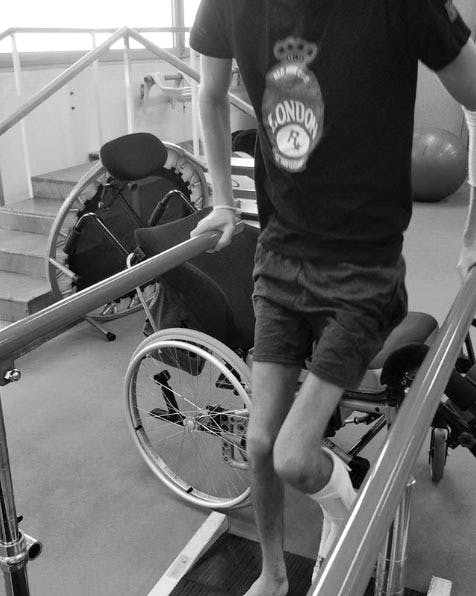 @louislegon - November 29 2017:
That was my first walk august the 14th. Today I can walk almost normally, I'm 15 kgs more than that (60kg).
I'm so thankful to everyone who helped me and who are still motivating me. You were a lot to visit me, to send kind letters, calls, words on social medias or even good vibes. That race was not easy, it is like a point race, this is not finished yet but I'm in front of the group.
Congrats to the surgeons who fixed so well my 26 or more fractures, to the physiotherapists who are fighting with me to recover my bike life (and not handicapped life too), to the helicopter pilot who braved the very bad weather to rescue me, to all the nurses or medical people. If you're working on it you're doing the best work in the world, sometimes it will be hard but keep focus and full of hope.
This is a not an ending war, you never know what the human body can do. Medicines said that I'll have died, or in the best way ride only wheelchair without all my head... And nope I'm here. And if a crash happen to one of you just think about walking back, ride your bike again, all the things that finally are so good.
When I photographied my bike, I lay in the grass of a meadow, just to see the clouds moving around, to feel the grass on my skin, to ear the trees it was amazing.
Thanks again buddies, thanks again to my good star up there.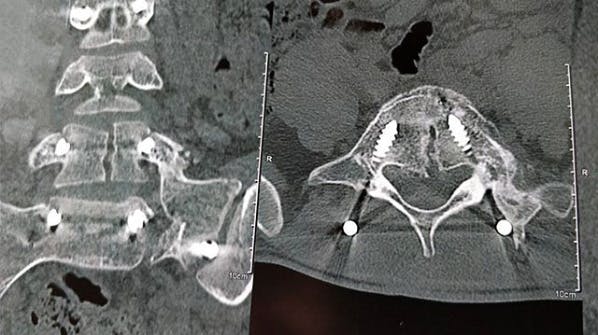 @louislegon - February 14 2018:
Questions questions: Two weeks and the surgeon will tell me what's next. Operation again or just time and care? Probabilities are higher for operation I guess, cause if after 8 months and half nothing happened by this way maybe we need to try something else. But I'm not a doctor, I don't know what he will say just let hope that I don't have to be stuck in a bed again.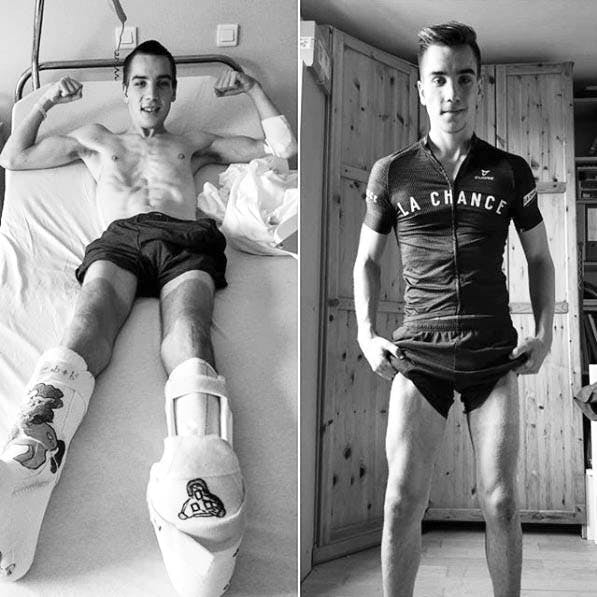 @louislegon - March 30 2018:
July the 28th: 43kgs -> March the 30th : 65kgs Rehabilitation is over but I will continue to workout with childhood friends. Sun is missing to be back on the bike, and I have to make muscles in my back first. I was focused on find back my muscles to walk well, now it's time to make extra meat to prevent a possible fall. There is still some pain here and there but I'm used to them and deal with but I can't walk without limping anymore due to my left leg. Hope it'll be ok when they'll get off all the metal in 6 or 7 months.
------
We were called the "bike twins" cause at the beginning of our crit life all the photographers had trouble identifying who was who on the pictures. Even we had to watch closer sometimes because we looked the same. The first year at the team we already had the same bike, different colours, but it wasn't a sponsored bike or anything, we just bought the same bike, although we didn't know each other at the time. The 2nd year we were in the same skin-suit, with the same bike and everything thanks to our sponsors. Finally just weeks before the crash the only thing that was different were our shoes so we decided to go together to JB3D, who is one of my cousins friends, who handcrafts molded carbon shoes. Unfortunetely I got them after the crash. The likeness was funny so we pushed it to the maximum.
We moved to Lyon together to be closer to the mountains, train harder and push each other to be stronger on the bike. We both liked the craftmanship, he wanted to give a new birth to classic cars, and I wanted to be a frame builder. We were on our way to work together for a while.
In Lyon we trained way more than before to see what level we would be able to reach. In London at the Thundercrit I finished 6th and I took the kom of the track at the last lap (1/9412 riders, Alec Briggs was faster but "if it's not in Strava, it didn't happen", haha). Some weeks later, at the Candie Crit in Toulouse, Nico beat me easily during the sprint. It's one of my last memories, to see him crossing the finish line first, I was so happy at this moment. And the day after we got in the crash...
- A tribute to Nico Oury by Louis Legon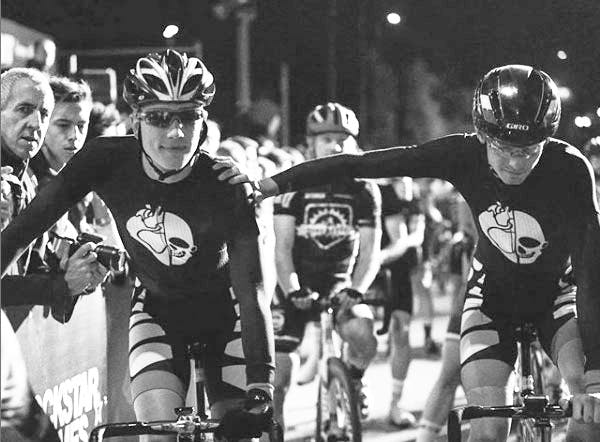 @louislegon - June 30 2017:
Fuck it i'm fighting for you bro' you were the man. All your prays are going straight into my heart and my strength to going back on my legs. I love all of you for your support. Thanks again for everything <3