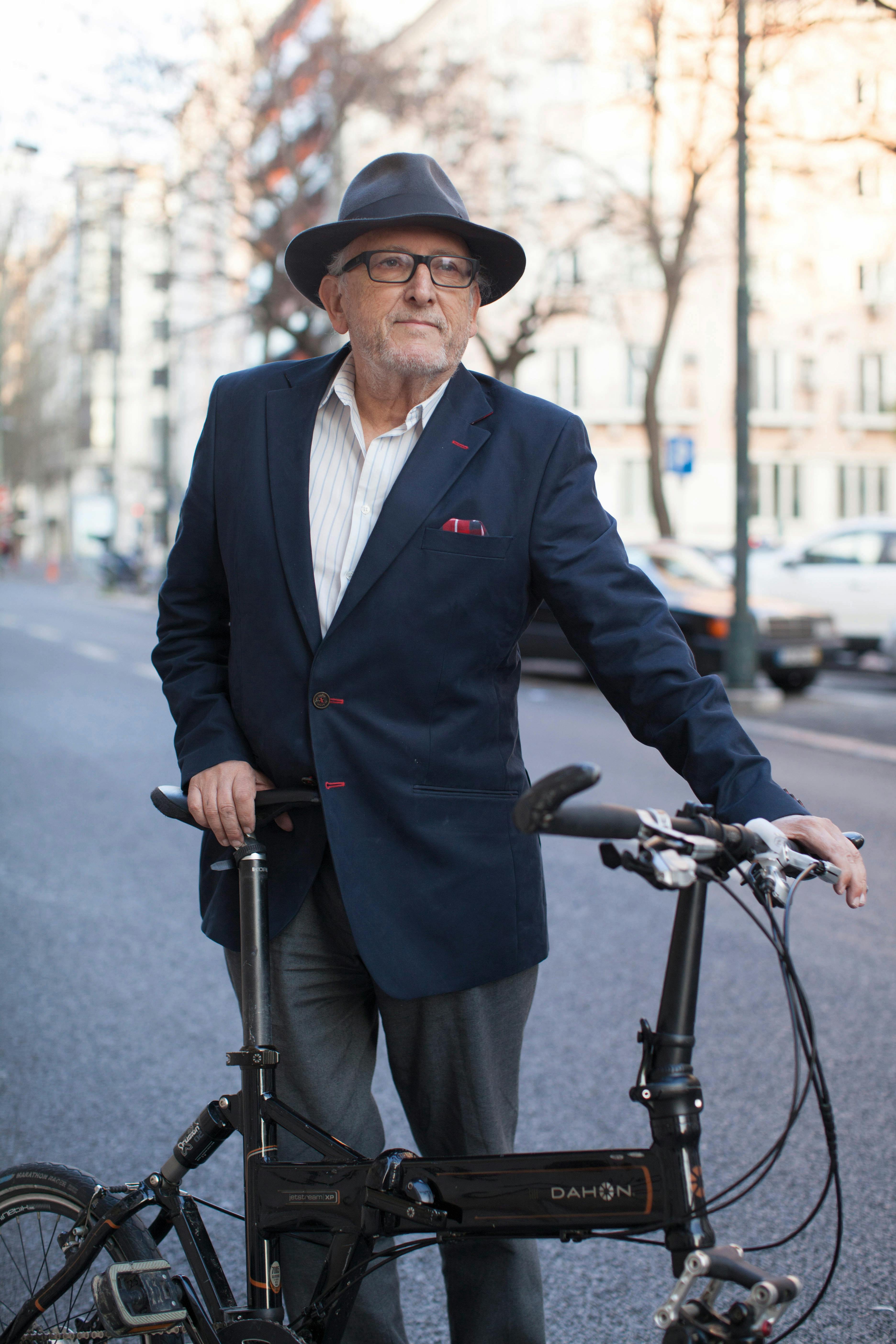 Text: Kaitlyn Bové
Photo: Arthur Lourenço
José Caetano is the co-founder and president of the FPCUB. José entered the room, already in the middle of a sentence, talking about cycling and ready to go. I immediately knew that he was someone to be listened to. It was also apparent that José had prepared our interview before we got the chance. He was very eager to chat about anything and everything bikes and Portugal's history with them. He's a storyteller. "If he starts to talk, he will never end," an endearing friend and our translator, joked.
It seems that José has spread his influence in every aspect of the Portuguese cycling community. If it has to do with Portuguese cycling, he has something to do with it. Many of the other people we interviewed, politicians and local cyclists alike, knew very well who he was. José has also been around the longest. From that timeline that we're working with, he was the first one to get there and really push the Portuguese cycling community to what we see today, notably in Lisbon.
The organisation
In 1987 José had an idea to start an organization dedicated to cyclists (albeit on accident). The bicycle remains today as one of the most used vehicles in the world, contributing not only to a means of ecological mobility, but also to bettering the health of those who choose to cycle as a form of transportation. It's a national celebration.
Officially, the FPCUB aims for the protection of the environment by promoting the bicycle as a sustainable way of mobility. Its goal is also to develop the practice of ecological cycling for leisure, fitness and tourism, representing Portugal both nationally and internationally (there are two delegations of the club in New York and France), all the while promoting health safety for the riders. "The health of riders is a really important part of our mission. It was also very much related to me quitting smoking."
It advocates the bicycle by pursuing the recommendations of WHO (World Health Organization). Studies show that health is the key factor that leads people to choose to use the bike, either for leisure or as a form of daily mobility. Additionally, cycling has a high potential to improve public health concerns like cardiovascular disease, cholesterol, diabetes and obesity.
José continues by telling us about one of the co-founders, a woman who has since passed from drug and alcohol abuse, "She was trying to get away from drugs by using cycling." Since the founding in 1987, the FPCUB has organized health, drugs, AIDS and anti-smoking campaigns in order to promote the bicycle as a means of recovery and well-being. They've organised events in schools and parishes across the entire country.
The year of 1987 was just about a decade after Portugal broke free from their harsh regime. This time also brought uncontrolled promotion of the use of motor vehicles, namely cars, as they showed a sign of status and wealth. Bicycles were becoming in danger of turning into a rarity. In order to reverse this trend, the organization we now call the Portuguese Federation of Cyclo-tourism and Bike Users, invested in mobilising public opinion and lobbying in the name of the bike, and showing public figures that there is a way for cyclists to live in the city by improving accessibility and safety conditions for this means of transport.
José used his network and gave power to the small NGO in Lisbon. It seems that he was able to properly capitalize on his connections to create a positive effect on the community. He pulled out photos in a box, and one by one went through all of the political figures he's encountered in the past decades. "I've always worked hard to get politicians on my side about bikes. It's been especially important over the last 20 years.
In April of 1994, Mario Alberto Nobre Lopes Soares, the 17th President of Portugal, signed up to be a member of FPCUB. José laughed while pointing to his inscription form, "Look! Next to 'Profession' it says 'President'! How funny is that?" The president also accompanied José and the gang on their event in Sintra, the Open Environment Presidency in Sintra in 1994 (a Presidência Aberta do Ambiente em Sintra). This event gathered over 2,500 cyclists to join the ride. The philosophy they have is not to make a religion out of the organization. Their goal is to be nondiscriminatory and be open to all types of bike users. It's not something complicated or elitist – everyone is welcome.
"Here in our book," he points out, "we have people on designer bikes, urban cyclists, families in the countryside, all terrain bikes, races, and fashion, too! We want to represent all type of cyclists so that we can come together as a community. We need solidarity in the community." He even added that electric scooters are welcome.
Bikevibe: How did it begin?
José Caetano: It's simple. I've been a cyclist since I was 17/18 years old. I understood very quickly that what I wanted from life was cycling. So, I decided to work as hard as possible until I was 40, in order to become independent for later in life. I mainly worked with precious metals. Then at 40, I started to ask myself, what will I do with what I've worked for? How can I make use of it? I started out with two ideas: I built a house near Arrábida (a beach south of Lisbon), and I bought a new bicycle that I would ride every day from my house to Lisbon, about 30-40km one way.
As you can see, I'm a people person, so I started to join other people, and people started to join me. Around this time, I also stopped going out to bars and clubs. It was no longer compatible with my life. I had to get up at 7am to make my bike route so I couldn't continue to stay out until 4 in the morning. I also used to be a smoker, but I couldn't continue to smoke because I didn't have good lung capacity. I had to choose a new way of life if I wanted to get serious about cycling.
BV: Were you doing any advocating during this time?
JC: A French man in the European cycling community ended up giving me a lot of his responsibilities. Portugal was in a dictatorship until 1974, and it's important to talk about because I was arrested several times during the fascist regime for promoting cycling. The Portuguese secret police thought that I was doing it as a political statement. The resistance in Portugal was very well organized and were known to transport themselves by bike, so they thought that I was politically engaged against fascism.
BV: How serious was it to be engaged against fascism?
JC: (translator stepped in) We had prison camps in Cape Verde, where dozens of members of the resistance of the regime were killed. So, it was a serious accusation to be accused of organising political statements. BV: So how did FPCUB come about? JC: I'm from Faro, so I started by thinking about going from Lisbon to the Algarve (the region of Faro). A friend of mine in Algarve was buying a bicycle to join in as well. He had a Bugatti and a helicopter!
So, I joked, why are you going by bike? Anyways, he's now a Buddhist! People change a lot during their lives. So, to get to Lisbon to Algarve, there are three restricted areas, three natural reserves. I knew a politician working as the Environmental Deputy from 1987-1988, and I asked him where I would be able to stay in these protected areas. To my surprise, he said, "You came at the perfect moment! I need bicycles for these natural reserves." We were in the European Year of Environment (EYE).
In the beginning of the trip we had 50 people registered, but there ended up being around 1,000 people who joined in on the way because the Secretary of State transformed this trip into an environmental statement with the government. This is how we got started, during the Year of the Environment. I met a journalist covering the event, who was also an environmental activist, who told me, "With all of these people involved, you have the responsibility to do something to change society." Since then we are the Portuguese Federation of Cyclo-tourism and Bike Users, and we advocate for bicycles.
Events
According to FPCUB, the organization has had its handful of monumental events within the past few decades:
1992: Organization of the annual ECF European Congress and the First National Cycling and Bicycle Users Congress; 1994, the Second National Congress; 1996 the Third National Cycling and Bicycle Users Congress ' Nine Years of Public Interest Mission "and the I Iberian Congress "The Bicycle and the City".
1995: Organization of the 52 AIT/FIA RALLY, held in Mafra, incorporated into the "European Year of Nature Conservation" under the Council of Europe motto: "Think about the Future - respect nature," with the participation of 750 foreign participants representing 13 European countries, and over 1,000 Portuguese cyclists. In July 2002 the FPCUB brought this great cycle-tourism initiative back to Portugal (with 1,500 cyclists from 14 countries). The annual "Ancient Lisbon by Bike", a ride whose goal is to help the rider discover Lisbon in a healthy and environmentally friendly way. Additionally, it serves as public awareness to the importance of riding a bike in daily life and raising awareness of free movement in the city. It also is a means of culture, entertainment, education and socialization that attempts to demystify the alleged difficulty of the seven hills in Lisbon.
The "24 Hours Riding for the Environment" campaign. Creating comparisons between the levels of pollution, noise and space occupied by bicycles, cars and buses, in addition to numerous tours and activities in various parts of the country working with schools and municipalities.
Working with the "European Day Without Cars" and "European Mobility Week" programs.
2006: Creation of the National Prize "Bike Mobility" as a public recognition of the contribution of certain entities that have promoted the use of bicycles in its multiple ways, through the creation or improvement of conditions and facilities in Portugal and/or through the distribution of initiatives for the promotion of the use of non-powered driven vehicle. It is ceremonially awarded during the European Mobility Week.
2008: The IV European Week of Cycling took place in Sesimbra, July, 6-12.
The office also had stickers from their campaign "Respeite o ciclista" (respect the cyclist), which urged cars to understand that there the safe distance between car and bike is 1.5m.
Moving ahead, the goal continues to be to expand the Portuguese biking community, notably expanding the female riders in the community. According to him, it's thanks to a lot of the women in city hall that the Lisbon cycling community has gotten so far to this day. Today the total number of members of the organization is over 36,000 and counting.
Repeatedly during our two-hour conversation, José emphasized how the FPCUB is an environmental NGO therefore, "… we have a communal responsibility. It's not only about riding bikes. It's always been about more than that. It's not enough to say that we only represent bike riders. We aren't just bike riders. We are obligated to do more, and not only to ride our bikes. Every cyclist (young or old) in the world has the obligation to keep going and take responsibility for not only our communities, but for the environment. It's our job to educate the community."
Leaving his office, he said, "Life is too short, just be happy." José is 75 years old and gets up on his bike regularly.