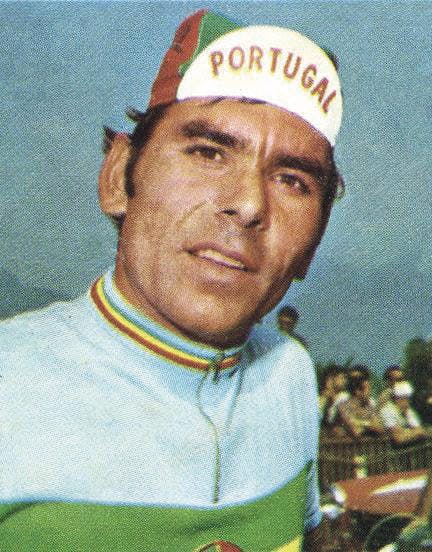 Text: Isabel Lourenço
Photos: Archive Wikipedia
Joaquim Agostinho was born in Brejenjas, Torres Vedras on April 7, 1942, and began his career at Sporting in 1968, which lasted 16 years. The Portuguese cyclist, who was known for his many falls, won three "Voltas a Portugal", was second in one "Vuelta" of Spain and twice was third on the Tour de France.
In 1979, he won in Alpe d'Huez an impressive climb with 21 turns leaving behind many renowned cyclists from Europe. His first competition bike cost him 3,600 escudos which is equivalent to 18 euros today, but at the time it was equivalent to several monthly salaries. This athlete was known as a generous man, humble and sometimes with a difficult temper. Many are the stories that are told and have been published over the years, many of them told in his brother's café.
In 1975, Joaquim Agostinho in a time trial in the Tour de France overcame two opponents, and slowed down without explanation. His sports director, Geminiani, shouted at him from the broom-car: "Come on, Joaquim! But against all logic, the cyclist did not accelerate and ended up only being fifth in the stage. In the end, Geminiani told him that he could have done much better. Agostinho replied without hesitation: "I couldn't pass Mr. Poulidor there!" (Raymond Poulidor, one of the most charismatic cyclists in the Tour de France.) He meant that it would not be correct to pass such a cyclist star.
This humility, but also a feeling of inferiority, was addressed in an interview that Agostinho gave to the Portuguese Television. According to him, the Portuguese always felt inferior to the French cyclist, who had other preparation and conditions of training.
From food to technical means, everything was made available in France. In Portugal cycling did not have the same support, nor were cyclists valued as abroad.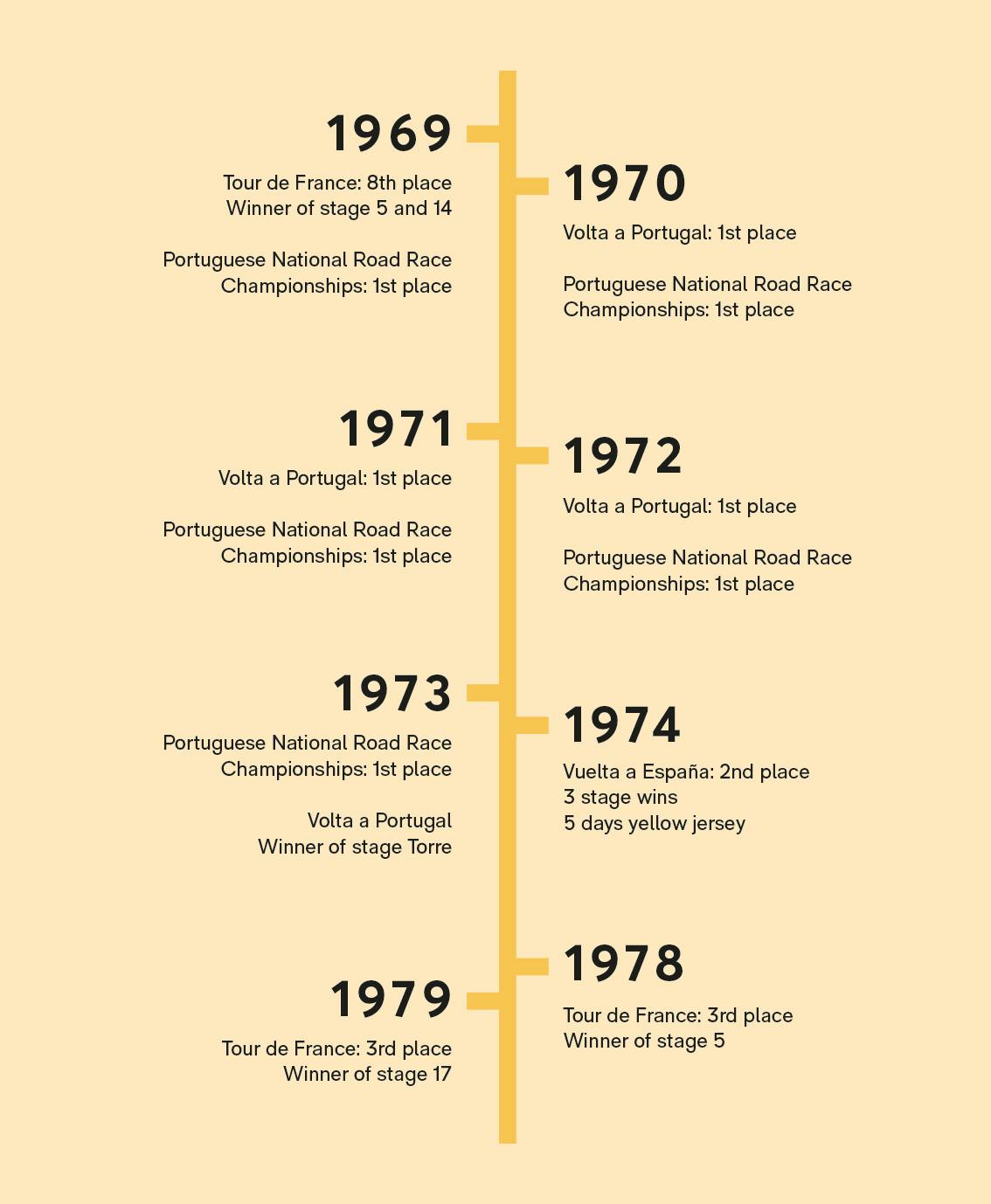 In another edition of the Tour, the Spaniard Luis Ocaña, Agostinho's chief in the group, said that he was dying of thirst during the race and that he had to give up. Agostinho gave him the rest of his water, but the Spaniard was desperate and told him he could no longer continue. The Portuguese cyclist told him that he could not give up, that Ocaña would lose his yellow jersey if he stopped. Agostinho left the road and rode to a house. Five kilometres later, his colleagues heard the characteristic whistle of the Portuguese athlete who carried water on his back, offered by the owners of the wooden house. Agostinho gave water not only to Ocaña, but also to the other athletes that came with them.
Another well-known story is that Joaquim gave all his food during a race to the great Italian cyclist Gimondi, leaving himself with nothing to eat. According to many experts of the modality Agostinho could easily have won one or two Tour de France, but never had a team that worked in his favour, as other great contemporary cyclers had.
Agostinho died on May 10th, 1984 at the age of 41, after a fall in the Algarve Tour on April 30th, when a dog crossed the road. After the fall he got up and still cycled the 300 meters that were missing to reach the finish line. Hours later he began to vomit and was taken to the Hospital of Faro. The athlete traveled the 300km to Lisbon in an ambulance. The skull fracture was fatal and Augustinho died ten days later.
His funeral gathered thousands of Portuguese in a last tribute. To this day Agostinho is remembered in Portugal as one of the great national sportsmen.
Special thanks to: Mario Lino e Museu do Ciclismo das Caldas da Rainha