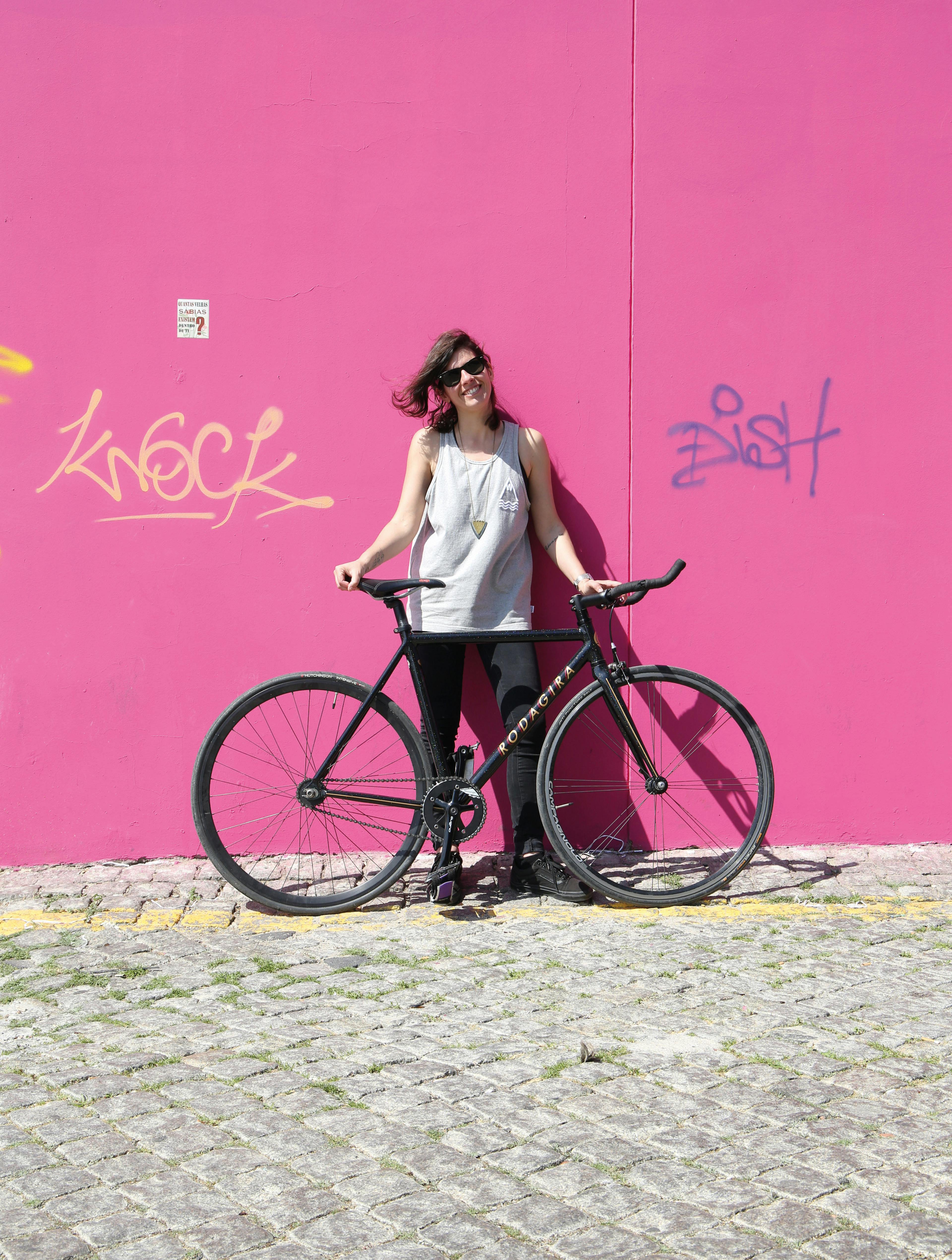 Text: Mari Oshaug
Photos: Mari Oshaug
Bikevibe: So tell us how you got into cycling?
Inês Sanches: I'm not into cycling, I'm just riding a bike and that's different. I like cycling as a sport but I prefer just riding my bike. Ten years ago, before I moved to Lisbon, I was living in São Paulo, Brazil. I didn't have a car at the moment and I was so tired of the traffic and pollution in the city. So I thought it would be a great idea to get a bicycle, to help the environmental issues. Living in São Paulo I really saw the impact and damage of the environmental pollution with the Amazon forrest so close. This made me a strong supporter of the environmental movement and changing our mindset. But when I started to ride I soon found out that it was more than that. I felt really good riding a bike and it quickly became my main way of transportation.
Riding a bike is so easy. You don't have to worry about finding a parking spot or to pay all the taxes of a car, so it was very convenient. In the beginning I thought it would be hard to ride a bike in Lisbon, because people living here have that mindset because of the hills, but when you look at the city you can easily find your way around without climbing the hills. So I figured it was not hard to get around.
Today is not comparable to that time. Then we were about ten people riding in Lisbon and everyday I passed someone I knew, waving saying hello, because you knew everyone cycling. My group of friends were very into the San Francisco and New York vibe of messengers culture and we were doing alley cat races around town every week. So after riding in Lisbon every day and night for a couple of years I got to know the city very well and it was easy for me to get around. You know the good streets and the bad streets and my friends told me I had a taxi driver mindset, because of that.
At this time we started using Strava and it was probably only me and two other girls riding in Lisbon. We were very competitive with who was going fastest, but it was all for fun, not like road cycling, just about who could do the streets fastest at night. It was a little bit crazy since we were riding fixed gear. I became addicted to the adrenaline and going fast through traffic. The fixie bike really is an extension of your body. I was hooked.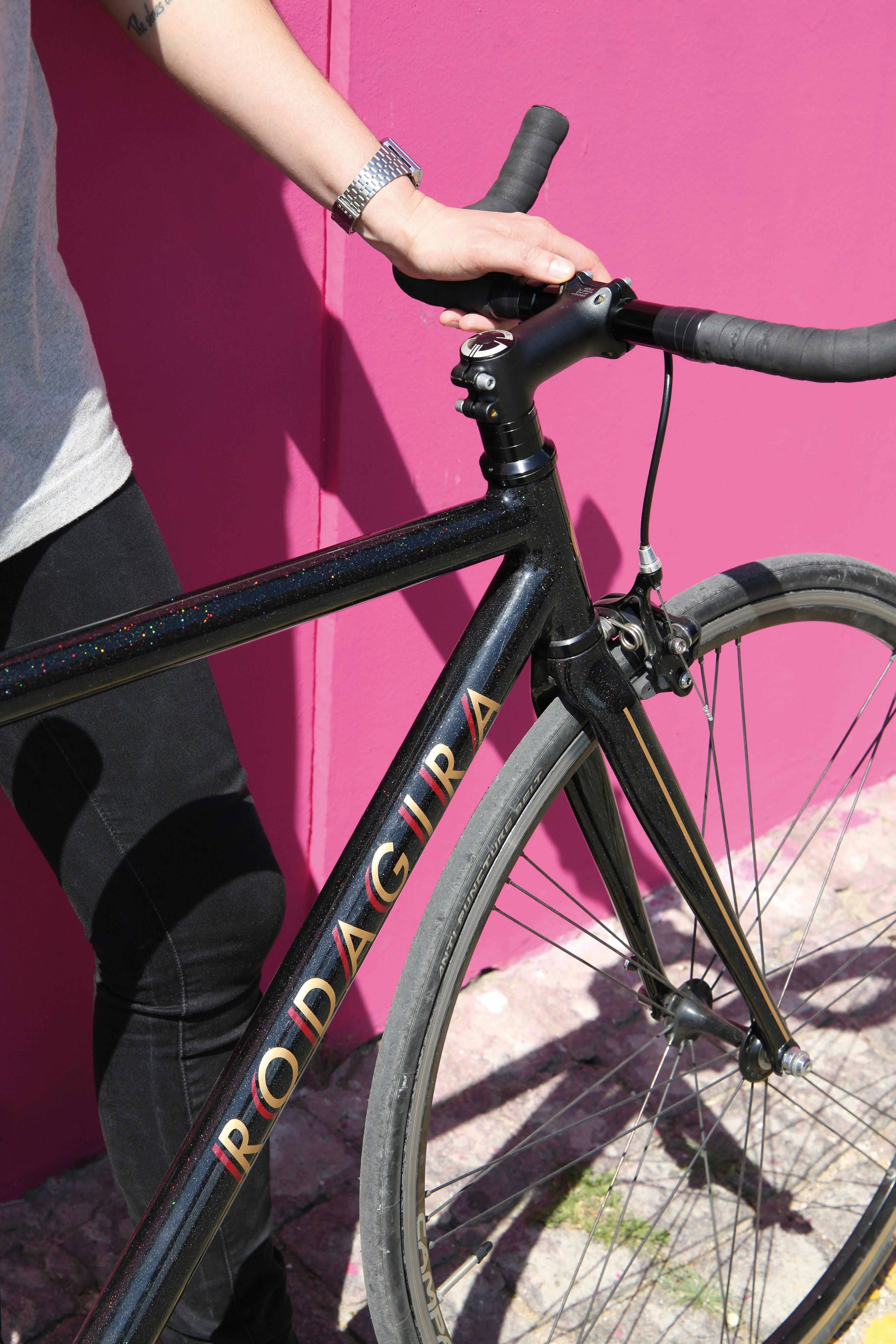 Bikevibe: Tell us how it is to ride a fixed gear bike in Lisbon with all the cobbles stones, tram tracks and traffic.
Inês Sanches: It a little hard for my bum, but it's alright. I usually know were to go to avoid that, so it's not too bad.
Bikevibe: Have you been in any accidents?
Inês Sanches: I've been in one accident were someone opened the car door and I crashed into it. Because I was riding fixed and have no breaks, I had no chance of making the stop. So I hit the car door but luckily I didn't break anything. The drivers five years ago were very aggressive and they were not used to cyclists in the road. They would yell at you and tell you to go on the side walk. But now they are more educated because more people are riding bikes through the bike sharing and rentals, and it makes them more aware of cyclists in general. The bike paths and the politics of bringing more people on bikes is new and positive for Lisbon.
Bikevibe: You were talking about there being only a couple of girls riding in the beginning, how is the gender difference today?
Inês Sanches: I see a lot more girls now, but I'm not sure about the amount compared to men. I think the bike lanes makes it easier and safer for people to ride, but I don't see that many girls riding in the traffic.
We try to arrange as many rides as possible, to get more women into riding and to show them that it is safe and fun. Hopefully some of them will continue riding. I've also been part of the workshop Cicloficina Dos Anjos where they have girls night and you learn how to build and maintain a bike. I would love to do more of this in the future. I think it is important to belong to a group. That is how I got started ten years ago in a community.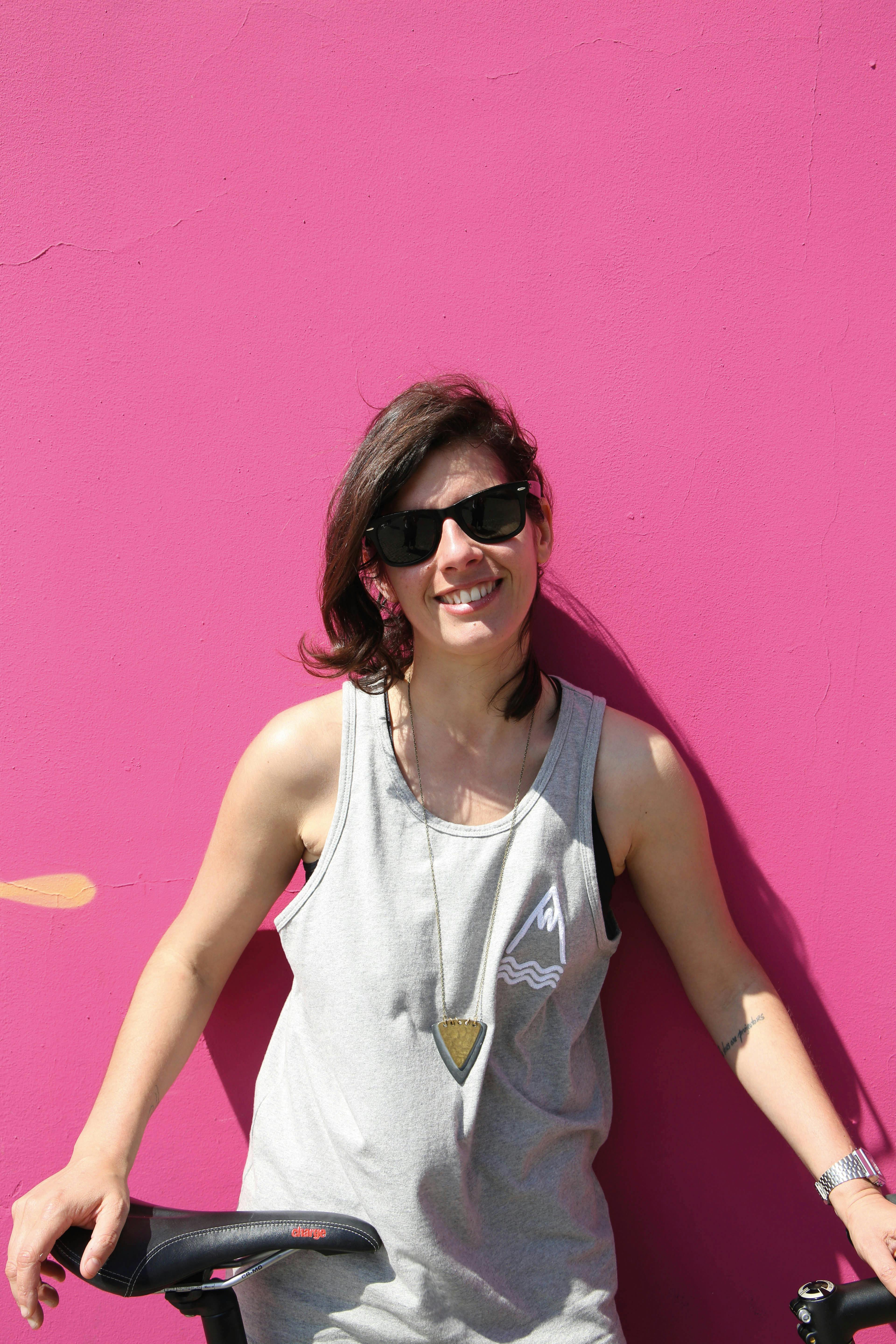 Bikevibe: So tell us about your crew that you ride with.
Inês Sanches: Well today most of them moved on to road cycling and climbing the mountains of Arrábida or Sintra with Strava. I also do more bike tours now days, with fixie of course. We have a group called «Azores Fixed» that travels around in the summer time around August. Bikevibe: It is not that common to do a fixed gear trip? Inês Sanches: No, it's not, but it's possible. We do a lot of climbs so you have to be prepared. The first year I went I was thinking this is too hard, almost crying, but the second year it was all good. I went with Filipa, a friend of mine, and we were the only two girls riding. But it is fun to be riding with the boys, because it's hard and we have to ride at the same pace. It is like a camper trip were we ride, go for a swim and sleep at strangers houses.
Bikevibe: So when is the next trip?
Inês Sanches: We are preparing an upcoming trip to Cape Verde, so this will be called «Cape Verde Fixed». It's an island that has a lot to offer, but it is not too much high and low, so we can go fast. It's expensive so we are looking into getting some sponsors to cover the travel costs. Bruno Sousa, my friend who started «Azores Fixed», is thinking about making a book as well, with all the photos and good memories from our trip. This is what its all about. Go ride with your friends, or alone too, if you prefer that.
I think my first memory of cycling was when I went riding with my father. We had a red tandem bike and we rode around in Lisbon. When you are in the back, you can't really see anything in front of you, so my memories was looking to the sides at all the cars passing by.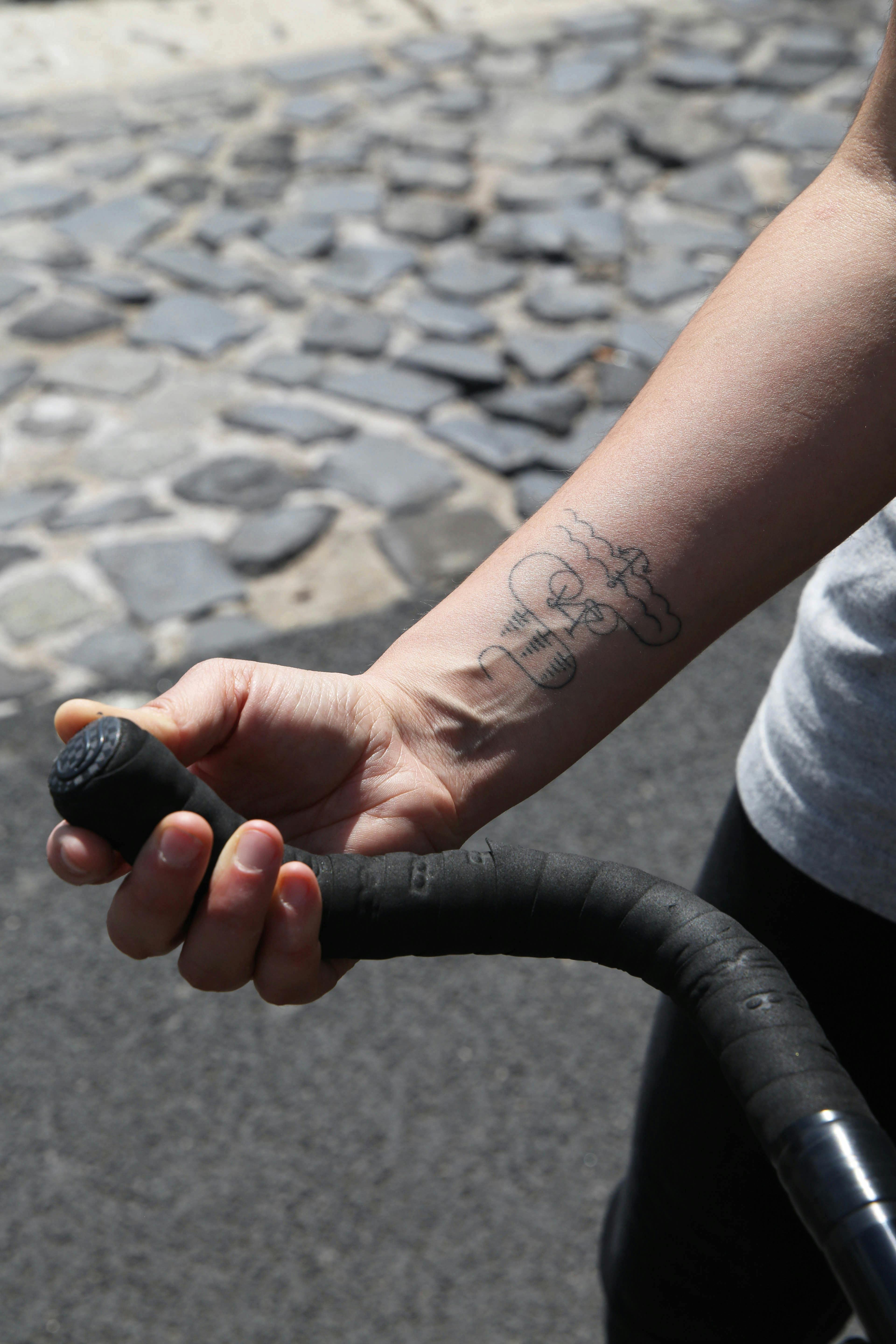 Bikevibe: So you started riding with your father as a child. When did you get into the fixie scene and the more aggressive riding?
Inês Sanches: I got into the fixed gear scene because of Nuno Sota, a friend of mine who runs the Rodagira store, and I got my Rodagira bike. At the time it was a very small community and I was really into the Japanees styled bikes. I went to Tokyo in November 2018 with three cameras and were just shooting bikes all day. But I wish I had the opportunity to go ten years ago because there was so many beautiful bikes there at that time. I was really into the keirin cycling, but it was very expensive to buy a bike like that with NJS cycling parts. I guess today it's easier to get a bike like that through Ebay and similar sites online.
Bikevibe: Why do you prefer the fixed gear compared to a road bike or regular urban bike?
Inês Sanches: When you ride a fixed gear you are very into the riding. When you ride a urban bike you can absorb all the surroundings, but on a fixed gear you have to be focused and very present, especially in the beginning you have to concentrate a lot. It's like you are constantly doing maths in your head. Your going with the speed so you have to calculate when to slow down without breaks. You become very alert of the traffic around you and when you do that it's almost as you are in your own bubble. Like a zen mode.
I also like the esthetics of a fixed gear bike. It is a simple machine that don't need all the fancy stuff. I have a Cinelli bike with gears for longer trips, but 80% of the time I just want to ride my bicycle and I prefer to go on the fixie. It's as simple as that. I just want to ride my bike.