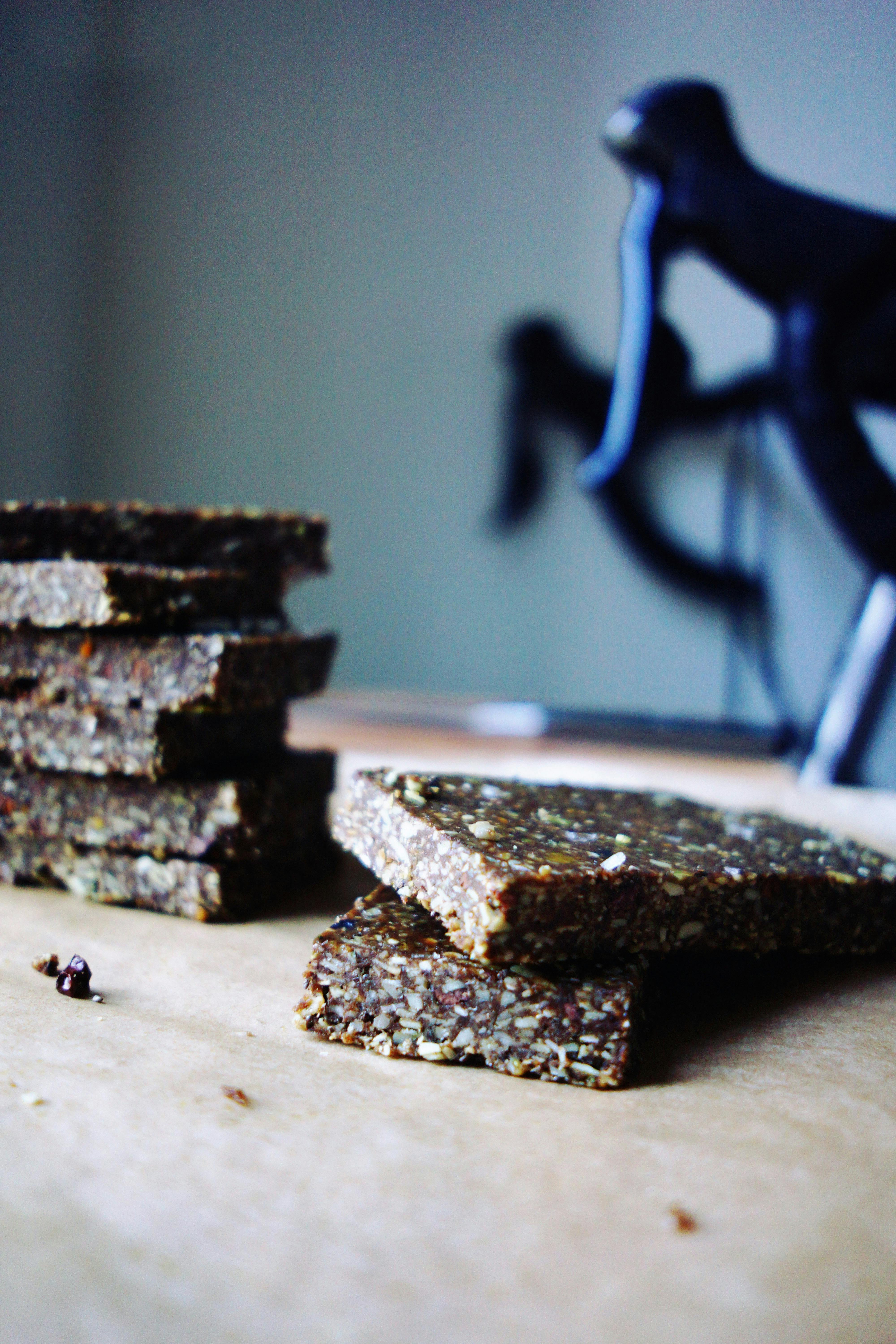 I have come to lean heavily on these raw bars whenever I need a jolt of energy. They're quick to make, studded with nutrient-dense seeds like pepitas and hemp and bound with a naturally-sweet date paste that's laced with cacao, coconut and invigorating spices. They're an easy, portable, real-food fuel and I urge you to riff on the formula with whatever seeds or nuts you fancy (cashews and pistachios would be great in the mix) and play around with the spices too (a bit of cardamom or turmeric powder could lean it in a different direction).
Dry ingredients
1 cup raw pepitas (pumpkin seeds)
1 cup shredded coconut
1/2 cup hemp seeds
1/4 cup hemp protein powder
1/4 cup raw sunflower seeds
4 tbsp chia seeds
1/2 cup gluten-free rolled oats
Wet ingredients
20 medjool dates (pitted and chopped) or 15 dates + a bit of raw honey
6 tbsp coconut oil
2 tbsp tahini
4 tbsp unsweetened cacao powder
1 tsp cinnamon
1 tsp maca powder (optional)*
Add-ins after blending
2-3 tbsp cacao nibs
2 tbsp sesame seeds or poppy seeds
2 tbsp bee pollen
Flakey salt (for sprinkling on top)
* Maca is a Peruvian root (often used medicinally) with slightly a nutty, butterscotch flavor. It plays well in these bars and is great for building stamina and endurance.
1 Pulse dry ingredients in a food processor until it reaches a rough, sandy texture. (You don't want to go too far, keep it a little crunchy.) Transfer the mixture to a large bowl.
2 Blend the wet ingredients in the food processor until they form a thick paste. (It may start to thud around the blade – use a spoon to help shove the ingredients down as needed. You can also add a little dash of water if your dates aren't soft enough.)
3 Fold wet ingredients over dry ingredients in the mixing bowl. Add the cacao nibs, sesame seeds and bee pollen. Then use your hands to incorporate fully (make sure all the dry parts are gone – it will be sticky!)
4 Press the mixture between two pieces of parchment paper, rolling into an even thickness. (It's easier if you use a baking dish so you can really press it into the corners and form a nice rectangle.) I like to garnish with a few pinches of flakey salt to hit that sweet-salty note.
5 Let the bars chill out in the fridge for about 30 minutes, then cut into bars. They store best in the fridge for a week or two, but also fare well on the road for a few days. (I'll often wrap them individually in plastic wrap so I can grab a few easily before a ride, or when I need a quick snack.)