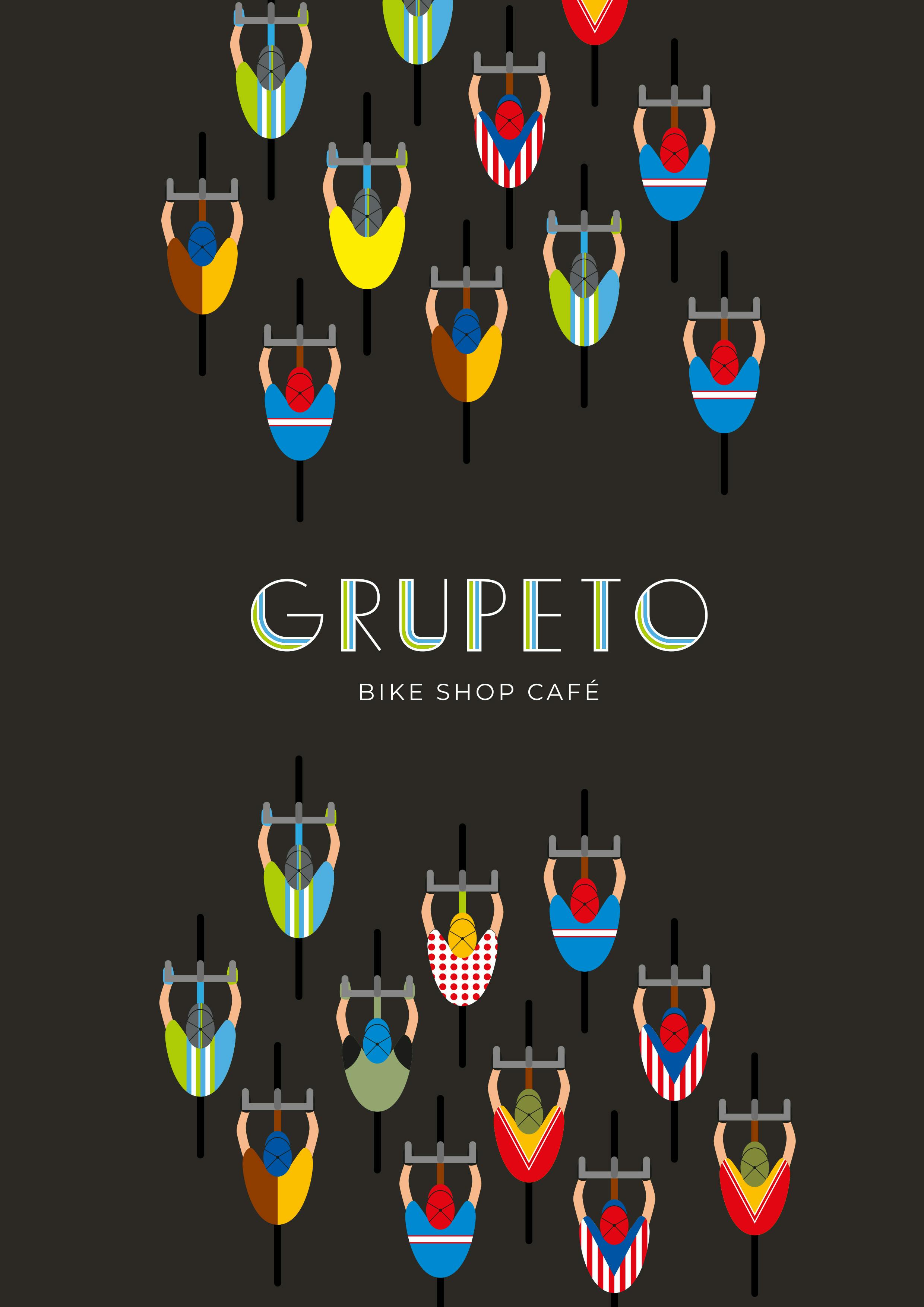 Text: Nick Chapman
Poster: Rui Henrique
Bikevibe was keen to find out where Lisbon's equivalent was, not least because we love a good coffee and to chat about bikes. Doing our research, two places kept coming up: Vélocité and Victoria Cafe. Vélocité, run by João Camolas (currently senior advisor to Lisbon's politicians on mobility and transport), a bike shop as well as a cafe with what seemed like a proper inclusive community feel: the cafe supported an exhibition of Laura Alves' Maria Bicicleta project, and hosted anotherof Artur Lourenço's cyclist photos. Unfortunately Vélocitíe closed it's doors in 2018 due to redevelopment of the building, but was followed by Victoria Cafe. This place looked like it was offering an updated service that comes with a developing cycling culture: a club based out of the café with weekly rides, road bike hire welcoming visiting groups, and branching out to parallel services for the modern cylist like yoga. At the end of 2018 Victoria shut for refurbishment but didn't reopen.
Whilst visitng the new premises of the Rcicla bike shop, owner Vítor mentioned that a new Lisbon cycling cafe was going to open there, sharing space with the shop, so we decided that Bikevibe needed to find out who was opening it and what their plans were.
The name Carlos Gomes tells us, is Grupeto BikeShop Café – owned, dreamed and managed by him and his friend António. Carlos started his small grupeto (the term for the group that forms behind the contenders in a peloton as the pace gets too hard) 15 years ago riding moutnain bikes around Lisbon and then got completely hooked by the road riding scene. It worked as an escape for him, not only riding but also collecting stories from other riders. Working as a sports journalist for 19 years, listening to people was something he really enjoyed. Carlos met Vítor whilst working in a bank next to Rcicla's last location and they spent hours talking with increasing enthusiasm about a cycling café in the bike shop.
Carlos and António started organising boutique bespoke bike tours all over Portugal two years ago. They always spoke about creating a hub, a platform for their mission of getting more and more people riding a bike and a café seemed a great idea. However they knew that in Portugal the place where all the riders stop and talk is not in cafés, but in bikeshops, so they put the idea on hold until an opportunity came up. While traveling Carlos had the chance to visit bike cafés. Look Mum No Hands in London made a particular impression on him as a creative space with real atmosphere, Carlos particulalry appreciating the events and causes they were part of. Whilst they are not doing exactly the same thing, he says they were certainly inspirational.
The relationship between Grupeto and Rcicla is just not important but essential, and the strongest reason for Carlos and António to open the café. The hours spent talking to Vítor about bikes and food, how they would join forces to create a bicycle hub where everybody would feel comfortable, were the most formative thing. When Vítor moved Rcicla to it's new home, he immediately told Carlos the time was right. He and António rented the space next door, left their day jobs and got hands on. They have built the café themselves (with the help of some friends) – construction, design, concept, everything – starting from the bottom up and with a very humble approach. They say it is alive inside them, like a friend, and they are looking forward to open the doors.
When asked about the previous cycling cafés in the city, Carlos says that he doesn't presume to know all of the problems or have all of the answers. He feels he has an idea of things that weren't right and that they have planned for a different approach, but has no idea if it will work. "We are going to try our best to keep in balance, one pedal stroke after another – we'll follow our own road, let's see where it'll take us!
"They don't pretend to know everything, saying they have a lot to learn, but their goal is to ride every day, smile and do everything they can to get more people riding their bikes. Whilst respecting the pro riders, the dedicated road riders, the enduro crowd, the gravel boys and girls, Carlos and António want to encourage the guy or girl that just grabbed their bike from the garage for a roll around the block. "They are all riders. Nothing special is planned, just to be ourselves, serve great food, help others and be a unifying place for riders of all kinds. And even the people that are not riders are more than welcome at Grupeto BikeShop Café."