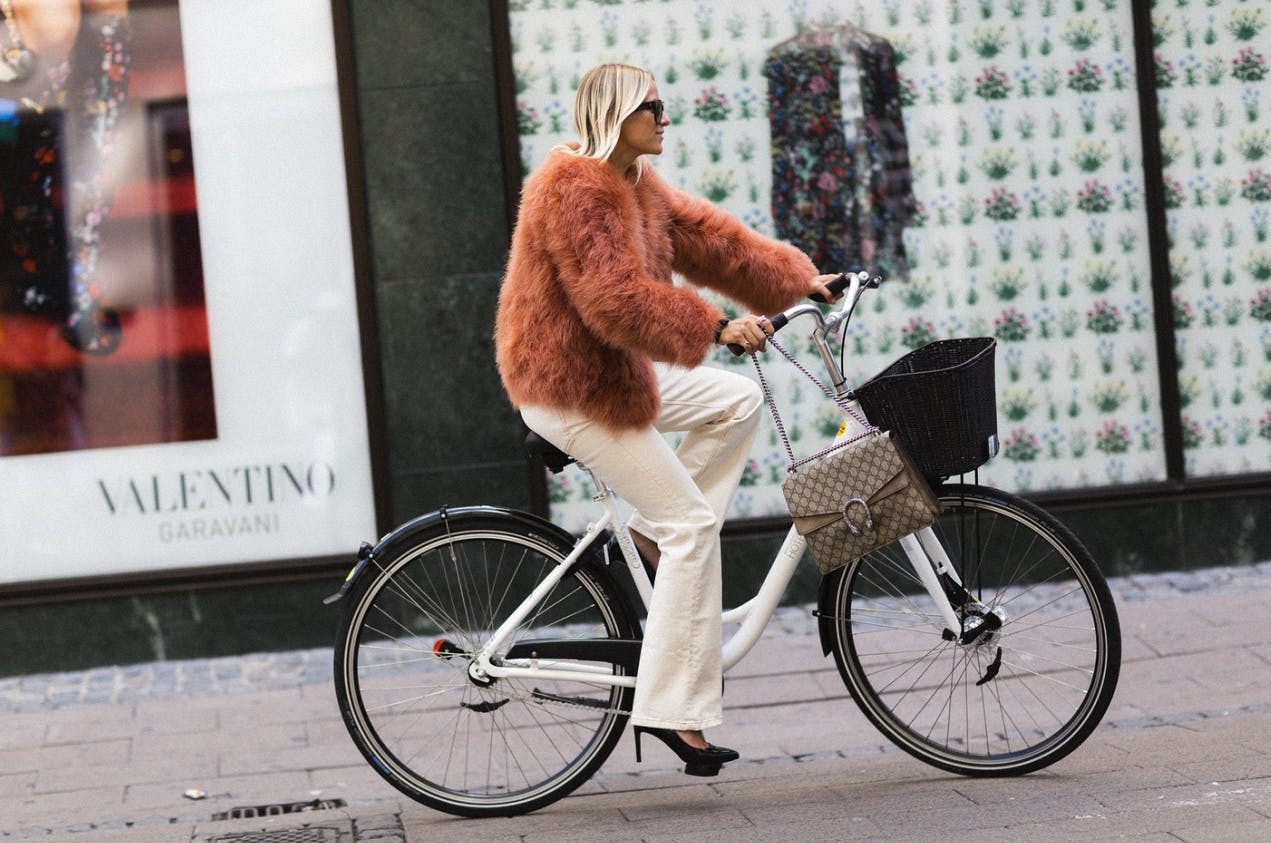 Text: Silje Strømmen
Photos top: Nabile Quenum / Vogue.com
Photos article: Celine Aagaard / Envelope.no
"It was cool that they took that photo but I had no idea that it would end up on Vogue. In this business today a lot of street-style photos are created. Everybody is trying to take the coolest photos and some have discovered that if they get on a bike or eat an ice cream that will increase their changes for getting noticed. In general, I prefer when things are genuine, and cycling is something that I really stand for", Celine says about the photo.
We are sitting in an Oslo café in her neighbourhood talking about cycling, fashion and her beloved "Pilen". Outside it is a typical January afternoon: dark, cold and ice in the streets. Although she often cycles during winter, she parks her bike when it gets too slippery outside. The result? Her being fashionably late for our scheduled interview.
"Whenever I bike I'm always on time, but if I decide to take a taxi or public transport I'm always late, like today", she laughs.
"Besides getting me to where I need to be in time cycling is also good for the environment, and now that I have gotten myself a basket I can just load whatever I'm shopping into that. So there are really only positive sides to cycling", she continues.
But the main reason why she prefers biking is the feeling of freedom.
"Biking you can take all of the short cuts. It fits me perfectly".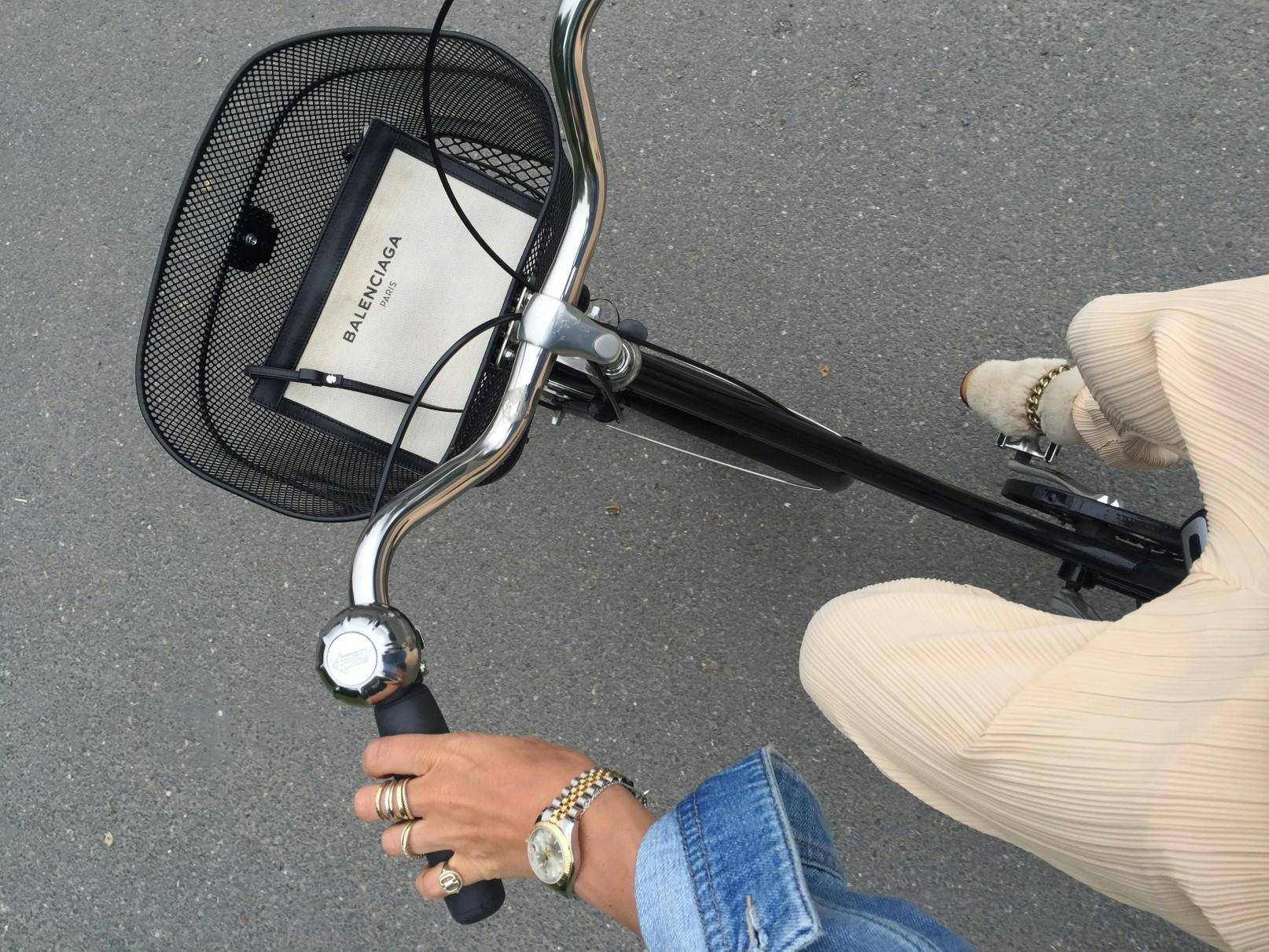 In traffic, Celine's main priority is to get from A to B and her impulsiveness can definitely be traced back to her style of riding.
"I don't think everyone thinks that I'm all right all the time. I'm polite and all of that, but I have a tendency of riding up and down from the pavements. After I started taking some driver courses I'm better at respecting the hazards with bikers, but the dilemma is that I feel like both a motorist and a pedistrian at the same time. All in all, I just feel like I am myself. I'm more impulsive and I wear less straight clothes than other cyclists".
At Sagene, a small borough north in Oslo, Celine and her family lives with everything they need within a short distance. They bike to visit her parents, to the beach, to the city, parties, meetings… you name it.
"When I was young I used to bike to the beach early in the mornings and have a morning swim before everybody else got up. Even then, I biked everywhere and I ended up taking the drivers license simply because I never needed to".
Over the years she has had the company of several different bikes, but when she met her current bike it was love at first sight. The bike is of the brand Pilen, and when talking about it Celine consequently talks about it as "the Pilen". It has its own personality and it is a big part of the family.
"It started with my boyfriend having the men's model of the bike and with me stealing it every now and then. Naturally it was way too big for me. It was quite hard to get your hands on one back then, but without my knowledge he had found one and I got it for my birthday. That was 10 years ago, and it is definilty the birthday present I have been most happy about".
Every now and then Celine gets calls and texts from friends wondering if her bike has been stolen or if she is visiting in the area. The reason? They have all spotted "Pilen".
"A lot of people think that it is we who have just named the bike "Pilen" and it's on the back of the bike. It isn't, but the bike definitely has a personality of its own. It is black, which is something I like, and it is solid. It has a great design, a good saddle and even a basket. Over the years it has become a very ersonal object to me".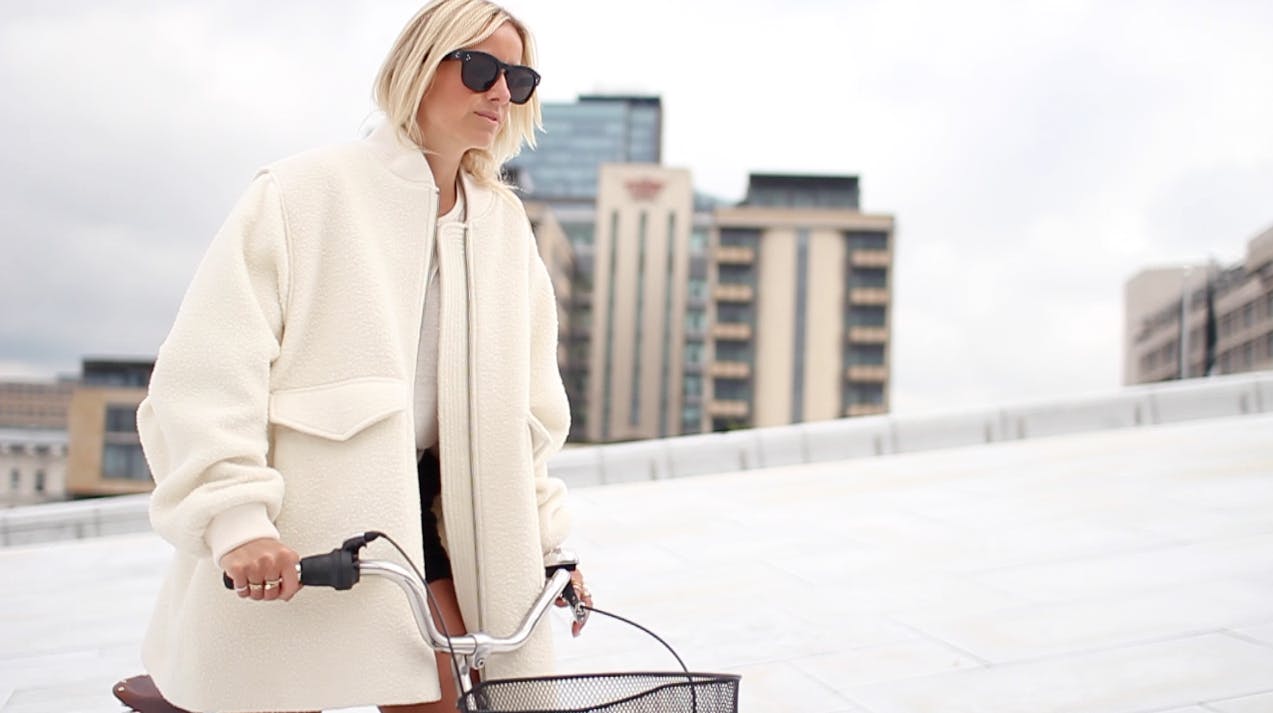 As the founder of the website Envelope.no, former Editor in Chief of STYLEmag and STYLEInterior and with 131K followers on Instagram (!) Celine has for the past fifteen years been one of Norway's most influential fashion and lifestyle industry profiles. It doesn't come as a surprise that for her, design comes out as the winning part of the discussion "design vs. function".
And when it comes to the design of her bike, it definitely doesn't come as a surprise that her preferred colour is black. Much like her personal style, she prefers a monochrome expression.
On Instagram and when depicted in publications such as VOGUE, style.com and Who What Wear, Celine can often be seen wearing black, white and grey, often in surprising combinations and always with a strong touch of her unique personal style. What's surprising though, is that when she's out and about on Pilen in Oslo, you'll never see her looking any less effortlessly cool than in those photos.
"I never think about dressing any differently for biking", she admits.
"I bike in sneakers and high heels, it's all the same. And with a basket you can even bring an extra pair of shoes if you feel like it. I'm a pants-person though, but dressing for cycling has never been an issue. I think it is idiotic that people might think that they can't bike when they are dressed up or going out. It goes back to being able to be impulsive, and I always feel like there is a better vibe when I decide to bike. Last fall, my boyfriend and I were going to a store opening and a few metres down the street it started pouring down. For a few seconds we were stuck at a bus stop thinking, "what the hell do we do now?" But we just pulled our hoods up and continued. We were a bit soaked when we got to the party, but it was ok. At the end of the night we were able to be really impulsive and move on to the next location without having to waste time in the taxi queue and got to the place before everybody else".
So the next time you are juggling "I'm dressing up, should I bike?" take Celine's advice and get on your bike and start pedaling.