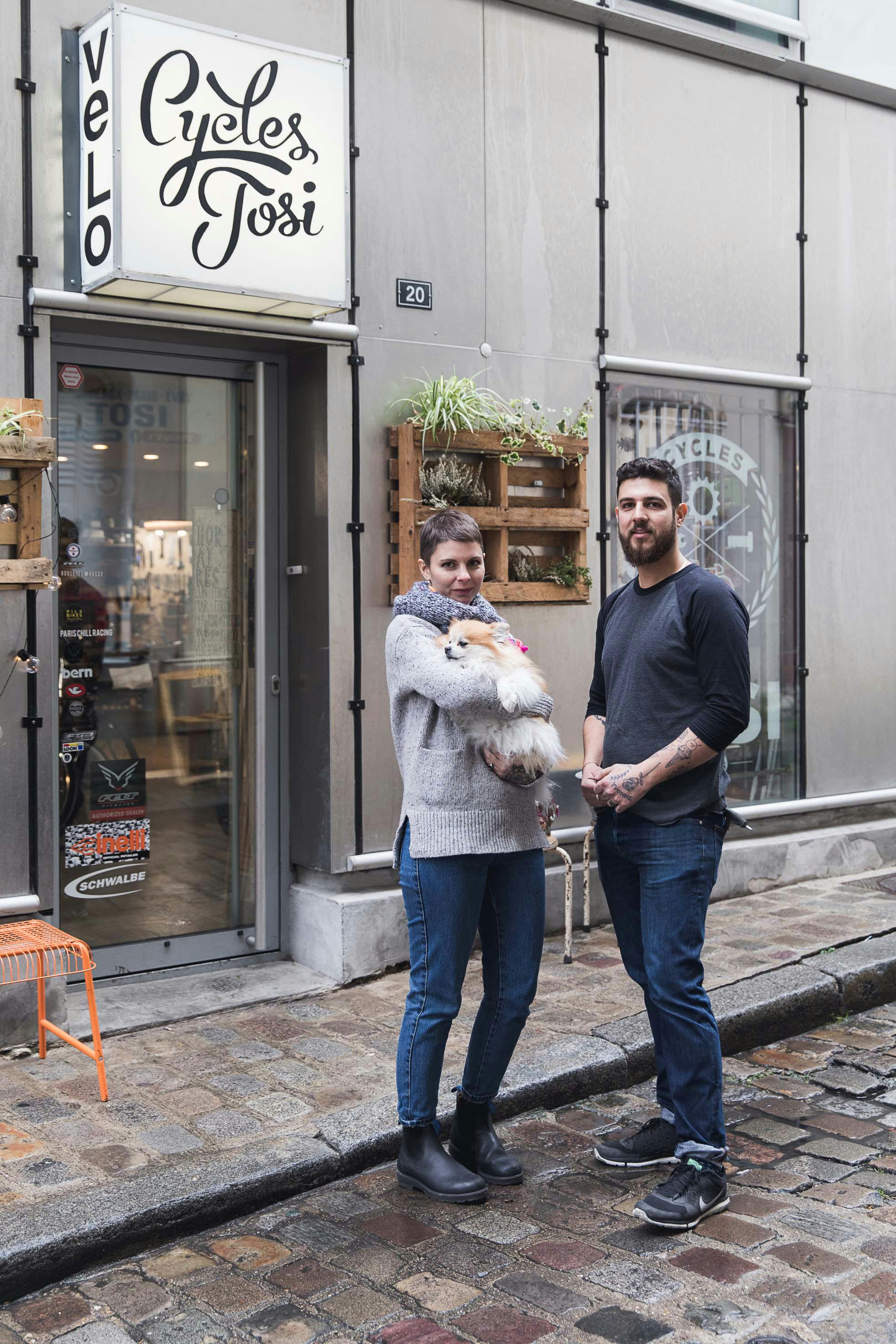 Text: Tom Allnutt
Photos: Andy Donohoe
Formed in 2015 as the vision of Ugo and Justine Tosi, these lovers of cycling moved to the French capital to start a new life with their own store, inspired by the culture and passion they found in their former home of Montreal, Canada.
Ugo and Justine Tosi met in Montreal while Ugo built his skills as a bicycle technician in a city crazy about cycling. Life in Montreal was great but as an expert technician trained in the Specialized Body Geometry fitting program, Ugo was left with little time to actually do any competitive riding himself.
Starting their life together in Paris, Ugo and Justine happened upon a retail space in an eclectic neighbourhood of the 17th arrondissement being rebuilt by the city from the ground up. From this shell, they imagined their dream space from the inside out. Everything that couldn't be donated by friends and family was made by hand. The result is a second home for everybody; for families in the 17th, commuters to the city, road racers, or people coming to see the third member of the Tosi family, Yvonne the Pomeranian dog. Does Yvonne love cycling like the other Tosi? "No", sighs Justine, "She's interested in food, nothing else".
This openness and friendly attitude has charmed its way into the Parisian cycling scene. Cycles Tosi is a store that everybody in Paris seemed to have in high opinion. Some of the store faithful have taken up the newly designed jersey of Tosi (made by Castelli) to compete in the local road and triathlon races. The duo plans to organise communal rides and events this summer, as they want their crew to be friends first and teammates second. Together, they keep alive the competitive spirit of Ugo's father Pierre Tosi, a racer famous through his victories on some France's most competitive stretches. Competing neck and neck with Eddy Merckx in the 70s, Pierre laid the foundation for cycling in the Tosi family.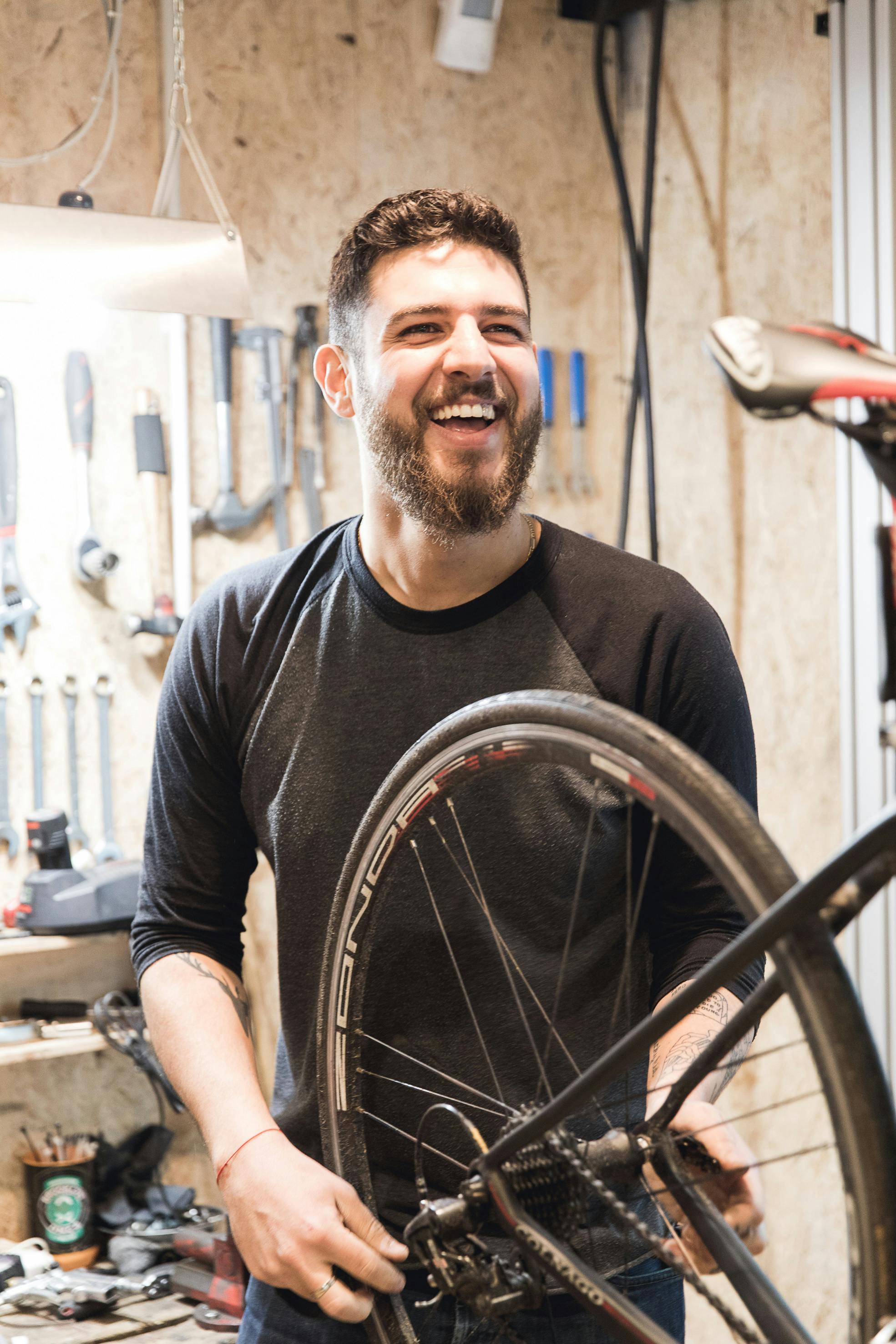 Favourite bikes? Ugo rides a Cinelli Strato Faster for his road races, a Shiv for triathlon and Langster for track. But Cycles Tosi is much more than just fast bikes and have carved themselves out as the preferred assembly workshop for the bikes sold for local fashion institution Colette. Their range is topped with racing frames from Felt and Cinelli and Ugo has brought custom bike fitting to the store's repertoire. This has been hugely popular to their racing customers, but Ugo and Justine, keen to keep their community focus, enjoy selling complete bikes that they know and trust for their customers. They also love custom builds with frames found through their travels around second-hand markets in the backstreets of rural France, frames that call back to the same vintage as those that carried his father to greatness.
So how does it work as husband and wife team running a shop day-in day-out? Ugo is the master mechanic, but Justine (a fine arts teacher) has trained up her advisory and workshop estimation skills to her role as key store manager. "Yes it sometimes gets a bit tense in the shop" Ugo admits, "but when we close the door and leave, it all stays behind".
Justine and Ugo may have hit upon the most important concept in cycling for their future plans for the store - they are establishing legacy. Their little growing community of passionate cyclists, family and sporty, will remain their priority as Paris opens itself to bike culture, with their role as a supporter and activator. Perhaps one day their legacy will extend itself out of the capital to a town where life is simpler, but until then their community here in Paris can count on their passion in its beating heart.