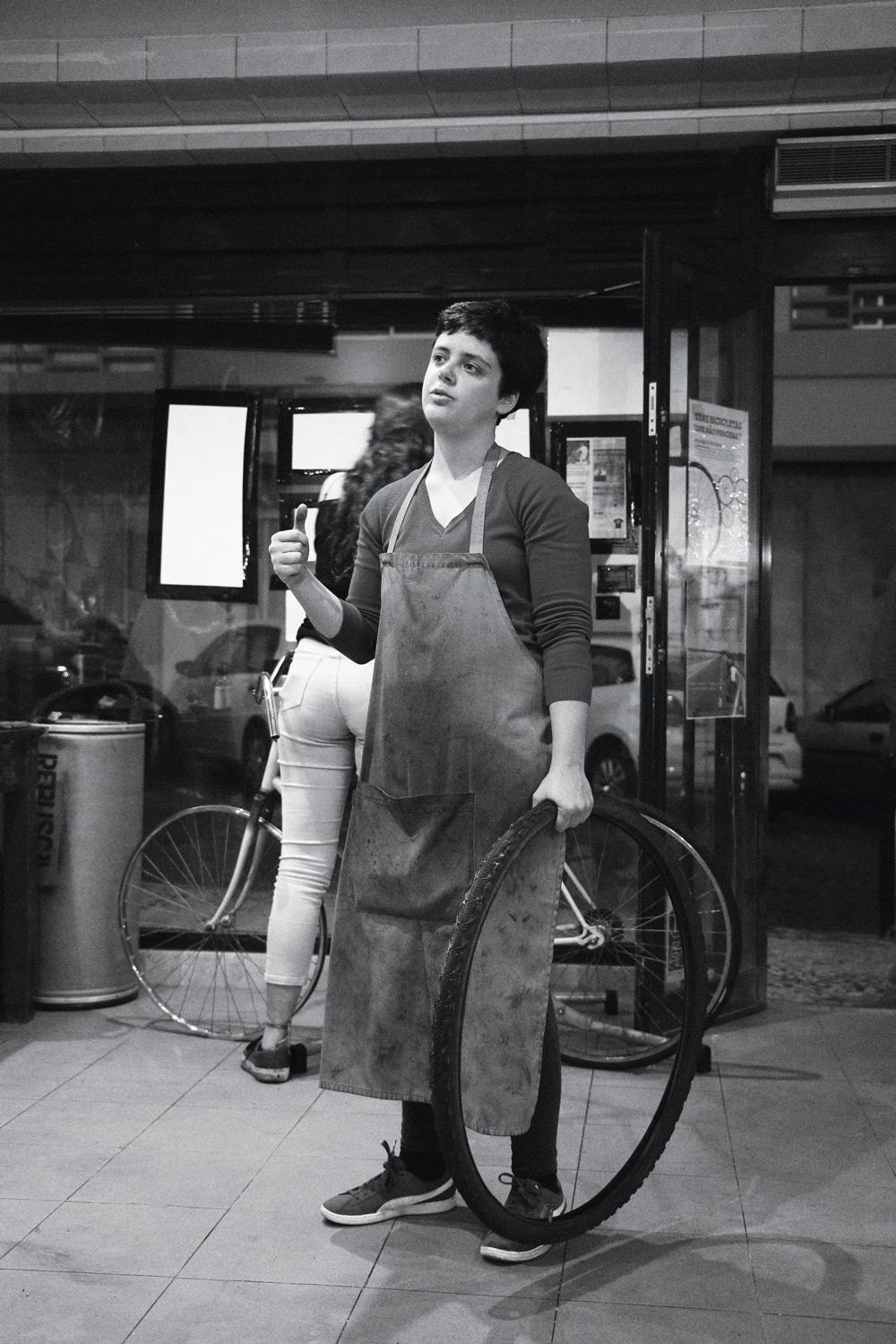 Text: Kaitlyn Bové
Photos: Mari Oshaug
After a long day, the Bikevibe team met up at Cicloficina at sunset. It was around 7pm, so they were just getting started on one of their two nights that they are open. We were greeted by a homemade tall bike at the door, before we were offered some local craft beers, while they set up shop. A small area with various bike stations, makeshift bikes and parts and pieces hang on the walls. There's a quasi-kitchen in a small room tucked in the back corner with a fridge and bike bits scattered about.
As we chatted with the volunteers, one by one the eager Lisboans ready to build and repair their bikes entered the space. Each "customer" as different as the next, they came with a purpose: to work and, like us, drink beer. Portuguese beer.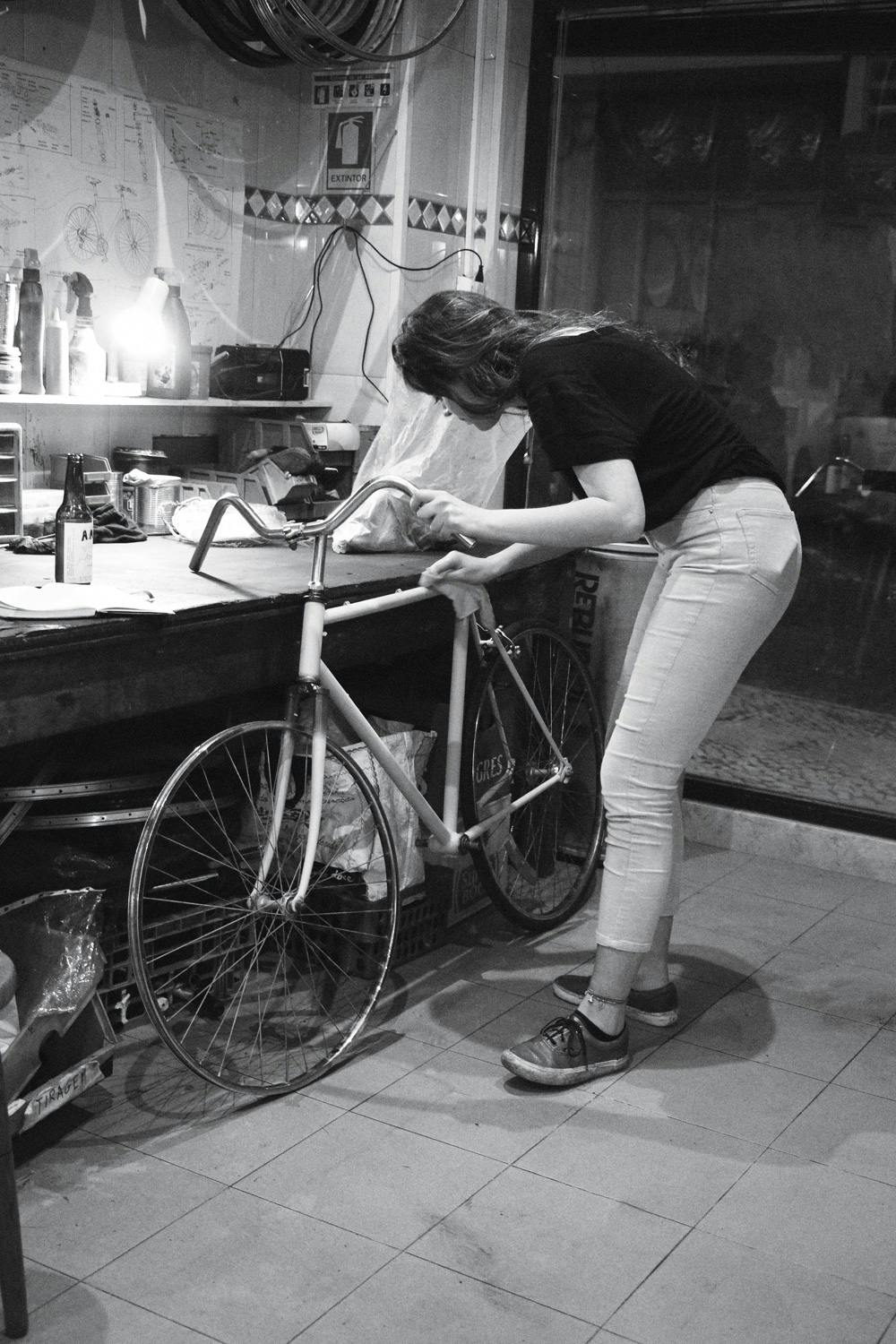 People of Cicloficina
During our 1-2 hour visit that night, we watched as the shop filled up with both newcomers and regulars. One man, even, whose bike just broke and walked to the shop just to fix it up.
Meet Laura – she's been building her own bike from scratch at Cicloficina dos Anjos. Laura decided to start building her own bike after her old bike was stolen on the street in front of her house. Just like the crystal hanging from her necklace, the bike frame is three shades of purple – her favorite colour. She comes every night that the workshop is open to build her own bike.
"I make sure to get here as early as I can, otherwise the shop can get pretty busy. Since the shop is so small there's only room for 6 or 7 bikes at once, because they take up a lot of space," Laura explains.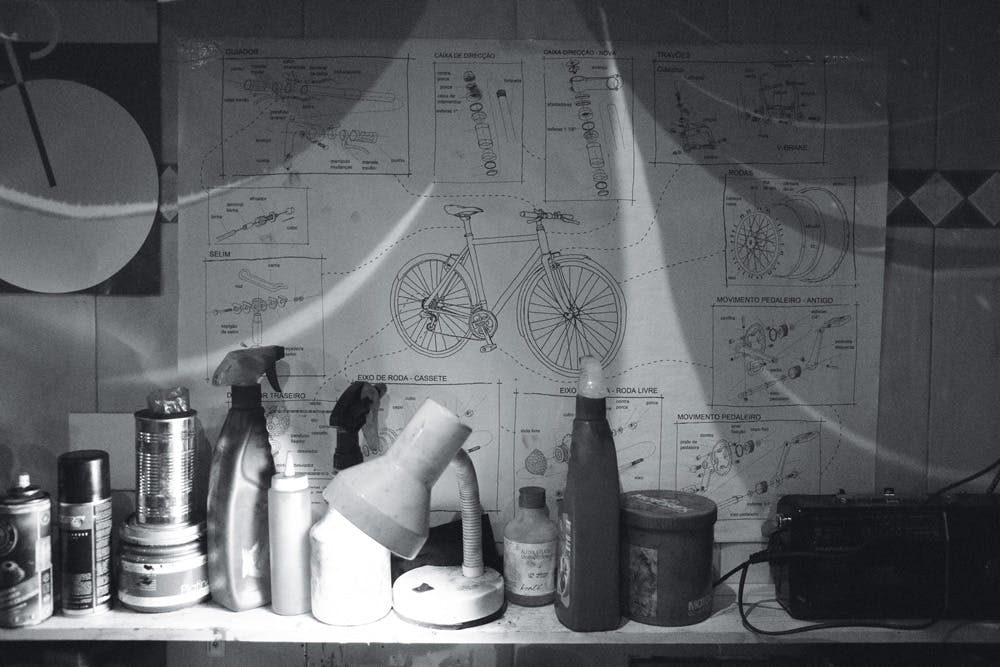 "The motivation for building my own bike is definitely because it's cheaper. I also wanted to build my own bike to learn about the mechanics. If something breaks I want to know how to fix it myself. This way, it's me who knows it the best because it's me who built it. When I'm here it's like everyone is helping each other out. I get advice and people help me build it as I go."
"I've been cycling in Lisbon for about 2 years now. It started out because I didn't like using the public transport. My friends like to cycle, too. The most difficult part of cycling in Lisbon is the hills. To avoid going up the hills, I have my own routes, but if there is no way around them, it just means I need to build more muscle on my legs!"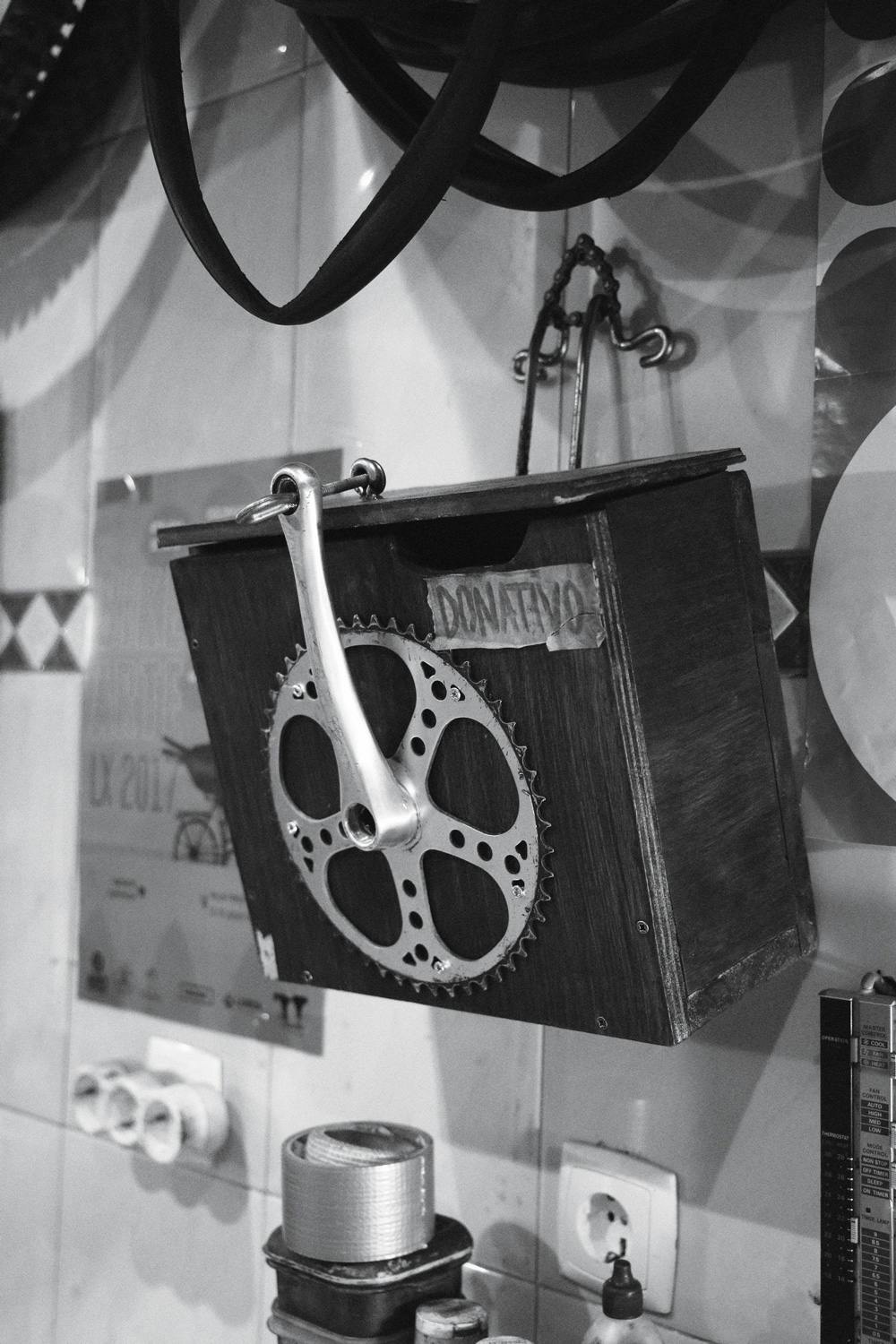 Next, we chatted with Berta. Berta is a Spanish Erasmus student on exchange in Lisbon from Barcelona. She's building a new bike for 10 Euros. She found and purchased the frame and equipment in the basement of Cicloficina. It's bright orange and purple, with a little mud, but it's a sturdy frame to build upon.
"I wanted to bike in Lisbon while studying here, but at first I didn't think it would be worth it to buy a new bike for just a few months. So, then I was going to buy a used one, until I discovered that I could build my own here. It's a fun learning experience because the shop is filled with nice people and great conversation."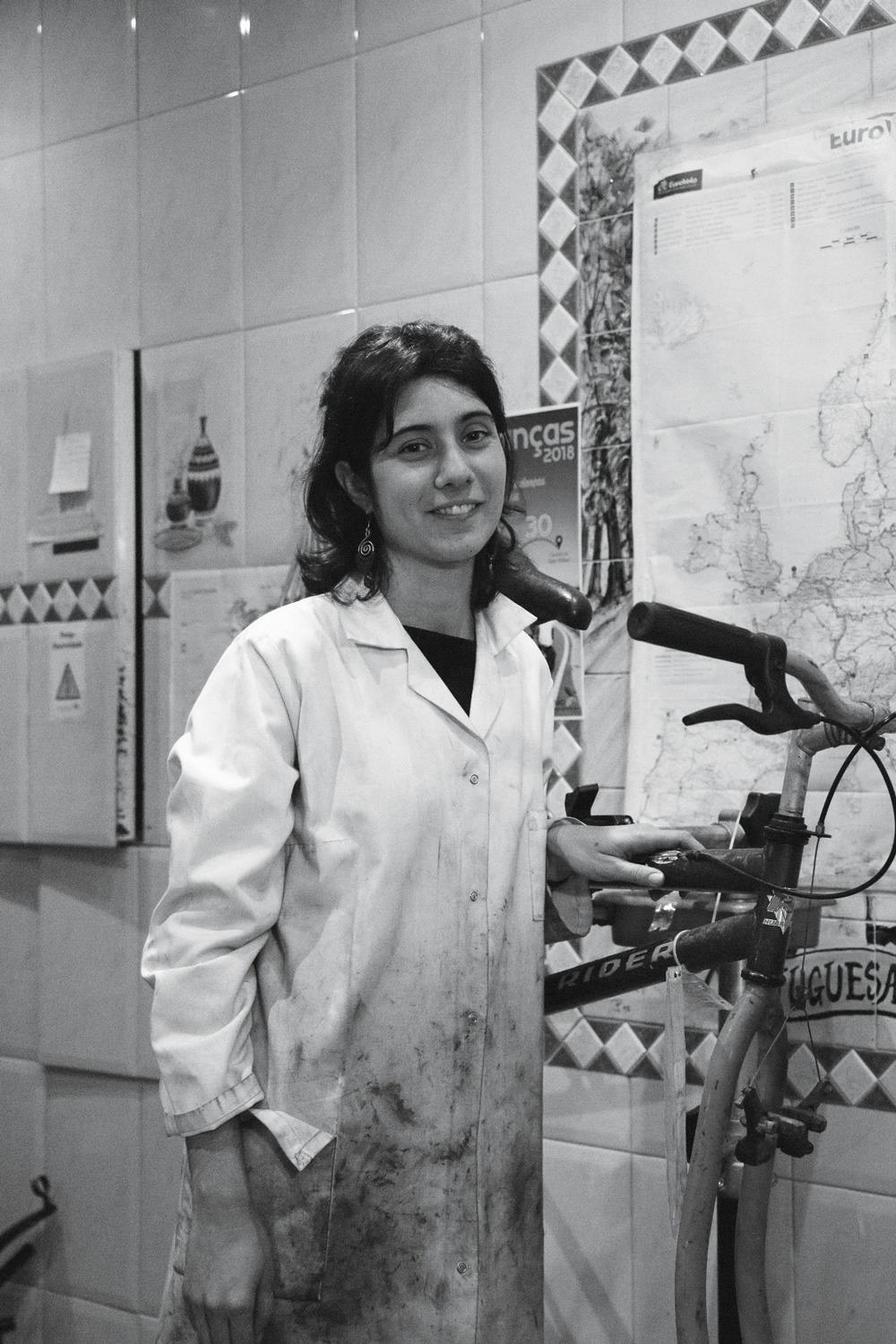 Missions
Under the workshop there's the basement where they store old bike parts. Some of them are used to build new bikes. If not, they are eventually scraped to the junk yard. There are about 4-5 volunteers rotating shifts, with Rosa Félix helping out this evening. When asked how they are funded? "Beer," she jokes. In reality it's a lot of donations. Their bike parts are either sourced from bike stores who no longer need them or donated by others. "We are really the middleman between the store and the scrapyard. We take what we can," she explains. The same goes for shop equipment like tables and tools. "We also won a prize a few years ago that helped us formalize our organization and to get the word out about our projects."
While Bikevibe visited Cicloficina dos Anjos, there are actually multiple locations of the "Cicloficinas" around Lisbon. The group really emphasized that they are 100% community.
"We were a group of 5 friends who started out in 2007 in a parking lot. We were literally carrying our tools to an open space and laying them out on a blanket to hang out and work on bikes," Rosa explains.
It wasn't until 2011 that their group became official. They hold a summer festival bike ride to encourage new riders to go riding. One of their main missions is to get more women on bikes. Up until 1974 Portugal was under a strict fascist government. Women didn't ride bicycles under the fascist rule. Period. Even today Portugal sees some of the lowest statistics for female cyclists. Two years ago, 17% of cyclists in Portugal were female, last year it was 23%.
"Our goal has always been to safely get more cyclists on the street, to not throw away things that you can fix and to help where we can," Rosa says.