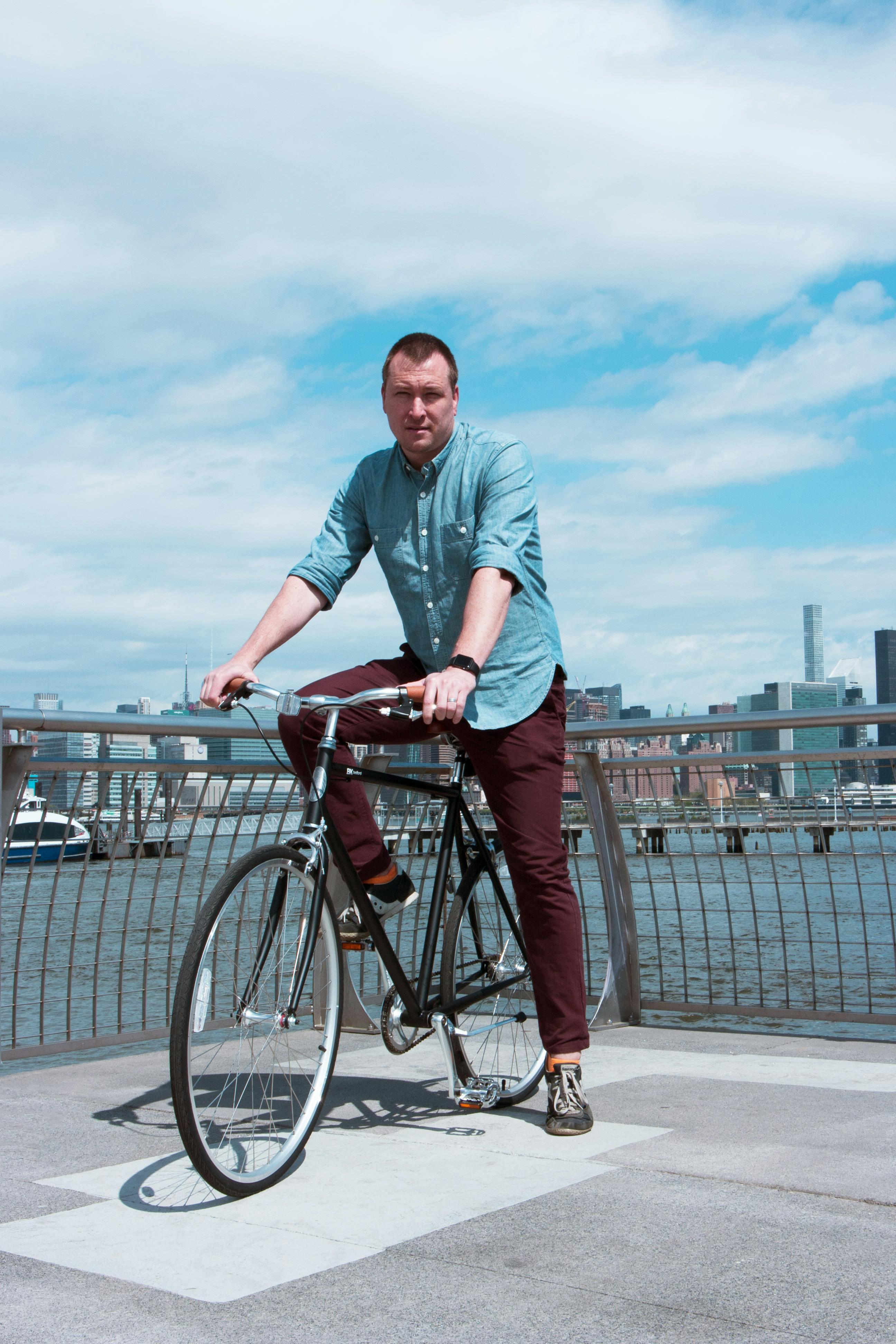 Text: Silje Strømmen
Photos: Mari Oshaug
For the occasion, Silje is riding a crème colored model named Franklin and Mari is on an orange Willow. For Mari, who normally swears by her grey Eddy Merckx racer, being in an upright position with step-through access and a relaxed-fit handlebar was a different experience. But as we roll down Franklin Street and down to WNYC Transmitter Park by the waterfront, the function of the upright position became clear. These bikes are not built for riding fast; they are built for exploring and casual riding around.
It was first after Ryan and his wife (reluctantly) moved to Brooklyn after years in Manhattan, that they both got into bicycles. Two wheels and a frame was everything the husband and wife needed to adventure farther and farther from their regular streets and allowed them to explore the borough.
"I'd be lying if I said I don't know anything about bicycles, because now I do. But back then, when I first started Brooklyn Bicycle Company, I didn't know anything", Ryan tells us.
We discover over coffee and pastry at our next stop that Ryan isn't your regular bicycle company entrepreneur. He didn't start building bikes aged 12, he didn't become obsessed with frame building in his early 20's and he hasn't always been passionate about riding. It was during a trip to Vietnam in 2011 that he became aware of bikes, with an upright position, that you can load with cargo in the back. "That is exactly the bike I want", he thought to himself: Not too pretentious, not too fancy. Before he was back in the States he was already getting samples made and after having worked with technology his whole life, he was now on his way to becoming the entrepreneur of a bicycle company.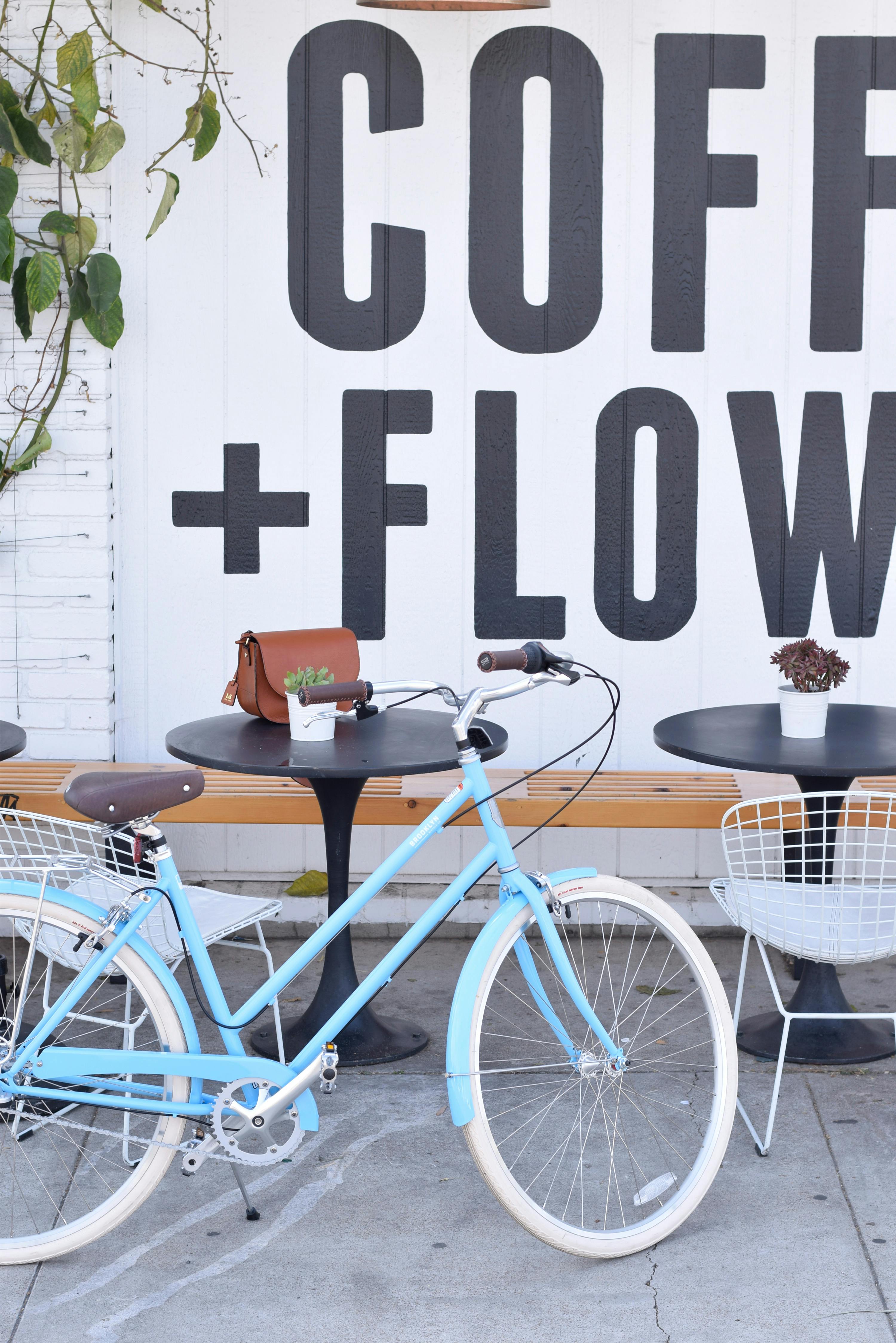 There is, however, a significant detail to this story that reflects both on Ryan and Brooklyn Bicycle Company. When Ryan first started asking local shops it they would be interested in carrying his brand, the unison answer was "no". Ryan's response? "What can I do to make this product better?" The shop-owners told him, and he came back with an improved product.
"If you don't share feedback there is no improvement, and that doesn't do anyone any good. If your bum hurts while riding one of my bikes, tell me so I can fix it! Honest feedback is the only way to go".
How did you come up with naming your bikes after streets in Brooklyn?
"We have gone down half of them already on our ride so far… These are the streets I see everyday. I think they are quite cool names. We live these streets every day; this is my life and I think it is appropriate to tell that story", Ryan says between sips of ice coffee.
We have arrived at our next location, a bakery fittingly named "Bakeri" located at 150 Wythe Ave (a street that has also given its name to one of BK's models, a sharplooking fixie named Wythe). "Please, don't be shy", he says as he offers his pastry to us. We end up splitting everything we got in threes. Offering good coffee and pastries like "skolebrød" (a Norwegian style of bun with vanilla custard on top) Bakeri is one of Ryan's favorite places in Greenpoint. And of course, he randomly discovered it one day as he was out and about exploring the neighborhood by bike.
How would you describe Greenpoint using just three words?
"I can tell you the three things that always makes me love this neighborhood. The first is the people. I feel like the people here are a little bit slower paced than in Manhattan. Over here it is more of "we can all win and be happy". I think the people here are fantastic. When I first started the company in 2011, so many people reached out asking "how can we help, what can we do?" And I feel like in other places they might go "how can we beat you" instead.
I think the food in this neighborhood is out of this world. The third thing is the energy of the neighborhood – which is tremendous. I have never had a bad thing happen to me over here".
Greenpoint is the northernmost neighborhood in the New York City borough of Brooklyn. To get here from downtown Brooklyn, just follow the waterfront using Kent Avenue until you hit Franklin Street.